This Photo Of The Obamas Holding Hands Is A Sneaky Swipe At Trump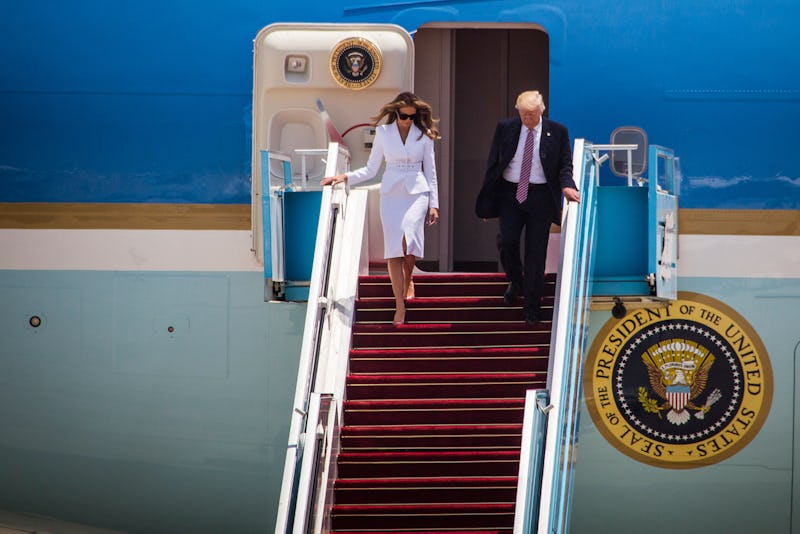 Ilia Yefimovich/Getty Images News/Getty Images
Social media has been set ablaze once again by yet another video of First Lady Melania Trump appearing to reject her husband's attempt to hold her hand. President Donald Trump seemingly made an attempt to grasp Melania's hand while in Israel on Monday, which resulted in her swatting his hand away in a decidedly understated manner. And while disembarking Air Force One in Italy on Tuesday, she appeared to reject him once again. That's the backdrop former White House photographer Pete Souza used to troll Trump, by reminding everyone with a simple image of the last First Couple what hand-holding is supposed to look like.
This is far from the first time Souza, who served as White House photographer during the Reagan and Obama administrations, seems to have needled the current commander in chief with a very well-timed Instagram. In this instance, he posted an image he took of the Obamas in 2015, when they were in Alabama to commemorate the 50th anniversary of the Selma to Montgomery marches. Seated in the foreground, with a blurry Edmund Pettus Bridge in the background, the two are grasping hands in a way that the Trumps, in recent days, haven't found so simple.
For some perspective, here's what it looked like on Monday when Melania appeared to swat away Donald's hand. He was walking out in front of her, glanced over, and reached back, only to be rebuked. While some conservatives have attempted to spin it as something else ― right-wing radio host Rush Limbaugh insisted it was a "modified fist-bump," which, suuuure ― you can judge for yourself.
Then, on Tuesday, another averted hand-hold took place as the couple left Air Force One. Standing side by side, Donald reached for Melania's hand, only for it to dart up as she ran her hand through her hair. You'd have to admit this one is less conclusive than Monday's example, but taken together, they definitely evoke a frosty mood.
Weeks ago, in the immediate aftermath of the firing of FBI director James Comey, Souza similarly trolled the president with an Instagram post showing Obama in a meeting with Comey, Alyssa Mastromonaco, James Clapper, and Denis McDonough. The caption: "Every person in this photograph is a patriot."
But that's not all! Souza also posted similar troll-worthy Instagrams since the inauguration, often emphasizing images of stability and unity as an implicit contrast to the chaos that's consumed the early months of the Trump administration. In particular, he posted a photo of the Obamas looking adorable after Donald and Melania's notably stiff inaugural dance.
In short, Souza seems to really enjoy striking a casual, ongoing contrast between the Trumps and Obamas whenever the opportunity presents itself. Not a bad hobby, huh? It remains to be seen just how many more opportunities he'll have. But given how the first four months have gone, it's probably a safe bet that the Trump era is going to produce some more strange, easily contrasted sights before it's over.