This Power Rangers Face Mask Collaboration Is So Unexpected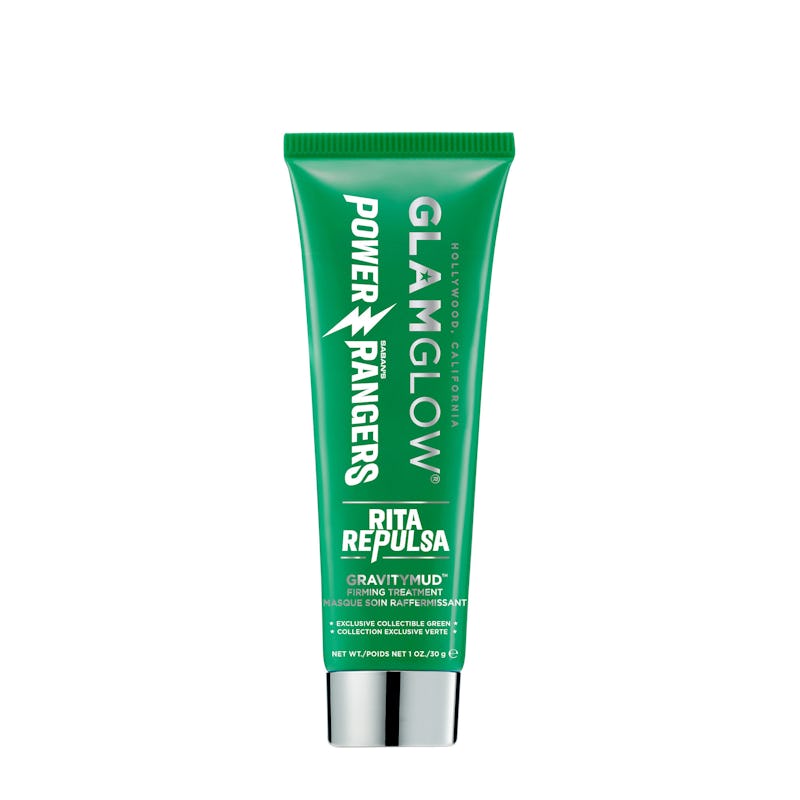 Courtesy of GLAMGLOW
In a beauty world where ever evolving trends run wild, beauty lovers sometimes need a little throwback. Thankfully, GLAMGLOW's new Power Rangers masks are here to provide cosmetics junkies with serious '90s nostalgia. GLAMGLOW's popular GRAVITYMUD formula and has been transformed in honor of two of the '90s most memorable villains: Rita Repulsa and Goldar.
Maybe you're not familiar with the name GRAVITYMUD, but there's still a good chance you've seen the popular mask. If you've ever scrolled through your Instagram feed and seen a beauty guru or friend slowly peeling off a metallic chrome mask, that's GRAVITYMUD. Now, though, in a team-up with Saban Brands, the viral mask is getting a limited-edition makeover and going gold and green in honor of two of the most iconic villains in '90s television history.
Why the villians, though? Founders of GLAMGLOW Glenn and Shannon Dellimore explain, saying, "Of course, the obvious route would have been to make the colors of the Power Rangers themselves; instead, we matched the evil villains, because being disruptive is in our DNA."
If you've long loved Rita Repulsa or if your love of all things '90s nostalgia knows no bounds, the new GLAMGLOW GRAVITYMUD masks in metallic green and gold are going to be your next must-purchase item.
CEO at Saban Brands Janet Hsu explains that the company chose to create a beauty partnership with GLAMGLOW because they knew "the team would be the team to capture the essence of the Power Ranger villains in the GRAVITYMUD mask which is like a super power for the skin."
While the masks are set to be released in September of this year, no definite date has been released. When the exact date does drop, you'll want to mark your calendar to channel your inner Rita Repulsa.
What's more, the masks won't break the bank. The GRAVITYMUD Power Rangers masks will retail for $37, making them completely in line with the pricing on GLAMGLOW's other, comparable masks.
No matter what Power Ranger you wanted to be, there's no doubt that a nostalgic throwback to the series will give you all the feels. Whether you adored Trini Kwan or Kimberly Hart, can't we all embrace a bit of villainy from time to time?