This 'Pretty Little Liars' Photo Could Be A Huge A.D. Clue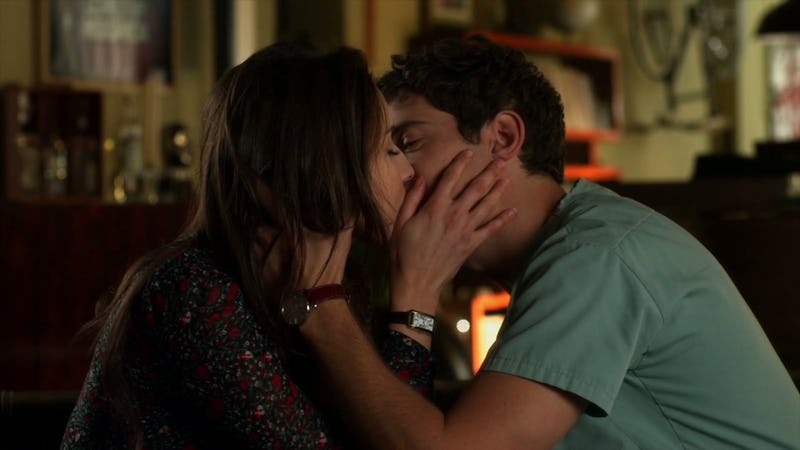 Pretty Little Liars/Freeform
Amidst the long-awaited proposals and the dream sequences featuring Mona singing "Jailhouse Rock," you may just have missed a very important Easter egg and potential A.D. clue in Pretty Little Liars' episode "Driving Miss Crazy." Luckily, Bustle's Pretty Little Liars podcast Taking This One to the Grave didn't, so let's go back and take a second look: Remember the final scene that showed Mona at work in her office, surrounded by photos of the Liars and their friends and families, as well as the incriminating shovels used to bury Archer Dunhill? Well, there was a moment when the camera briefly flashed by a single blurry photo sitting on top of a book. Unlike the other pictures featured, the subjects weren't immediately recognizable — but one eagle-eyed Redditor, 0leila, identified the photo as being strikingly similar to a season one image of — drum roll, please — Spencer and Wren kissing.
First of all, the fact that anyone was even tuned in enough to notice such a tiny detail is flat-out amazing — and when you think about what it could mean, things get even more crazy. Wren has long been a suspicious figure on the show, and his recent all-too-brief appearance back in "In the Eye Abides the Heart" has only been stirring up even more mystery around his character — especially where Spencer is concerned. After all, when Ezra caught the two of them arguing in an airport, we never did get much explanation, and Spencer was acting spookily out of character — leading many to believe that it was not Spencer at all that Wren was meeting, but rather Spencer's much-speculated evil twin.
As everything continues to come full circle as Pretty Little Liars completes its victory lap, it's easy to add this new photo to all the evidence currently stacking up against long-time suspected villains Wren and Melissa, as well as the newer possibility of Spencer's secret twin-as-AD. Because while the photo may strongly resemble an old image of Spencer and Wren kissing, it could also be a clue leading us to the possibility of Wren, Melissa, or Spencer's twin as the series' big bad. Heck, going in the complete opposite direction, it could even be a clue about the direction of Spencer's love life. Honestly, who knows? The hosts of Taking This One To The Grave have their own ideas about the photo, which you can listen to in this week's podcast:
At this point, it's tough to say what the photo's presence in Mona's lair actually means — but the very fact that it's there must have some sort of significance for the show. After all, it's too specific (not to mention random) of a detail for it to mean nothing. Maybe all Rosewood roads really to lead back to Wren...