Tom, Abby, William, & Shannan From 'Queer Eye' Went On The Double Date Of Fans' Dreams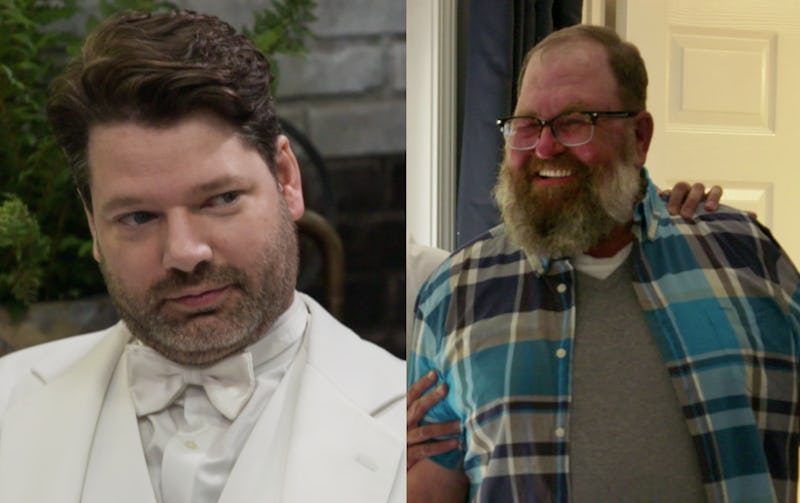 Courtesy of Netflix (2)
It may feel like a long wait for Queer Eye Season 3, but here's a gem to hold fans over: Tom, Abby, William, and Shannan, aka two beloved Queer Eye couples, went on a double date, and it looked like so much fun. The two couples met up at La Parrilla Mexican Restaurant in Georgia, and it's honestly the crossover moment that the fans needed. Luckily, the former contestants took plenty of pictures from their date — posing for group photos and sharing shots of their meals.
Their double date pics were shared on the official Queer Eye Instagram account, and all four look so happy. The show captioned the slideshow: "Omg the crossover episode we never knew we needed. Tom, Abby, William and Shannan went out for a double date last night and it was the cutest thing ever," and included plenty of heart emojis.
William announced the Queer Eye meet-up on his Instagram account on Tuesday, sharing pictures of the two couples and writing, "Double date? Stay tuned Saturday." He teased the date again on Saturday morning, posting yet another set of pictures with the caption, "Just a few hours away from the biggest event of this afternoon!!!" It seems like William and Shannan were both super excited to meet a fellow Queer Eye couple, and they apparently arrived over an hour early for the date.
William, who kept up with updates throughout the evening, posting a picture of the restaurant and writing, "Arrived comically 1 1/2 hours early." He also shared a selfie captioned: "Waiting on Tom and Abby." Luckily, Tom saw the posts and commented: "Be there in ten or so." Clearly, a beautiful friendship was already blossoming.
The Queer Eye cast may be who makes the show possible, but the people they choose for their makeovers are part of the magic, too. These two couples definitely have a special place in the fan's hearts, as both their sweet stories ended on a happy note.
As a refresher, Tom appeared on the very first episode of Season 1, and the team cornered the dump-truck driver to confront him about his lack of self-care. The Queer Eye guys helped Tom break his bad habits, get the confidence he needed, and tell his ex-wife Abby that he was still in love — all in a day's work.
Things are all around going well for Tom post-makeover — his beard remains groomed and his relationship with Abby seems stronger than ever. In May, the couple remarried in a traditional private ceremony at Chapel in the Park in Gatlinburg, Tennessee, according to Us Weekly. Tom's suit for the wedding was reportedly fitted for him during his time on the show.
Meanwhile, William and Shannan's love story was a highlight of Season 2, and it also had a happy ending. William told the Queer Eye team that while he was madly in love with Shannan, he was stuck in a rut and having trouble planning a grand gesture for asking her to marry him. Not only did the Fab Five give his outfits and home updates, they helped him plan an elaborate proposal. Shannan was blown away by the customized video that William made, and the two married in June. Their wedding was a private beach ceremony on Amelia Island at sunrise, according to William's Instagram. The Queer Eye team offered well wishes for the couple on social media, and the show's Twitter account had a special congratulatory message as well.
It seems like the couple's double date was a major success. They took group selfies, Tom drank his signature margarita, which was his favorite drink on the show, and friendships were clearly made. That is the magic of Queer Eye after all, since the show is just as much about eating avocados and wearing a statement print shirt as it about self-love and forging lasting relationships.