This Entire Village Is Made Of Rainbows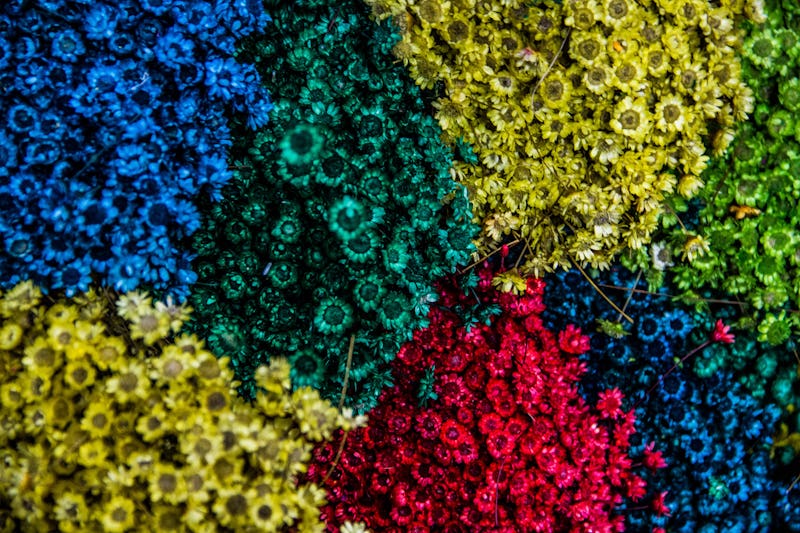 A colorful makeover has turned one Indonesian village into a tourist destination, proving that a little creativity and a coat of paint can have a major impact. The rainbow village in Indonesia, called Kampung Pelangi, is trending on social media after a government-funded project transformed it into a vibrant Instagram hotspot.
The once struggling village, originally named Kampung Wonosari, located in Randusari in the South Semerang district, was considered a slum before the local government officials decided to turn things around, reports Lonely Planet. With a budget of Rp 300 million (just under $23,000), the village's 232 houses were painted in bright hues of teal, salmon, gold and green and 3D murals were commissioned to liven up the streets. To achieve the strobing look, each building was painted three or more colors, a treatment that extended even to the roofs, benches, and bridges. The transformation was a true community effort, with the province's Indonesian Builders Association supplying paint and workers, and the Mayor of Semarang, Hendrar Prihadi, chipping in to add a coat or two.
The project, which was just completed last month, seems to be a win for village residents and tourists alike. The attractive photos flowing out of the town have been giving 'grammers some serious FOMO, drawing travelers from around Indonesia as well as Taiwan, Korea, and Hungary. Locals have seized on the opportunity to cater to visitors, selling souvenirs and food. It's only a matter of time before this town becomes overrun with smartphone toting backpackers eager to pose against the cheerful backdrop. Just look at this rainbow dream:
The paint job's positive boost to the local economy has convinced the government to redouble their efforts to further beautify the area, investing additional capital to paint a total of 390 houses and lead a river cleanup. Kampung Pelangi is on track to be able to boast the title of the most colorful village in the world making it a unique tourist attraction. In the immortal words of Liz Lemon, "I want to go to there."
This isn't the first Indonesian village to see a resurgence of visitors after receiving a fresh coat of paint in recent years. "The idea to create Kampung Pelango came after we saw the beauty of Kampung Warna-warni and Kampung Tridi in Malang, and later Kampung Kali Code in Yogyakarta," the project's initiator high school principal Slamet Widodo told the Jakarta Post. "Hopefully Kampung Pelangi will be the biggest one in Indonesia and offer a new tourist attraction in Semarang." Kampung Pelangi is now a cleaner place to live and a street art lover's dream.
Those traveling the globe in search of the perfect photo-op should add the rainbow village to their list. No filter necessary.