This Detail About Trump & 'Forbes' Is Part Of His Notorious Relationship To Magazines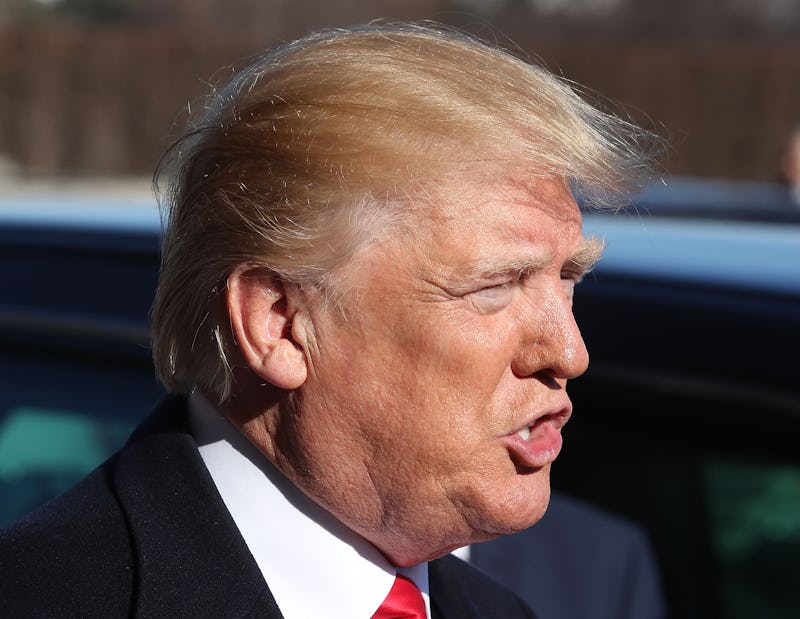 Mark Wilson/Getty Images News/Getty Images
It's no secret that President Donald Trump has an adversarial relationship with the media, and has shown a peculiar fixation in magazines and other print publications throughout his life. And this reported detail about Trump and Forbes magazine definitely speaks to that ― namely, that adult film star Stormy Daniels reportedly once spanked him with a copy of Forbes magazine, per his bidding.
Yes, you read that correctly. Here's the deal: Mother Jones has reported that Daniels, who allegedly engaged in a sexual affair with Trump in 2006, once told a political consultant that Trump had her spank him with with a copy of Forbes magazine, an issue that supposedly had his own face on the cover. Daniels reportedly told the consultant this back in 2009, when she was considering a run for the U.S. Senate in the state of Louisiana.
Although Daniels reportedly discussed the affair with In Touch magazine in 2011, she now denies any of it happened, as does Trump Organization attorney Michael Cohen. Daniels reportedly entered into a nondisclosure agreement with Trump in the final weeks of the 2016 presidential campaign for a sum of $130,000; Daniels also denies this.
It's worth being cautious about explosive and salacious stories, but this much, at least, is clear: Trump has always had a distinct and noteworthy relationship with print magazines. Perhaps the oldest and most widely known example of this came in 1988, when Trump was reportedly incensed that Spy magazine co-founder Graydon Carter, who would later take over Vanity Fair, referred to him as a "short-fingered vulgarian."
This led to a decades-long antagonistic streak on Trump's part, frequently attacking Carter by name on his Twitter account, and might ultimately have been the reason he felt compelled to reassure the country about the size of his penis in a nationally televised presidential primary debate.
Trump attacked Vanity Fair shortly after winning the election, because he was upset over a negative review of the Trump Tower Grill, a restaurant on the ground floor of his eponymous Trump Tower.
He also drew scrutiny (and a fair amount of mockery) when it was reported last year that some of his golf clubs had a fake Time magazine cover hanging on their walls, showing Trump splashed across the cover. The supposed magazine cover was reportedly dated March 1, 2009, a non-existent issue that did not, needless to say, feature Trump on the front.
Trump has claimed in the past to have been on the cover of Time more than any other person ― or, at least, that he thinks he has ― a claim that is not true. While he has been on the cover more than a dozen times, that's dwarfed by former President Barack Obama's number of appearances, and even more so by former President Richard Nixon, who was featured 43 times. Trump was, however, named Time's 2016 Person of the Year.
The president also got into a public spat with Time over whether he'd be the 2017 person of the year, claiming he was told he'd probably get it, but would've had to do an interview and a photo shoot so he turned it down. In reality, the magazine's cover went to "the silence-breakers," women who've spoken out about sexual assault and harassment in the aftermath of the Harvey Weinstein allegations. The magazine has flatly stated that it had no such conversation with Trump.
Trump also once tried to launch his own line of magazines, to little success. Trump Magazine, Trump Style, and Trump World all ran between 1997 and 2009, although none of them are still in circulation.
The president's fixation on the world of print magazines has been well documented, and that's before this reported remark from Daniels was even made public. It remains to be seen whether Trump will offer any public response to the story, although given that he reportedly struck an agreement with Daniels for her silence ― again, both sides deny this ― it seems a safe bet he doesn't wish to engage with it.