This 'RHOD' Season 3 Exclusive Clip Shows Kameron In All Her Puppy & Painting Glory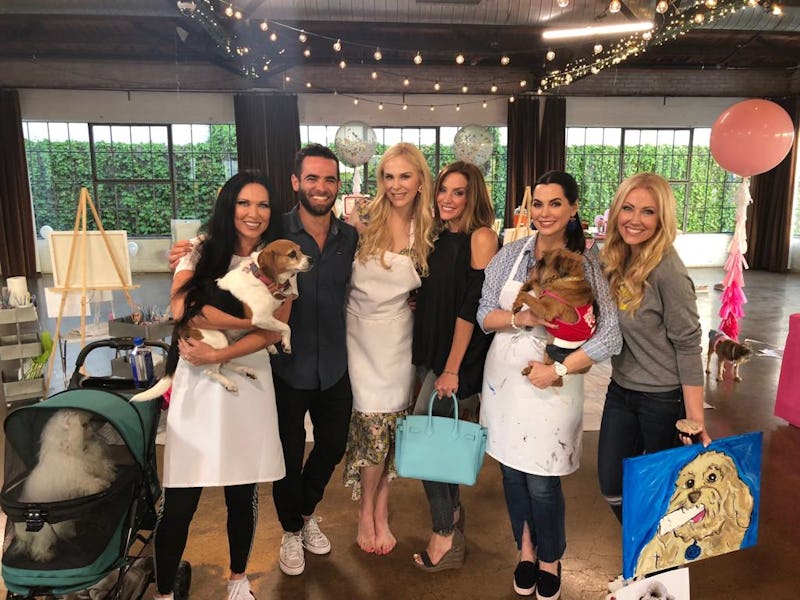 Bluprint
During Wednesday's episode of the Real Housewives of Dallas, the women gather for your not-so-typical "Paint and Sip" class. As you can watch in the following RHOD Season 3 exclusive sneak peek, Kameron Westcott hosts her fellow Housewives and their children to learn how to paint portraits of their pups. Bringing your dogs with you to a painting class, all while sipping on champagne? Yes, it's as glorious as it sounds.
Even though Kameron reveals to D'Andra Simmons in the clip that she was an art major in college (who knew?!), instructor Adam Vicarel is there teaching the Bravolebrities exactly what to do.
For those unaware, Vicarel is from NBCUniversal's Bluprint, a lifestyle learning streaming platform, Hand Lettering for Beginners, where he shares his expertise with viewers on how to create hand-lettered designs with simple material found at home, through easy step-by-step instructions.
As excited as Kameron is to paint and get back to her art roots, she's very focused on ensuring the event looks great. "When you host a party, you want to make sure your food is perfectly organized, because if it's not the whole vibe could be off in the beginning of the party," she says in the video. "That'd be horrible."
Regarding the food, yes, her SparkleDog food line is present for the pups to enjoy. Oh, and better yet, Kameron also hires a string quartet, because what else says painting pictures of your dogs like classy music? "I hear classical music is very good for children and for dogs," she says.
Having a string quartet (even though there are only three musicians present) is just so Kameron, but it's also a bit confusing. Like D'Andra wonders upon her arrival, "What kind of f*cking party is this? Is this orchestra supposed to inspire us to paint our dogs better? I'm not really sure. Maybe LeeAnne [Locken] rapping would be a better choice?"
As you can imagine not all of the paintings go as planned. It definitely doesn't look easy creating portraits of dogs by painting freehand. "I drew Pac Man," Brandi Redmond hilariously declares as she stares at her canvas. "I feel like I should just finish. Like this is it."
In no surprise whatsoever, Kameron likes her painting "the best." Then, Stephanie Hollman takes quite the zing at D'Andra's portrait. "The only painting that's worse than D'Andra's is gotta be Zuri's," Stephanie jokes while referring to Cary Deuber's daughter.
If you like what you see in the clip and think the class looks fun, register at Bluprint from Oct. 5 through Oct. 12 for free and unlimited classes with Vicarel and other makers, doers, and creatives.
Also, be sure to watch the clip for yourself to see how the RHOD cast's paintings turned out. It's definitely harder than it looks. Really, all that matters is the women look like they're actually getting along and not arguing at an event. That's the power dogs possess. Maybe they should "Paint and Sip" more often.
RHOD airs Wednesday's at 9 p.m. EST on Bravo.