This 'Scandal' Clip Will Get You Excited For The 100th Episode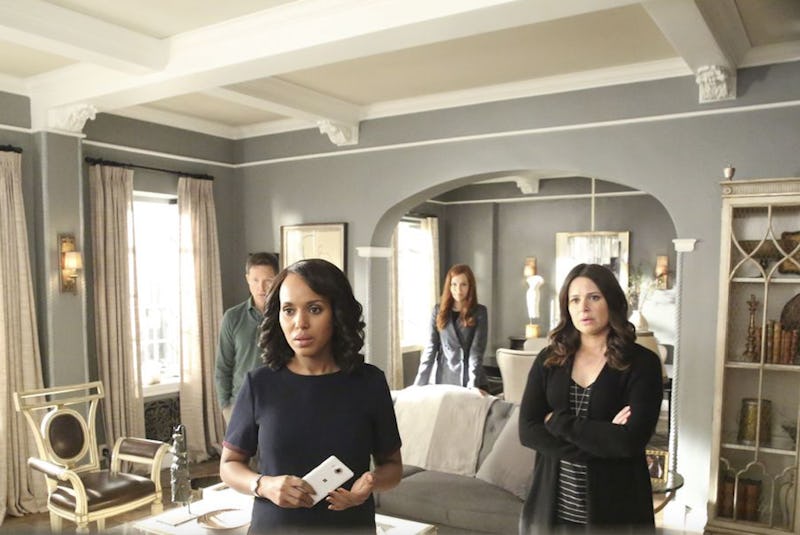 ABC/Mitch Haaseth
Shonda Rhimes is about to rock the world of every Scandal fan with Thursday night's game-changing 100th episode. I can barely contain myself. I recently spoke with the cast during LA's PaleyFest about what fans can expect from Scandal's "what if" episode and why it will change the way viewers see the series and its characters. The episode, titled "The Decision," is a Sliding Doors-esque take on the Scandal universe, showing what would happen if Olivia, Mellie, Cyrus, and Hollis Doyle didn't rig Fitz's election. Every character's storyline is expected to play out in a completely different way than they have thus far in Season 6. In a new Scandal sneak peek revealed on Variety, fans see the shocking way they'll be catapulted into this crazy alternate universe.
Every single episode since the assassination of president-elect Frankie Vargas has caused heads to spin, with shocking revelations and the near-death of Huck. Given the continuous reveal of game-changing details about that night and why certain people like Abby and Rowan were involved, it seems like a random time to take a pause. But this new clip reveals the perfect tie-in to a parallel universe, as viewers are finding themselves back to where it all began: amidst the uncertainty of who the next president will be.
In the clip, Fitz tells Olivia and Jake that he's dead-set on clearing Cyrus' name and making him president, regardless of the dangerous group of people controlling Washington (who want Mellie in office, caused the assassination, framed Cyrus for it, and nearly killed Huck). Because, wait for it: Jake and Olivia insist that they manipulate yet another election to get Mellie in office. Fitz refuses, insinuating that Mellie deserves better. Then, Jake poses the idea that Fitz and Olivia's lives would be "worse" if Olivia didn't fix the election the last time around. Olivia (and fans) are left to wonder what that world would be like.
It is actually perfectly fitting to take this moment of uncertainty and bring fans back to where it all began. Will reflecting on an alternate universe change Olivia's decision this time around? Fans will find out soon enough. Thank the heavens.