This One Stat About Women In The Primaries Will Make You Scream "Who Run The World?"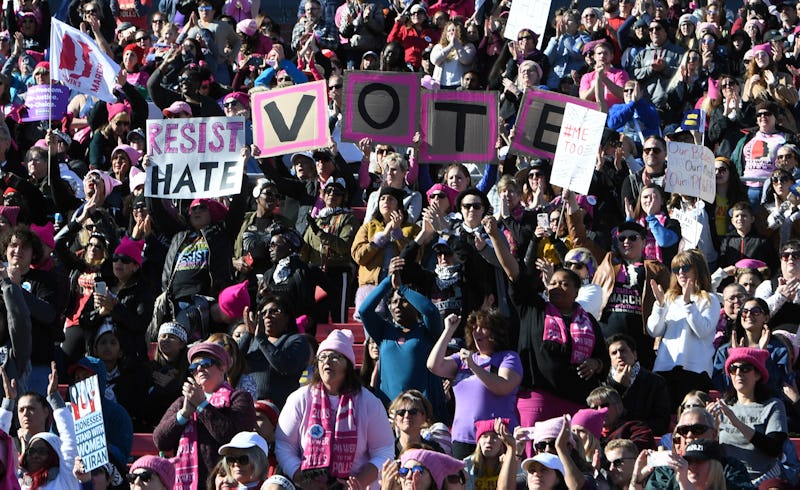 Ethan Miller/Getty Images News/Getty Images
From the moment Donald Trump took office, American women have challenged him on issues like women's rights, access to reproductive health care, and equal pay. Hundreds of thousands of women have taken to the streets in the past year and a half to protest the Trump administration, but Tuesday's multi-state primaries also showed a record number of women running for elected office as another form of protest.
As Politico pointed out earlier this year, women only make up one-fifth of Congressional officials. To change that, more than 300 women were running for congressional seats as of March. According to the Los Angeles Times, a record number of women are currently running for seats in the House of Representatives. The majority of these women are Democrats openly speaking out against the Trump administration, but five Republican women — such as two incumbents in Indiana, Reps. Jackie Walorski and Susan Brooks — are also facing positive prospects.
Four states held primaries on Tuesday: Indiana, Ohio, West Virginia, and North Carolina. According to The Washington Post, women won their parties' nominations in 27 of 43 congressional districts. In West Virginia, women won major-party primaries for half of the House seats up for grabs.
And across all four states, women won 16 of the 19 open House Democratic primaries.
Black women in particular achieved major victories during the primaries, with eight black women winning primaries on Tuesday. They did especially well in North Carolina, which for the past couple years has started to lean Democratic.
The Democratic women who won their primaries have a challenging road ahead of them as they go into the general elections, however. In Ohio, for example, The Washington Post reported that six of the Democratic women who won their party's nominations will be challenging Republican incumbents in districts that are likely to go Republican. The same is true of four Democratic women in North Carolina, three Democratic women in Indiana, and two Democratic women in West Virginia, and two Democratic women running for open House seats.
But Congressional seats aren't the only offices to watch; women are also running for all other levels of government in significant numbers. EMILY's List, a federal PAC that aims to elect pro-choice Democratic female candidates to office, released data showing that 34,000 women had contacted the organization to express an interest in running for political office in 2018. It's likely that not all of these women ended up running for office, but it's still a dramatic increase from 2016, when EMILY's List reported hearing from 920 women.
Tuesday's primaries came just two months after the primary elections in Texas, which also resulted in promising prospects for female candidates. 24 Democratic women either won their party's primary or made it into a runoff election across 32 of Texas' congressional districts.
Politico pointed out that there are still dozens more primaries to go before the general elections in November, and suggested that the real test for women running for office will be whether the political energy they have been mobilizing through movements like the Women's March will translate into successful campaigns and victories.
One of the women who won her primary election on Tuesday was Rachel Crooks, who is one of at least 19 women who has accused Trump of sexual misconduct. She ran unopposed in her primary for the Ohio Legislature and won the Democratic nomination, and if she wins the general election in November, she will be the first Trump accuser to hold elected office.
Crooks, like many other female candidates, will try to garner support in generally conservative areas, but EMILY's List, NARAL Pro-Choice America, and other women's rights organizations are optimistic that the increased interest women are showing in running for office will ultimately translate into better representation at all levels of government.