This 'Stranger Things' & 'Full House' Mashup Answers A Major 'Fuller House' Fan Question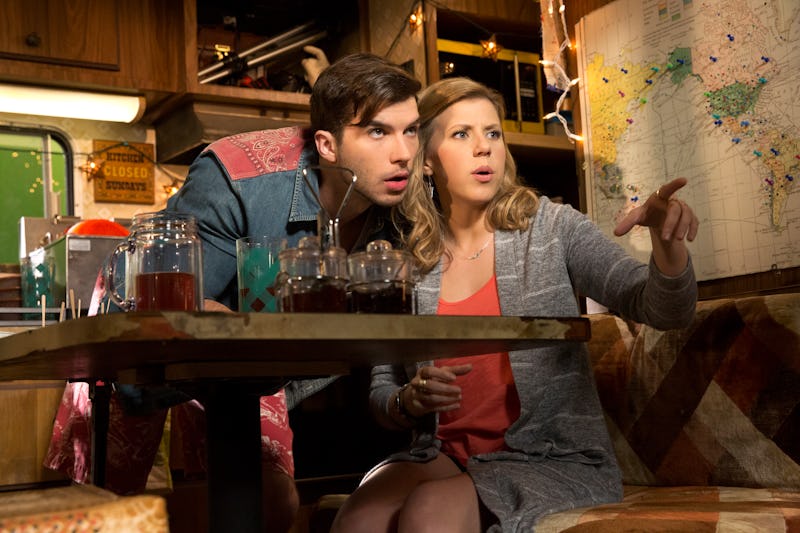 Mike Yarish / Netflix
When Fuller House revealed in Season 2 that Kimmy Gibbler has a little brother, you might have been surprised. After all, Full House never made mention of Kimmy having a sibling over the course of its eight seasons. But, now the Netflix revival is attempting to answer where Kimmy's brother, Jimmy Gibbler (Adam Hagenbuch) has been the last 30 years. And to answer this major Full House fan question, the show's given us a Fuller House/Stranger Things mashup that will leave you feeling a little upside-down.
While the Tanners are away, Jimmy Gibbler will play. Specifically, he'll play every character that appears in the Fuller House opening theme. For his take on the updated intro, he washes a car, poses with a very tiny backup, and licks a few Oreos before putting them back in the cookie jar. Yeah, the Tanners should probably start locking their doors when they go away.
Of course, this Facebook video only takes him all of 30 seconds, which means he's left with a lot of time to wonder why it is that he keeps getting excluded. When he looks at the wall of family photos he notices he's not in a single one. How rude, right? Especially since DJ says in this clip that Jimmy's "so sweet and thoughtful."
But soon, Jimmy, who's currently dating Stephanie Tanner (Jodie Sweetin), starts to remember where it is he's been all these years and it should look familiar to Stranger Things fans. Yes, Jimmy was stuck in the Upside-Down, which apparently doesn't just exist in Hawkins, Indiana, but in San Francisco, too. Do the math and it's quite possible that Jimmy was there along with Will Byers. After all, Jimmy was allegedly born in 1982 and Will was taken the following year.
Now it's unlikely Netflix will be giving us a crossover episode of its two hits series anytime soon. This was just Hagenbuch having a little fun before Part 2 of Fuller House Season 3 hits Netflix on Dec. 22. The final episode of Part 1 ends with the Tanners heading to Japan for a wedding. Not to mention a few cliffhangers. Seriously, what is going to happen with that DJ, Steve, Matt love triangle? But Jimmy, well, you guessed he was left behind once again.
The actor who plays Jimmy is making the most of it though. Hagenbuch wrote, produced and co-directed the clip with his childhood friend Ben Davis, which he says gives a little insight to where Jimmy was for the last three decades. He even joked on Facebook that "Maybe thats where Michelle still is?"
Unfortunately, Michelle isn't in the Upside-Down, the explanation to where she is now is much simpler: Mary Kate and Ashley Olsen have chosen not to appear on Fuller House. After all, they are a little busy running a fashion empire.
Hagenbuch, though, was clearly very busy making sure his Fuller House Upside-Down looked like the original. And boy, did he nail it. There's Christmas lights everywhere and white spores floating in the air to make things even creepier, which explains why Jimmy's carrying that teddy bear. Seriously, everywhere you look, it looks like Stranger Things. All that's missing is a Demagorgon, which honestly, we're happy to see hasn't made its way to the Tanneritos just yet.
For those looking for the real explanation as to where Jimmy Gibbler's been all this time, creator Jeff Franklin hasn't chosen to say. But, as to why Fuller House decided to introduce Kimmy's little brother nearly 30 years into the show, he said it was all about family. And maybe to terrorize Stephanie just a little.
Frankin told the website Cinema Blend that "Kimmy has always wanted to be a part of the Tanner family" and giving her a little brother was a way of bringing them closer. Kimmy isn't so sure about Stephanie being her brother's girlfriend and "Stephanie of course has mixed feelings as well," Franklin said about dating Jimmy. "It's secretly terrifying her to think that if this works out in the long run, all the Gibblers would be her family."
Now, that might really be the strangest thing about this show.