Maggie Smith & Judi Dench's New Doc Is Like 'The Golden Girls' Meets 'Downton Abbey'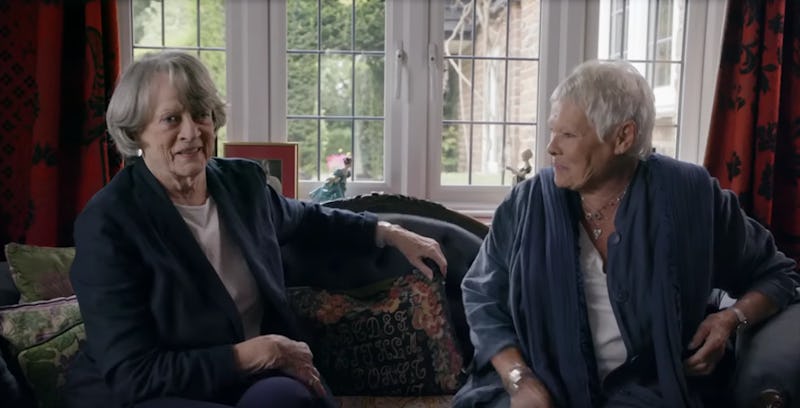 IFC Films / YouTube
What happens when you put four legendary actresses in a room together? Based on the newly released trailer for Tea with the Dames, the new documentary from director Roger Michell, you get pure, unfiltered, cinematic magic. Starring Judi Dench, Joan Plowright, Eileen Atkins, and Maggie Smith, the project centers around the illustrious careers of all four women as they recall some of the juiciest pieces of gossip they've heard and the wildest things they've experienced in the business. And to say that it is a joy to watch would be a definite understatement.
Right off the bat, these dames waste no time in proving that they're still queens of the industry and relish in giving the camera crew a bit of a hard time. "That's an awful angle. It's not fair to old ladies," Atkins jokes in the clip, while Smith follows it up with a comment to an off-camera photographer, quipping, "Is it your first day?" And the one-liners only continue to get better and better.
Later on in the trailer, the director asks the women to discuss a little more about what it's like getting old in Hollywood, to which Dench promptly responds with a "F*ck off, Roger!" Seriously, these ladies have zero f*cks to give and it's honestly a delight to watch. This movie feels like the perfect combination of so many female-led power groups. It's basically Sex and the City meets Golden Girls meets Downton Abbey all rolled into one, which is the highest form of praise in existence.
From discussing their former spouses to the roles that made them all icons, no topic is off limits throughout this one-day gathering, especially when the group decides to move on to other beverages besides tea. "Do you think we ought to have a glass of champagne 'round this one?" Plowright asks at the end of the clip. Oh to be a fly on that wall. All these women need are some cheesecake and cosmopolitans and they'll be good to go. (BTW, Dench is a total Sophia, right?)
Documentaries are always a great way to gain some real insight into a person's life, so hearing what Dench, Smith, Plowright, and Atkins have to say is sure to be equal parts entertaining and enlightening. Given the impressive careers they've had (and continue to have to this day), their fascinating stories deserve to be heard. And who doesn't want to spend a few hours sitting down to watch these legends spill all kinds of tea — both figuratively and maybe even literally.
Dench is a seven-time Academy Award nominee, who has starred in numerous widely known films, such as Notes on a Scandal, Philomena, Shakespeare in Love, and Murder on the Orient Express. Meanwhile, Plowright's credits include Enchanted April, Dennis the Menace, and Tea With Mussolini, which coincidentally also starred Dench and Smith. Not to be outdone, Atkins has been prominently featured in projects such as Gosford Park, Cold Mountain, Cranford, and Netflix's The Crown. And last, but certainly not least, there's Smith, who's played everything from Wendy Darling in Hook and Mother Superior in Sister Act to Professor McGonagall in the Harry Potter franchise and Violet Crawley on Downton Abbey. The credits just go on and on.
Put all of that together and these women are four of the most celebrated performers in theater and film history. So yeah, they definitely have a lot they want to say — and they aren't afraid to say it.
Tea with the Dames hits theaters on Sept. 21.