Here's The PERFECT Homemade Soup Recipe For When It Feels Like Winter Will Never End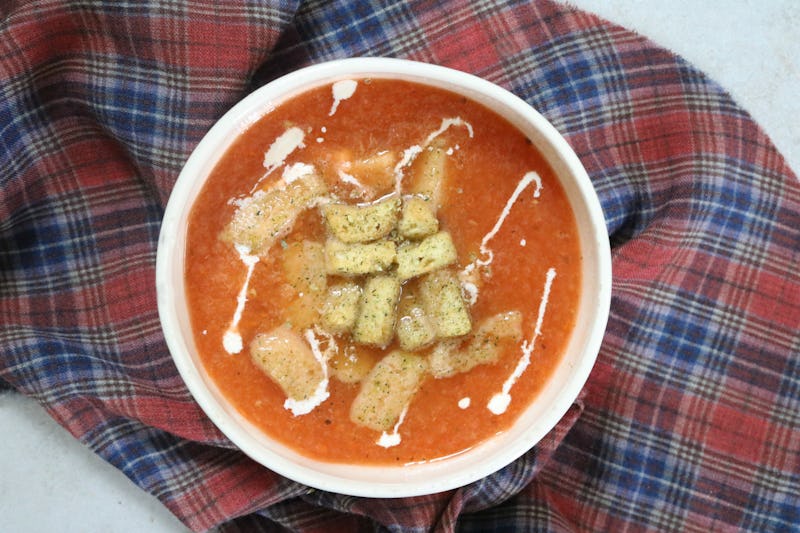 Kirsten Nunez
Nothing says "comfort food" quite like a hot, zesty bowl of tomato soup. And if you are anything like me, this classic dish is like holding a delicious throwback to the golden days of your childhood right in your hands. However, the canned stuff can get pretty boring after a while — so I created this tomato soup recipe specifically designed for one person. In other words, the recipe only produces a single serving, making it perfect to make when you're cooking for yourself and don't want to deal with leftovers. Who knew that was even possible?
There is nothing more gratifying than making food from scratch, whether it is a single soft pretzel or a delicious stuffing recipe. Making just enough for one person also gives you the opportunity to use up leftover ingredients like onions, heavy cream, and of course: Tomatoes. It sure beats tossing everything in the trash. Additionally, I love making single serving recipes as a way to reduce food waste — and being able to enjoy a fresh batch of soup each and every time doesn't hurt, either.
If you have never made soup from scratch, don't fret. It is surprisingly easy to do, even for those who aren't well-versed in the kitchen. All you need to do is chop, simmer, and blend, according to the recipe below. Enjoy!
Tomato Soup For One
1 cup broth of choice
1 medium tomato or 14 ounces canned tomatoes
1 tablespoon heavy cream (optional)*
1/4 cup chopped onion
1 tablespoon butter
1/2 teaspoon garlic
1 teaspoon spices of choice
* If you prefer soup that is more like cream of tomato, add heavy cream.
1. In a small pot over low-medium heat, melt the butter. Add the garlic and onions. Saute until the onions turn soft and golden, about 10 minutes.
2. While the onion is cooking, dice the tomatoes.
3. Add the diced tomatoes, broth, and spices to the pot. If you are using tomato paste, add it now. Do not add the heavy cream just yet.
Simmer for 15 to 20 minutes. Stir the mixture often and make sure it does not come to a boil.
4. After 15 to 20 minutes, add the heavy cream.
5. Let the soup lightly cool, so that it is warm but not hot. Puree in a blender or food processor. Re-heat if necessary and top off with cheese, croutons, fresh basil, or a drizzle of heavy cream. Or how about all of the above?
Believe it or not, this was my first time making tomato soup... and I am obsessed. The flavor is nothing like the stuff from the can. It tastes fresh and homemade, just the way I like it.
As with all dishes made from scratch, you can tweak this recipe to your liking. Need some tasty inspiration? Here are a few ideas to get you started:
Tomato Paste
Tomato paste will amplify the flavor and color of your soup. However, since most of us probably do not have a tablespoon of tomato paste hanging around, it's OK to skip this ingredient.
Milk
For a richer "cream of tomato" version, simmer the tomatoes in just 1/2 cup of broth then blend with 1/2 cup milk of your choice. You can also stick to the original recipe and add 1/2 cup milk before blending. Don't be afraid to experiment with what you have on hand.
Vegetables
Bulk up the soup with veggies like beans, corn, or cauliflower. And if you're stuck with just part of one tomato? You can still make this recipe. Simply combine it with other vegetables like corn or beans for a hybrid soup. This approach also works if you need to use up a handful of grape tomatoes.
Hot Sauce
To take things up a notch, add a drizzle of your favorite hot sauce right before blending the soup. A teaspoon of paprika, chili powder, or Cajun seasoning will also do the trick.
Homemade Croutons
Out of croutons but have a slice of bread? Simply slice it into squares and toss with olive oil and spices. Bake for 15 minutes at 350 degrees Fahrenheit or until golden brown.
This almost makes winter a little easier to deal with.
Check out more Single Serving recipe ideas here for when your speed is less "entertaining my crew" and more "watching Netflix alone on my couch."