This Trump Hush Money Update Suggests He Personally Arranged Payoffs To Silence Women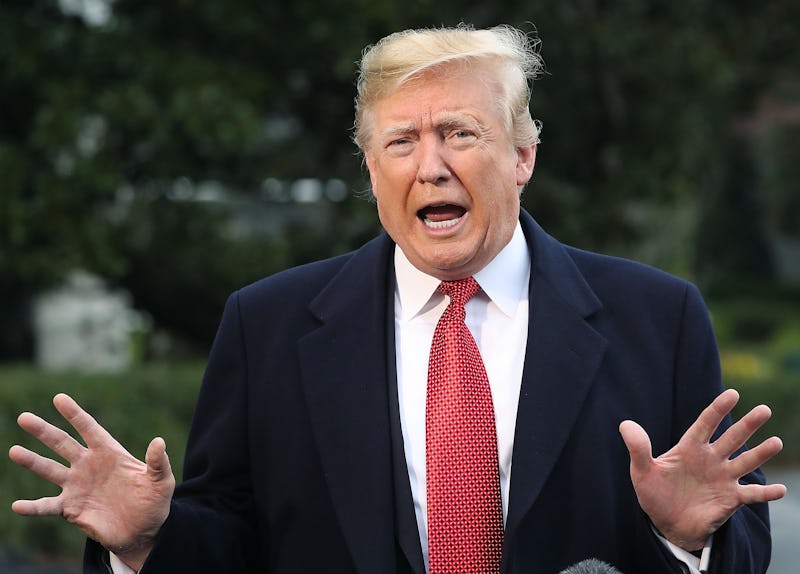 Mark Wilson/Getty Images News/Getty Images
On Friday, the Wall Street Journal published a bombshell update to the Donald Trump hush money story. Although it had already been reported that President Trump's associates paid off women with whom he'd had affairs in order keep them silent, the Journal reported Friday that Trump personally arranged these payments and was deeply involved in facilitating them.
Bustle has reached out to the White House for comment. Bustle also reached out to Jay Sekulow's organization in attempt to get in touch with him as he is Trump's outside counsel.
Karen McDougal and Stormy Daniels have both have said publicly that they had sex with Trump while he was married (he denies their claims), and that they were paid to stay silent about their affairs. While pleading guilty to campaign finance violations earlier in the year, Trump's former lawyer Michael Cohen testified that he'd facilitated these payments at the request of "Individual-1," who is almost certainly Trump.
Trump denies that he had affairs with Daniels and McDougal, but has issued conflicting statements on whether or not he knew about these payments. In April, the president said he had no prior knowledge of the Daniels hush money and that he didn't know where the money came from; a month later, Trump acknowledged that he had reimbursed Cohen for the $130,000 Daniels payment.
Trump's team initially denied any knowledge of the McDougal payments as well. When the story was originally reported, then-campaign spokesperson Hope Hicks told the Journal that "we have no knowledge of any of this." But in August, Trump acknowledged to Fox News that he "knew later on" about the payments.
However, Friday's report in the Journal sheds new light on just how deeply involved Trump himself was in these payments. For instance, the Journal reports that Trump personally asked David Pecker, the publisher of the National Enquirer, to buy exclusive rights to McDougal's story and then not publish it — a practice known in the media as "catch and kill." Pecker's company did pay McDougal $150,000, and never published her story.
The Journal also reports that Cohen, who will be sentenced for his crimes in December, has been speaking with federal prosecutors about Trump's involvement in these payments in an attempt to get a reduced sentence. Cohen has told investigators that in the lead-up to the 2016 election, he and Trump discussed paying Daniels for her silence, and that Trump told Cohen to "get it done," according to the Journal. In addition, Cohen has reportedly told investigators that he and Trump discussed how to make the payments such that they couldn't be traced back to Trump.
Cohen secretly recorded at least one of the conversations he had with Trump about these payments, which CNN obtained audio of. CNN then published it in July.
"I need to open up a company for the transfer of all of that info regarding our friend, David, you know, so that — I'm going to do that right away," Cohen is heard telling Trump.
"So what are we gonna pay?" Trump replies. He then seems to say "150" but the audio is muddled. It has been reported, and Cohen later testified, that McDougal received $150,000 from Pecker to sit on the story of her alleged affair with Trump. This contradicts Trump's claims to Fox News that he only learned of payment "later on."
"Yes," Cohen replies. "When it comes time to the financing—"
"What financing?" Trump replies.
"We'll have to pay," Cohen says.
At that point, Trump either says, "so we'll pay with cash" or "I don't pay with cash." Several audio experts who analyzed the tape concluded that he said the former, CNN reported, but Trump's lawyer Rudy Giuliani maintains that he said the latter.
According to the Journal, Cohen and Pecker signed an agreement in which Cohen, through a shell company, would reimburse Pecker for the $150,000 he paid to McDougal. However, Pecker then called off the deal out of concern for its legality, and told Cohen to tear up the reimbursement agreement. But Cohen kept a copy, according to the Journal, and federal agents found it while raiding his office earlier in the year.