This Tweet About Julia Louis-Dreyfus Highlights Just How Selfless The 'Veep' Star Truly Is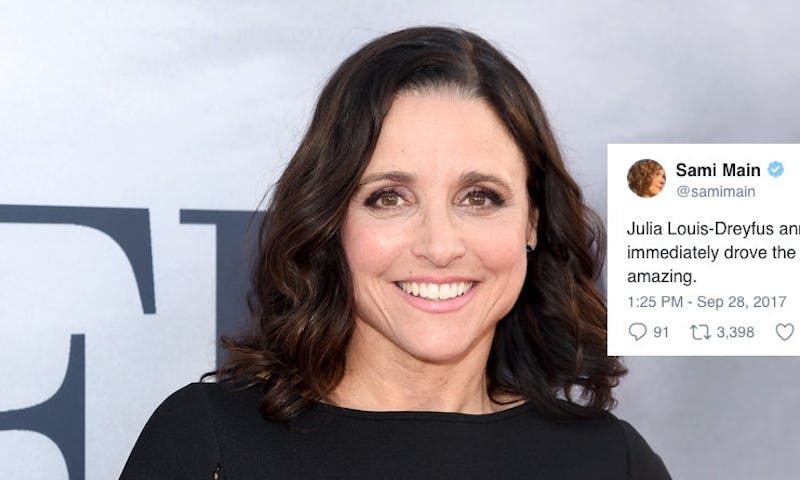 Kevin Winter/Getty Images Entertainment/Getty Images; SamiMain/Twitter
On Thursday afternoon, Veep star Julia Louis-Dreyfus announced her breast cancer diagnosis via social media. On Instagram and Twitter, the Emmy Award-winning actor wrote, "1 in 8 women get breast cancer. Today I'm the one." But with her announcement, Louis-Dreyfus also wanted to remind fans how lucky she is to have "the most glorious group of supportive and caring friends and fantastic insurance through my union." One tweet managed to sum up the importance of Louis-Dreyfus using her diagnosis to focus on healthcare.
Adweek digital media reporter Sami Main tweeted,
"Julia Louis-Dreyfus announced she has breast cancer and immediately drove the conversation to healthcare because she's amazing."
And, it's hard not to agree with Main. Louis-Dreyfus' selflessness sparks a conversation that's more than necessary about the access to affordable healthcare for all. In her case, Louis-Dreyfus receives insurance through SAG-AFTRA, a union for television actors, journalists, radio personalities, recording artists, singers, voice actors, and other people in media. But, that's not the case for everyone.
Something the actor was well-aware of. In her announcement, Louis-Dreyfus wrote, "The bad news is that not all women are so lucky" to have access to affordable care, "so let's fight all cancers and make universal health care a reality." With that political message, Louis-Dreyfus could teach her Veep character Selina Meyer a few things about what the people need and want from their government officials.
According to statement from HBO to People, Louis-Dreyfus received her diagnosis the day after winning her latest Emmy for Veep. With that win, Louis-Dreyfus broke her own record and won her sixth straight Best Actress in Comedy Series statue for the HBO series for which its next season, Season 7, will be the last. HBO announced that the filming schedule for Veep will be adjusted as necessary to accommodate the show's star.
By sharing this personal news, Louis-Dreyfus is already offering a reminder to women that mammograms are important and can lead to early diagnosis. But, she took the issue a step further by putting her support behind universal healthcare, a topic that's been in the news a lot lately. In fact, her announcement comes only days after Republicans failed to get enough support for the Graham-Cassidy Bill, which looked to repeal and replace the Affordable Care Act better known as "Obamacare." This means to improve the current healthcare system, Republicans and Democrats will have to work together.
Louis-Dreyfus doesn't lay out how exactly she will work to support universal healthcare, but just putting her star power behind the topic is helpful. After she shared this news, fans began showing support with GIFs of her characters like Elaine Benes on Seinfeld and Christine on The New Adventures Of Old Christine.
Famous fans and friends also came out in support, specifically highlighting her decision to shed light on a bigger topic while sharing her own diagnosis. "You are incredible to use this moment as an opportunity to support others," Will & Grace's Debra Messing tweeted. Dropping a couple of F-bombs, Anna Kendrick tweeted, "F*ck. F*ck. I don't think I realized how much I love this woman, who I don't know. Love her more for speaking up for others in this moment."
In a series of tweets, Kathy Griffin expressed her thanks for Louis-Dreyfus' message: "Major respect, compassionate & love to Julia & all the people who will be helped by her honesty."
Griffin, who lost own sister, Joyce, to breast cancer just two weeks ago, wrote about how some had commented on Louis-Dreyfus' post by noting that she was born with money, so she doesn't truly understand the problem. It was something Griffin disagreed with tweeting, "Julia never had anything to gain from her activism except trying to make the world a better place for herself and others."
But her Veep co-star Tony Hale probably said it best in his own tweet in just four words: "We love this woman." Fans sure do, especially when she's using her position of power to help those who need it most.