The Most Unexpected 'Queer Eye' Reunion Happened & No, You're Not Ready For This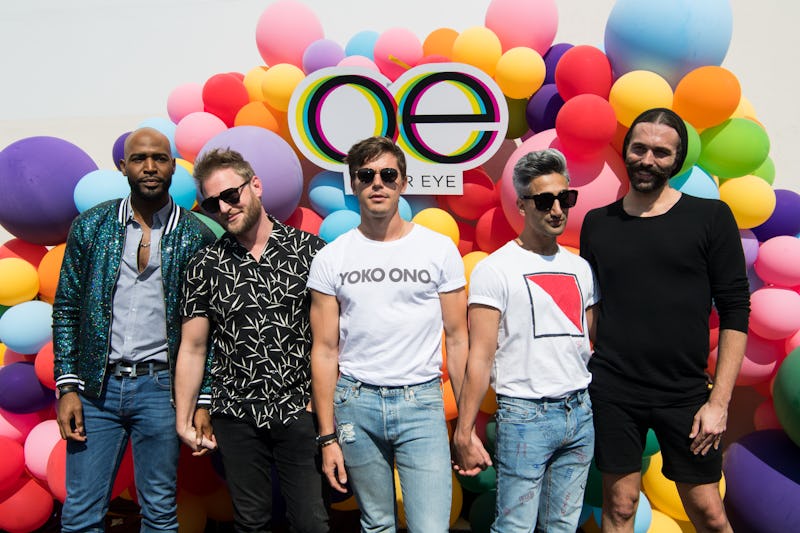 Emma McIntyre/Getty Images Entertainment/Getty Images
One can never get too much of the Fab Five. Luckily, with the 2018 Emmys just behind us, fans got to see the crew out and about, constantly reuniting on red carpets and at fabulous events (while also basking in the glory of Queer Eye's multiple Emmy wins). But one thing fans probably wouldn't have expected is for the show's beloved guets to have a party of their own. Queer Eye's contestants reunited at Mama Tammye's community center and no one can handle this totally unexpected amazingness.
On Saturday, Queer Eye's official Netflix account shared the photo of a handful of Season 1 and 2 contestants together in one big love-fest. The crew posed for a photo at Tammye's church community center, which was emotionally made over in Season 2's premiere episode "God Bless Gay." Viewers likely didn't know the contestants have been in touch with other since their transformations on the show, and that makes them hanging out and sharing group hugs all the more special.
Sadly, members of the Fab Five didn't seem to be there, but they're definitely feeling the love. Karamo Brown responded to the reunion, tweeting, "Omg this makes me so happy." What's best of all is that the contestants look incredible and seem to have maintained their epic transformations, doing the Fab Five proud in the process.
From top to bottom, left to right, the reunion included: Neal Reddy (Season 1), Bobby Camp (Season 1), Cory Waldrop (Season 1), Jason (Season 2), Joe Gallois (Season 1), William Mahnken (Season 2), Sean VanMeter (Season 2), Mama Tammye and her son (Season 2), and Skyler Jay (Season 2). While all Queer Eye contestants are heroes in their own right, this photo does a beautiful job of capturing the show's progressive history, as it includes Queer Eye's first woman (Tammye) and transgender subject (Skyler).
Needless to say, fans are loving every bit of this reunion. If only it had its own episode...
Some loyal fans are even responding to the photo with a reference from William's episode, in which he proposed to Shannan, writing, "I Shannan this."
While it's certainly emotional that the crew would take the time to get to know each other and spend time with one another, the setting also makes this extra special. Most contestants get their homes made over, but Tammye dedicated her makeover to her family's legacy: their church community center. The episode also included some intense moments from the Fab Five's Bobby Berk, who opened up about his tumultuous and heartbreaking relationship with his Christian faith.
Back in July, the Fab Five told Bustle about why Season 2's premiere episode may have been their favorite and most emotional yet. "If there's one [transformation] that meant the most to me, I would have to say the first [episode] with our first woman," Karamo said. "It was amazing. It was exceptional." Antoni Porowski added, "There's a really important lesson there that I think everybody could [learn from]. I feel strongly about that one."
Hopefully someone is getting the crew back together again with the Fab Five and on camera for the fans' sake. Audiences can only take too much missing out at once.