You Can Make This Easy Vegan Apple Cobbler Recipe In Less Than 30 minutes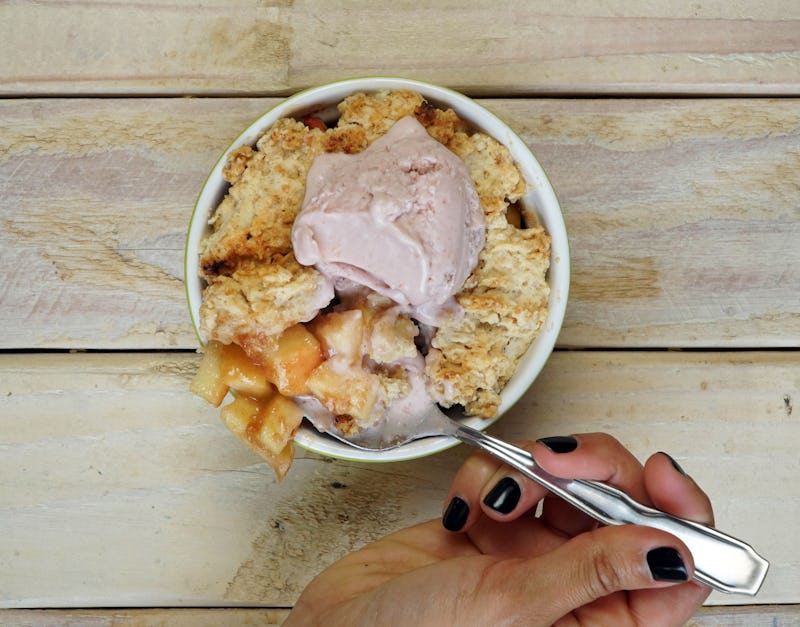 Stephanie Lundstrom
Few desserts are as classic and delicious as apple cobbler. And with its crisp, fruity taste and delectable texture, this vegan apple cobbler recipe for one person is the perfect dessert for any occasion (or no occasion — treat yourself). Even the most amateur baker can pull together this dessert without fear of imitating the worst of the worst from Nailed It.
Many people believe that cooking or baking vegan is difficult, or that one must inconveniently "go out of the way" to prepare a vegan meal or treat. In my experience, though, vegan food is as easy to make as it is delicious to eat — and this recipe is no exception.
To make this tasty apple cobbler vegan, the only substitutions you have to make are for the butter and milk. In place of butter, simply select a vegan version from brands such as Earth Balance, Miyoko's Kitchen, and even I Can't Believe It's Not Butter. As far as the milk goes, just use almond, soy, rice, coconut, or any other plant-based milk. With a huge variety in both type and brand, vegan milk is easier than ever to find.
Here's your go-to recipe for a delicious vegan apple cobbler for one.
For the filling:
1 apple, cubed
1½ tablespoons sugar
¼ teaspoon cinnamon
⅛ teaspoon salt
¼ lemon, juiced
1 tablespoon cornstarch
For the topping:
¼ cup all-purpose flour
2 tablespoons rolled oats
¼ teaspoon baking powder
⅛ teaspoon salt
1½ tablespoons brown sugar
1½ tablespoons cold vegan butter or margarine
2 tablespoons dairy-free milk of choice
1. For the filling, mix together the apple, sugar, cinnamon, salt, and lemon juice. Once well-combined, slowly sprinkle in the cornstarch while mixing to avoid clumping. Set aside.
2. For the topping, mix together the flour, oats, baking powder, salt, and brown sugar.
3. Cut in the butter with a fork until the mixture is crumbly. Then add the milk and mix until the topping holds together.
4. To assemble, pour the filling into a large ramekin, and evenly distribute the topping over the apple mixture.
5. Bake for 15 to 20 minutes at 400 degrees. Keep an eye on it. Once the top is golden brown, it should be done!
See? Making a vegan dessert isn't hard at all.
Looking for ways to make your cobbler even more delicious? Try getting creative with a few dairy-free toppings.
Dairy-Free Ice Cream
You have plenty of dairy-free options if you like ice cream with your cobbler. The dairy-free ice cream market has been expanding rapidly over the past few years. Brands like NadaMoo!, Ben & Jerry's, So Delicious, and Steve's are providing people with more options than ever before. So if you're looking for something extra yummy, go ahead and add a scoop to your cobbler.
Dairy-Free Whipped Cream
Everything can be made vegan these days, including whipped cream. A go-to favorite of dairy-free shoppers everywhere is the So Delicious CocoWhip! You can also check out Reddi-Wip, or look to Trader Joe's or Whole Foods 365 Everyday Value for other dairy-free options.
It's cool, you can thank me later.
Check out more Single Serving recipe ideas here for when your speed is less "entertaining my crew" and more "watching Netflix alone on my couch."