A Figure Skater Performed To Beyonce At The Olympics & Twitter Cannot Handle It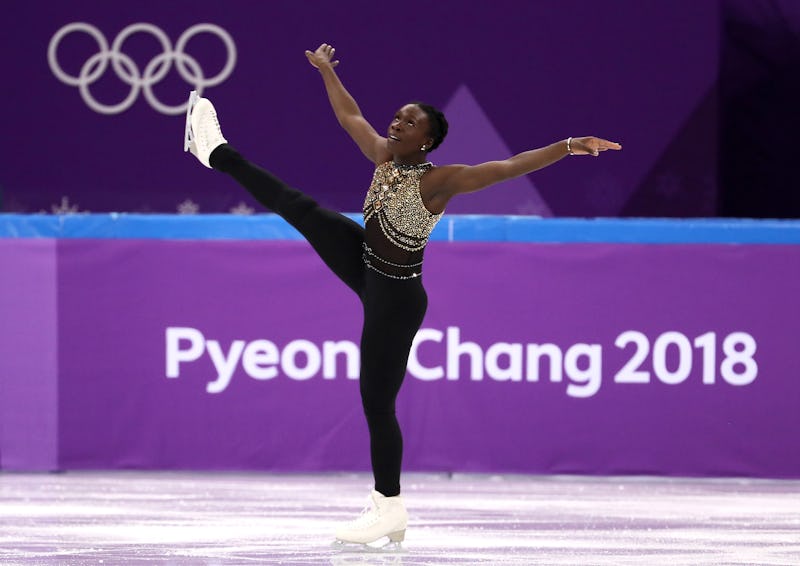 Jamie Squire/Getty Images Sport/Getty Images
Talk about the perfect song choice: French figure skater Maé-Bérénice Méité took full advantage of this year's new music rules by performing to Beyoncé at the 2018 PyeongChang Winter Olympics. That's certainly the best way I can think of to make sure your performance instantly stands out! As evidenced in the video of the figure skater performing to Beyoncé, Méité did her routine to a medley of some classics, including "Run the World (Girls)" and "Halo" — and viewers were absolutely loving it.
This is the first year Olympics figure skaters are allowed to use music with lyrics in their routines, making things a little bit more exciting, if you ask me. Méité got the crowd instantly amped up for her performance with her song choices, as well as her sparkling gold jumpsuit, and of course, her incredible talent. As much as I love figure skating, all of the ballads and classical music can get a little boring after a while, so it's fun to see someone do something different.
That appears to be exactly what Méité was thinking as well. She spoke to Cosmopolitan after her performance and said, "[Her music] is crazy, wild, and fun. You can just dance to it, and that's how I am." She added, "I wanted to do something that was very me, something fun, something I would enjoy!"
She definitely wasn't the only one who enjoyed it. She caught the attention of Twitter, becoming an instant viral moment, and even had other figure skating greats commenting on her set. It would have been amazing to see Méité earn a medal with this compilation, but unfortunately she ended up falling during her set and placing ninth. Still, that doesn't distract from a job very well done. We're beyond impressed, and so is the Twitterverse. Check out how much viewers loved seeing Méité perform - we hope we don't have to wait too long to see her skate again!
1. Viewers Loved This Epic Performance
I'm loving that gold jumpsuit as well.
2. Even Olympian Ashley Wagner Heaped On The Praise
The fire emoji was made for this moment.
3. Viewers Really Wanted Her To Win
We were all rooting for her!
4. Her Song Choice Really Gave Her Performance A Boost
My thoughts exactly.
5. Viewers Were Abandoning Their Countries For Her
Honestly, same.
6. A Lot Of People Felt Like It Was A Moment Not To Be Missed
It's true! At least you can watch it on the NBC site.
7. Do Judges Give Points For Beyoncé?
They should, right? They definitely should.
8. One User Pointed Out This Amazing Comparison
How did I not notice this before?!
9. Most Viewers Felt That The Song Made The Falls Irrelevant
They did!
10. This Is EVERYTHING
11. This Girl Gained So Many New Fans Today
Get in line, Brittany — we all want to be her bestie!
12. Some Users Pointed Out How Her Performance Was A Beautiful Way To Celebrate Black History Month
Look at the detail on that suit — it's gorgeous.
13. And Viewers Were Loving What She Was Wearing
Really, this performance was so good.
14. Users Just Loved Everything About What She Did
Everything about this tweet is great.
15. Beyoncé Is Probably So Proud
We can only hope Queen Bey herself will respond...
16. This Video Is Unbelievable
I've had it on repeat all morning!
At the end of the night, Méité responded to all of the love:
OK, I know we're supposed to be rooting for Team USA here, but come on: how can you not wish things had gone better for Méité after this performance? It doesn't seem like any other figure skater could top this music selection or costume choice, so honestly? Méité is a winner in my heart.