We Have A Page From The 'Will & Grace' Revival Script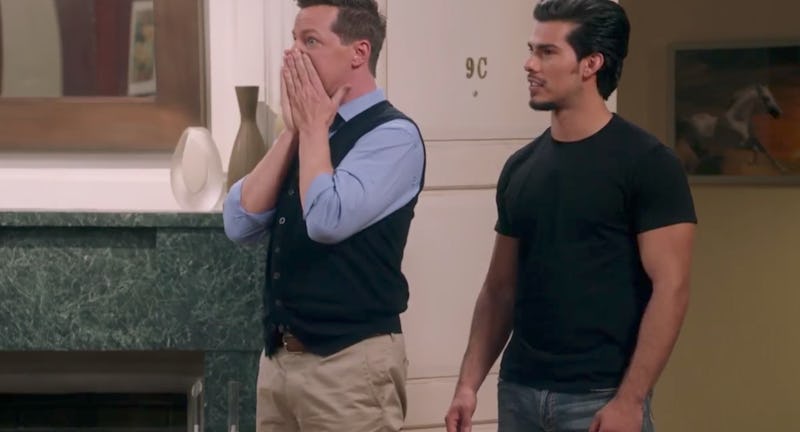 NBCUniversal Television Distribution
If you're wondering if the characters you've missed so much will still have the same charm as way back in 2006, don't worry. This Will & Grace revival script page proves that Jack will be ever bit as, well, Jack-tastic as ever. The creator of the show, Max Mutchnick tweeted the page, which shows Will talking to Jack about some upcoming nuptials and the one-time actor trying to use the situation to his advantage. Maybe you'd been concerned that, with a more than ten year time leap, the characters in the show would be in radically different positions in life. Well, rest assured. Will appears to still be single (or not dating anyone seriously enough to bring them as his plus one to a wedding), and Jack doesn't appear to be any more financially stable than before. That, or maybe he's still just as materialistic as he always was.
The page also suggests the show hasn't grown sentimental in time for its revival. One of the joys of the series was the fact that, unlike other shows about singletons in New York like Friends or Sex and the City, it never tried to propose that a friendship group could be a stand-in for a person's family. Although the characters clearly adored bickering with each other, they never cut each other much slack.
They were just as likely to give each other hell for their faults as they were to comfort them over a break up. Of course, we'd already seen this in the first trailer for the 2017 revival, which showed Grace telling off Will for sucking up to an NBC executive, telling him "You know you got the job right? You left all your lipstick on his ass." The script page above is giving me pure goosebumps of nostalgia, because Will's just as capable of dishing it out as Jack is. Instead of reacting with hurt to someone responding to a possible wedding invitation by asking for a grand in payment, he quips he's perfectly happy to do Plan B — no date.
Obviously, the final line is just the cherry on top of the sitcom cupcake. "Karen enters with a monkey" has to be the best stage direction since Shakespeare's unforgettable "Exit, pursued by a bear" (from The Winter's Tale). It's not just absurd, but reassuring, reminding us that Karen is every bit as capable of excess in 2017 as she was in the pre-recession heyday when the show aired. And that makes me as happy as Karen on her sixth martini.