This Woman In A Puerto Rico Shirt Was Harassed As A Cop Ignored It. Now She's Speaking Out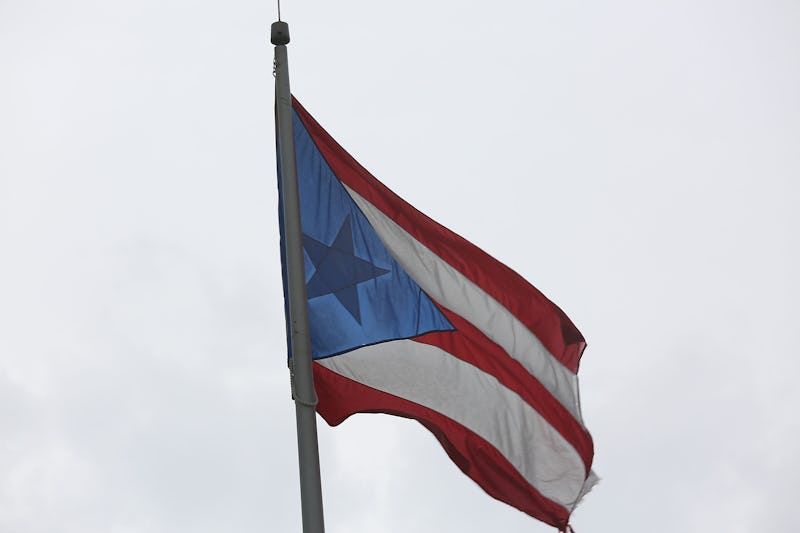 Joe Raedle/Getty Images News/Getty Images
In a video that has since gone viral, a woman was trying to enjoy a birthday party in a forest preserve near Chicago last month when a man started badgering her. The woman, Mia Irizarry, was being harassed because of her Puerto Rican flag T-shirt in an incident that was captured on camera — and it all went down as an officer stood by and did nothing. Now Irizarry is speaking out.
At a press conference in Chicago's Humboldt Park, Irizarry spoke about how she feared for her safety as the officer, later identified as Patrick Connor of the Forest Preserve District of Cook County, "blatantly ignored" her as she asked for help.
CBS News reported that after being placed on desk duty in June, Connor submitted his resignation on his own volition on Wednesday. And Irizarry said at the press conference that she was "severely disappointed" that he left the forest preserve without explaining himself.
"I will never get to hear from this man, this protector, the reason for why my safety — no, my life — had such little value to him," Irizarry said in video of the conference captured by NBC News. "Why an American citizen would not reap the benefits of the police force when it was most needed."
The man who harassed Irizarry, who was later identified as 62-year-old Timothy Trybus, was charged with two counts of felony hate crime on Thursday, The New York Times reported. He already faced charges alleging disorderly conduct and assault.
The original 36-minute video that captured the incident sparked widespread outrage.
"Why are you wearing that?" Trybus asks Irizarry in the June 14 video.
She responds, saying, "Because I can." Then she asks a nearby police officer for help — to no avail.
"Officer, I am renting this area and he is harassing me about the shirt that I am wearing," she said, later following up again with: "Officer, I feel highly uncomfortable."
The man continued to yell at Irizarry saying, "The world is not going to change the United States of America, period… You should not be wearing that in the United States of America."
For the record, Puerto Rico is a U.S. territory, and Puerto Ricans are U.S. citizens.
However, that didn't stop Trybus from saying to Irizarry: "If you were American, you wouldn't wear that. You know that right?"
During Irizarry's presser, other members of Puerto Rican community also spoke out and called for Cook County officials to be held accountable for what happened, CBS News reported. Since last month's incident the board president of Cook County Chicago issued an apology to Irizarry and even called the governor of Puerto Rico, according to The Chicago Tribune. The forest preserve also issued a statement on Thursday and noted that they were looking to improve training of their employees. The statement also praise Irizarry for her poise in handling the upsetting incident of harassment.
"And, it's up to each one of us to present a better model, to demonstrate with our own actions, how to treat people with more respect," the statement said. "We might start with the fine example presented by Mia Irizarry and her family, who handled this ugly incident with great composure, never stooping to the level of the man who attacked her."
Then on Thursday, the Cook County Commissioner Luis Arroyo called the incident "appalling, gut-wrenching, and a real wake-up call to everyone." He also said the actions of the officer on scene were an embarrassment to other law enforcement. Irizarry echoed this assessment, calling Connor a "coward for resigning his post.
"I just want justice for the whole thing, and I want the ex-officer to really be held accountable, whatever that looks like," Irizarry said at the conference. "Of all the people who have apologized to me, the one person that hasn't is him."