Planned Parenthood Isn't Just an Abortion Provider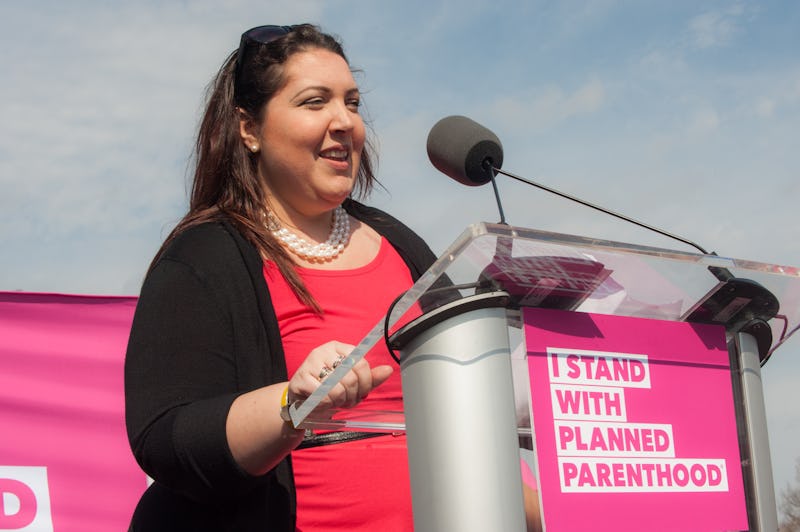 Pro-choice advocates probably aren't surprised that the GOP plan to repeal Obamacare makes good on Paul Ryan's January promise to defund Planned Parenthood. Released earlier this week, the American Health Care Act does, indeed, include provisions to defund Planned Parenthood. Conservative lawmakers have attempted to take funds from the health care provider for decades in the name of pro-life advocacy, even though under the Hyde Amendment, which was passed in 1973, federal funds are already not allowed to be used to pay for abortions.
Although the conversation about Planned Parenthood tends to revolve around abortion, many of its other services are just as critical to the women who need them. In 2014, for example, Planned Parenthood performed 323,999 abortions out of about 9.5 million services, meaning abortion makes up just 3 percent of what Planned Parenthood does, according to the organization. In comparison, Planned Parenthood provides 682,208 cancer screenings.
This doesn't mean its abortion services are unimportant, but rather that millions of American women rely on it for non-abortion services.
And Jaime Benner knows that firsthand.
When Benner felt a lump in her breast at age 27, she was between jobs and temporarily without health insurance. Planned Parenthood helped connect her to the treatment she needed.
Not having health insurance was just one of many obstacles in Benner's way as she sought treatment for the lump she feared might be cancer. Her rural New York town had very limited options available for any woman seeking treatment.
Benner tells Bustle that the doctor she used while having her daughter wasn't able to fit her in for another four weeks — an eternity if you're wondering about a cancer diagnosis. Luckily, Benner's area is served by a Planned Parenthood clinic. "I called Planned Parenthood," Benner says, "and they understood that I was mini-meltdown, and they got me in that day."
That four-week window turned out to be even more critical because Benner did have cancer — and that cancer was just weeks away from getting a whole lot worse, she say.
After the surgery, her doctor told her that her cancer was about to spread into her lymph nodes, which would Benner's prognosis much, much worse. "It would have been stage four by the time anyone did anything, before I even stepped foot in a doctor's office," she says.
What would have happened to Benner without Planned Parenthood's quick assistance? "I genuinely, with every ounce of my being, think that I wouldn't be here today," she tells Bustle. "That's not just an attention-grabbing line. I would not be here."
Some Republicans have argued that other federal community health centers, which are not solely focused on women's health, can take over the work that Planned Parenthood did. But there are significant differences between those health centers and Planned Parenthood locations.
According to The Washington Post, rural clinics are not required to provide services to low-income patients, which means an uninsured patient like Benner might be unable to receive care. The Washington Post also noted that those clinics are not required to provide family planning services, either, which is one of the most important services that Planned Parenthood provides.
Planned Parenthood is just a place where you can feel OK, no matter why you're there.
Nor are its health services the only thing that distinguishes Planned Parenthood from other groups. When Benner came in with her breast lump, Planned Parenthood helped her obtain Medicaid and helped her get test results even after her first ones were inconclusive — overcoming the sort of red tape that prevents many Americans from promptly seeking medical treatment.
Moreover, they made her feel safe and comfortable throughout the process. "Planned Parenthood is just a place where you can feel OK, no matter why you're there," Benner says.
Despite the caricature of pro-choice or liberal Americans as wealthy urbanites, rural women and Medicaid recipients may be the ones with the most to lose if Planned Parenthood closes its doors. It may become harder than ever for rural women, whose geographical situations make it hard for them to even visit a clinic, to get the medical treatment they need.
As Benner says, the loss of Planned Parenthood "would be absolutely devastating to our community."