This Viral "Hack" For Not Sexually Harassing Women Involves Your Fave, Dwayne "The Rock" Johnson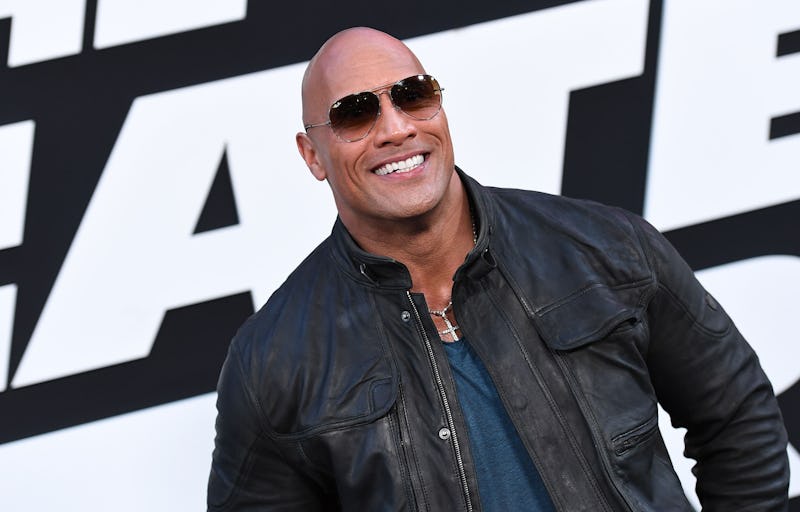 ANGELA WEISS/AFP/Getty Images
Avoiding accusations of workplace sexual harassment seems to be the goal among many who don't really understand the problem in the first place. For those still unsure about how to treat their (namely female) coworkers in a way that isn't harassment, one writer has created a simple solution: "The Rock Test." It's an easy-to-use life hack that teaches people how to not say inappropriate stuff to women in the workplace. Also, it involves visualizing Dwayne "The Rock" Johnson, something many of us probably already do on a regular basis.
Anne Victoria Clark, the creative genius behind "The Rock Test," posted a piece on Medium earlier this week explaining how people can employ the exercise in their day-to-day lives. "Are you a man confused on how to treat the women you work with? Do you feel like if you can't say or do *anything* you don't know what to say or do at all?" Clark writes. "Well stress no more! This life hack will have you treating women like people in no time."
Clark's answer to these questions is simple: "Treat all women like you would treat Dwayne "The Rock" Johnson." Not only has The Rock showed modern culture how to properly transition from professional wrestler to actor to Disney voice actor; he will apparently also show us how to be decent human people.
"The Rock Test: A Hack for Men Who Don't Want To Be Accused of Sexual Harassment" walks through three scenarios in which we encounter women in different professional settings, thus presenting an ~*obvious*~ dilemma. ("Oh shoot! She's pretty! In the face, even. What to do??" Clark writes) Fear not. As Clark explains, simply imagining each of these women as The Rock will teach people how to give female coworkers "the same respect, admiration, and healthy dose of fear you'd offer anyone who could completely destroy you should you deserve it."
The piece has received over 34,000 claps from over 5,100 people on Medium. (For those unfamiliar, "claps" are essentially Medium's equivalent of "likes" or "favorites," but users can give anywhere between one and fifty "claps" to any given story.) Clark's tweet sharing her piece has also been retweeted over 1,400 times. Among those retweets is none other that The Rock, himself. "Quite the entertaining & smart test for my dudes to take from @annevclark," Johnson tweets. "Just close your eyes and think of me."
Recent sexual allegations against Harvey Weinstein have opened up a much needed dialogue about sexual abuse in Hollywood. Celebrities, including everyone from Lena Dunham to Lin-Manuel Miranda, have spoken out to condemn Weinstein's actions and to applaud the bravery of the women who have come forward.
Matt Damon recently spoke out in an interview with Deadline, giving a much-anticipated statement on the allegations. In addition to saying he "would have stopped" any harassment had he witnessed it, Damon denies trying to shut down a 2004 New York Times story about previous allegations against Weinstein, something Damon had been accused of by journalist Sharon Waxman. In the interview, Damon also evokes a sentiment often repeated when men in power speak out against sexual violence of any kind: "[A]s the father of four daughters, this is the kind of sexual predation that keeps me up at night," Damon said.
It is unfortunate so many seem to require daughters, sisters, or mothers in order to acknowledge why sexual harassment is a problem. One survey, while encouraging, highlighted this problem, finding that men get less sexist when they have daughters, specifically regarding gender equality in the workplace. Why should it take a female relative (used as prop) to understand why sexual harassment is harmful?
"The Rock Test" further highlights this problem, literally stating that some people apparently need to imagine women as men in order to treat them respectfully. The "test" also reveals misconceptions about who can or can't be sexually harassed. While women and people who are nonbinary are disproportionately more likely to be the victims of sexual violence, there are certainly male survivors, some of whom look like the hyper-machismo image "The Rock Test" requires.
On Tuesday, actor Terry Crews spoke out about own experience with sexual harassment in Hollywood. He details an event in which "a high level Hollywood executive...groped [Crews'] privates." Crews says that he hadn't previously spoken out, worried about being "ostracized," but wanted to express solidarity with those who have come forward. "I understand and empathize with those who have remained silent," Crews also tweeted.
Sexual harassment is a problem that pervades many professional environments. The statistics on workplace sexual harassment reveal its all-too-common reality, with one survey finding almost one in three women have experienced some form of sexual harassment at work. Preventing a problem starts by acknowledging its existence. If that solution also requires picturing The Rock as an intermediate solution, so be it.