Tia Mowry's New Series Has An All Black Writers Room & It's Exactly The Kind Of Change We Need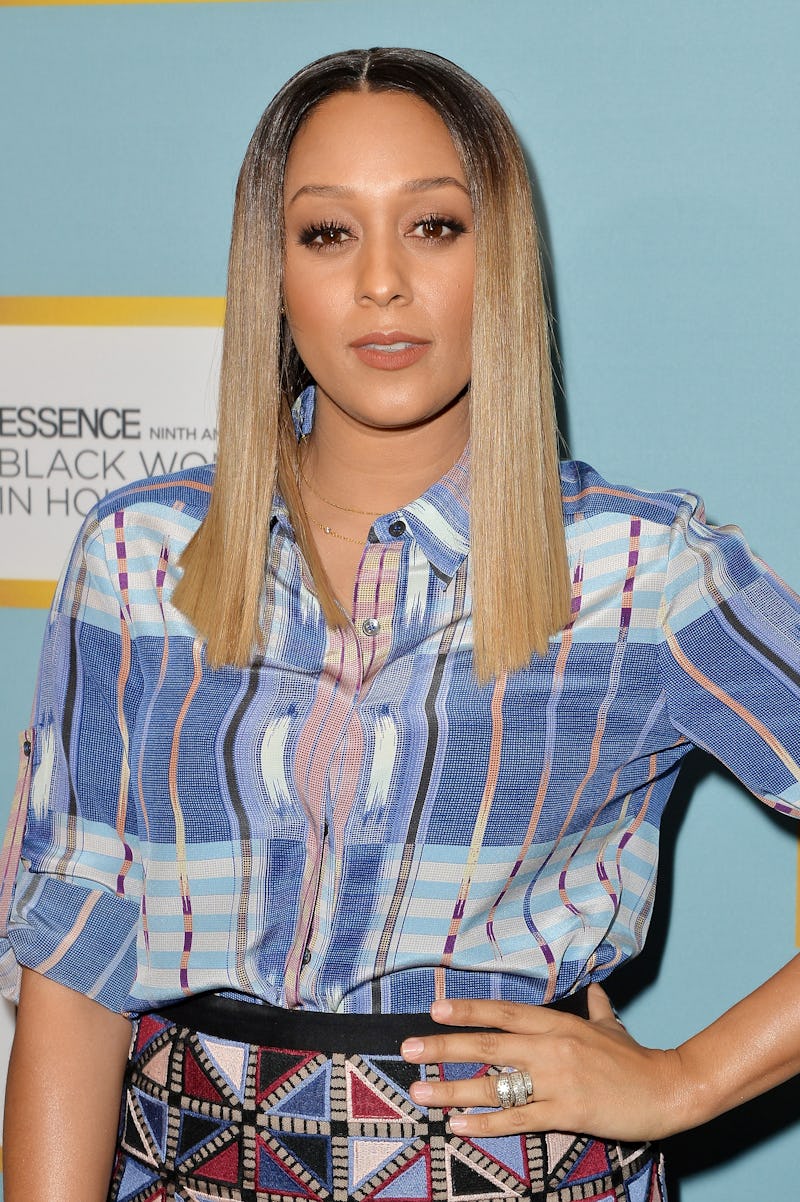 Earl Gibson III/Getty Images Entertainment/Getty Images
While inclusivity in Hollywood is far from what it should be, a new Netflix series starring Tia Mowry and Loretta Devine is exactly the kind of change that viewers want and need to see. The Hollywood Reporter revealed that Mowry and Devine are set to star in a live-action comedy series called Family Reunion that will not only feature the acting veterans, but will also have an entirely Black writer's room.
The multi-camera comedy, which has been greenlit to go straight-to-series, will include 20 episodes in its Season 1 run. The show will reportedly revolve around Mowry's character, Cocoa McKellan, a "free-spirited mother from Seattle" who along with her former footballer husband, Moz (Anthony Alabi) and their four children, attend a family reunion in Georgia to meet their extended family. THR also noted that Emmy-award winning actor, Devine will step into the role of the family's matriarch, who lovingly goes by the name, M'Dear, further proving that this show is going to be one to watch.
The series, which was created by Meg DeLoatch — best known for her work with popular comedies such as; Family Matters, One on One, Malcolm & Eddie, and Eve — comes along as part of Netflix's pledge to create more diversity within its programming options in light of Hollywood's ongoing issue with cultural and gender disparity. With Mowry and Devine as leads, and the inclusion of all Black storytellers, Family Reunion could easily prove to be a small, but very important, part of the answer to the lack of representation of strong women and people of color in television — both on-screen and behind-the-scenes.
Sharing a statement on Netflix's website about the forthcoming series and it's authenticity, the streaming platform's VP of Kids and Family, Melissa Cobb explained:
"Meg DeLoatch has created a warm, funny and memorable extended family that we believe will resonate with audiences around the world and she has assembled an incredibly talented all Black writers' room to authentically portray these characters and their journey."
Things appear to be running smoothly in terms of the show's development, with Deadline reporting that DeLoatch referred to it as "the most supportive and creatively fulfilling experience" of her career. Meanwhile Mowry, who many may know from Sister, Sister, The Game, Tia & Tamera, and Instant Mom, shared:
"I'm so excited to return to television, especially working with Netflix, and I can't wait for everyone to see Family Reunion. I know my fans are going to love it!"
It's safe to say that Mowry is correct in indicating that her fans are going to be totally on-board with her new gig given its similarities to the character Melanie Barnett, which she played on The CW and later, BET network's The Game in the mid 2000s. However, it's unclear whether or not DeLoatch drew inspiration from the series, or if the parallels between the two are purely coincidental.
The newly-minted mother of two also took to Twitter to gush about her latest foray into television. Mowry wrote, "So freaking excited!!!! This is a dream job!!!! Whooooo-hooooooo! Let's do this!"
All-in-all, Family Reunion sounds like it's going to be a light-hearted narrative about family togetherness, and the details surrounding the project couldn't sound more promising. Per THR, Devine explains:
"I am so blessed to be part of this new and exciting moment in time that will touch and bring laughter, smiles and joy to everyone who sees it. That is Family Reunion for me right now. When you see it, I think you are gonna love it, because it is all about family... the core of everything."
While things are not yet perfect when it comes to creating equal opportunities for people of all colors and genders in television and film, Family Reunion and it's commitment to bringing forth relatable stories from a predominately Black cast, written by Black writers, things are certainly starting to change for the better.