Tia Just Addressed If She Will Go On Colton's 'Bachelor' Season Once & For All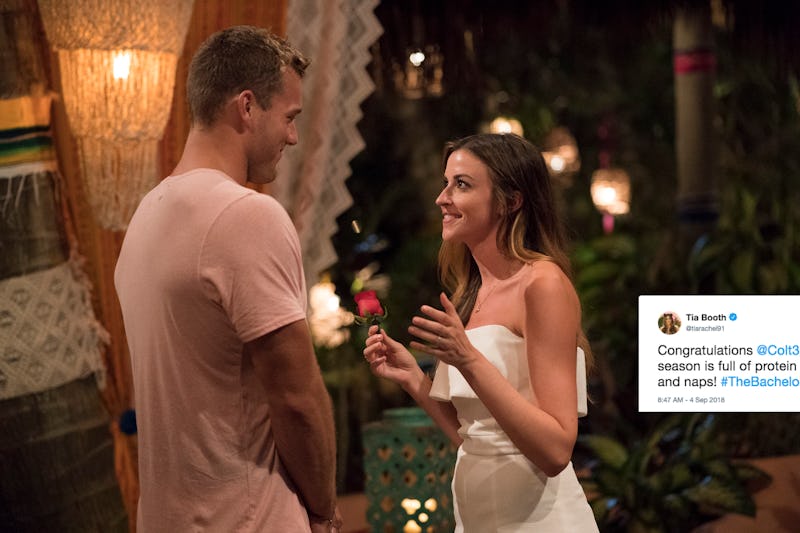 ABC/Paul Hebert ; Tia Booth/Twitter
Just after Monday night's episode of Bachelor in Paradise showed Tia Booth and Colton Underwood's breakup, Tuesday morning saw the announcement that Colton would be the new Bachelor for the show's Season 23. Following the announcement, which took place on Good Morning America, Tia Booth reacted to Colton being the next Bachelor on Twitter in two tweets that show what a good sport she is. Tia's tweet congratulated her ex, the former NFL player, saying "I hope your season is full of protein powder, puppies, and naps!" Scientists could examine that message and they wouldn't find even a microscopic trace of animosity. Tia's second tweet, however, answered the question fans have all been wondering: will Tia be on Colton's season of The Bachelor?
Seeing as how her first tweet seemed so excited for Colton's season of The Bachelor, fans began asking if Tia might show up as a contestant on it. The former Bachelor contestant from Arie Luyendyk Jr.'s season quickly cleared that up in a follow-up tweet which read, "And NO I will NOT be a contestant on Colton's season. Lord bless." Okay, maybe there are some lingering feelings of resentment in that one, but anyone who watched the heart-wrenching breakup on Monday night's Paradise will totally understand why Tia definitely would not want to compete for Colton's love. She already had her chance, and as she said on Monday, she thought that Colton needed time to "figure [himself] out."
Tia also shared her reaction in an Instagram Story, saying, "Hi America I'm fine," Tia said in the video. "If you need something else to focus your energy on today, it is Beyoncé's birthday, so happy birthday Queen Bey."
The rumors that Colton might serve as the next Bachelor started in Aug., and Tia even had a chance to comment on the potential casting before the announcement came out Tuesday morning. At the Paradise season finale taping on Aug. 28, Tia told Entertainment Tonight, "I don't know that he's ready," when asked about the rumors that Colton would become the next Bachelor. As Tia told ET, she meant what she'd told Colton during their breakt up. "It was just about two months ago that I was telling him that he really needs to figure himself out before he can fully be with someone else," she said.
Based on Tia's adamant, all-caps "NO" as a response to questions that she'll return to The Bachelor to win Colton back, it seems like the on-again-off-again couple are really done for good after their BiP breakup. When Colton appeared on GMA to announce his return to the Bachelor Nation for the third time, he commented on the status of his relationship with Tia now. "We are finally on the same page, for the first time in our relationship, and we're just good friends," Colton said.
Colton and Tia's relationship took a lot of surprising turns while it played out in front of a national audience. The couple didn't start off as a new relationship in Paradise — far from it — because Tia and Colton dated before the latter partook in Bachelorette Season 14 with Becca K. The Bachelorette even met Tia during Colton's hometown visit, as you'll remember, and Bachelor Nation viewers question whether Colton is actually over Tia enough to be the next Bachelor.
Tia is asking all of the same questions as the shows' fans. She told ET back in August, "If there's a chance that Colton is the Bachelor, I would hope that he is fully ready for that experience knowing that he wants to be engaged at the end of it." Ready or not, here Colton comes for Season 23.