Raven Showed Up On 'BiP' & FINALLY Helped Tia Make A Decision About Colton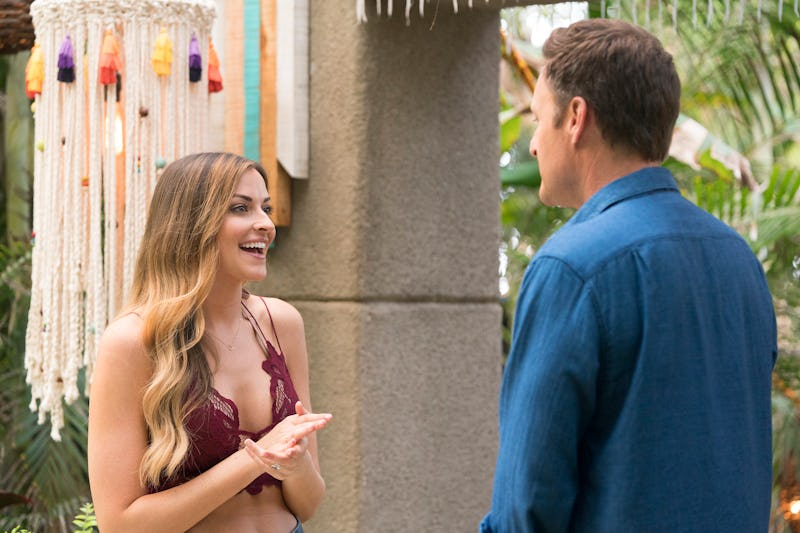 Craig Sjodin/ABC
Since we first met Tia on The Bachelor, we knew she had ties to another contestant: Raven Gates, who she knew from her home state of Arkansas. And on Tuesday night, we finally got to see them in action as BFFs. This week, Tia and Raven hung out on Bachelor in Paradise, and even though they frequently talk about each other on the show, it was a rare look at their friendship on screen — and, of course, it cleared the path for more drama with Colton, because why wouldn't it?
It all started when Colton and Tia went on their second BiP date of the season, where they hung out in a Mexican market and then took part in a dance competition with Jorge (the bartender, duh) at the helm. Raven and her boyfriend, Adam, showed up just in time to dance, and then, after Colton and Tia scored a trophy, she and Raven had the chance to steal away to chat about the situation.
At first, Tia was pumped to fill Raven in on all the details and gush about her relationship with Colton, but Raven wasn't having it. She tried to be supportive at first, but she couldn't help but point out that Colton's intentions might not be pure.
"I do not want to see you in heartbreak," Raven told her. "You have to really see the real person that Colton is. Is this a facade? Is he doing what everybody else wants him to do? Is he really into you?"
And if you think this is just Raven trying to start drama, think again, because she actually teared up telling Tia how much she deserves a man who makes her the center of her universe, and how she wants her to find someone like Adam. By the end of their conversation, both of them were in tears, because obviously, this is a very emotional subject — and there has been so much crying in Paradise so far over this very topic.
Her conversation with Raven did make Tia consider a few things about her relationship with Colton that she hadn't before — or at least, things that she didn't want to let herself consider. She knew that she had to talk to Colton about his intentions, because what if he really was just after the "it girl" of the moment, just like Raven said? Tia's already been on an emotional rollercoaster this season, so shouldn't she try to avoid any more surprises in the Colton department? Later, she and Colton sat down,talked things out, and finally decided to be "boyfriend and girlfriend." It's official now, so there shouldn't be any more back and forth. Hopefully.
Either way, it seems like Raven certainly did her duty as a best friend... even if it's a really hard job to take on sometimes. It's never easy to tell a friend that you think their new relationship might not be good for them, but good for Raven for looking out for Tia, even if that meant telling her things she didn't want to hear. Now, we just have to wait and see if Raven was right. At this point, it could go either way — but at least she was able to tell Tia the truth.