Tiffany Haddish's Classy Response To A Career Diss Will Make You Cheer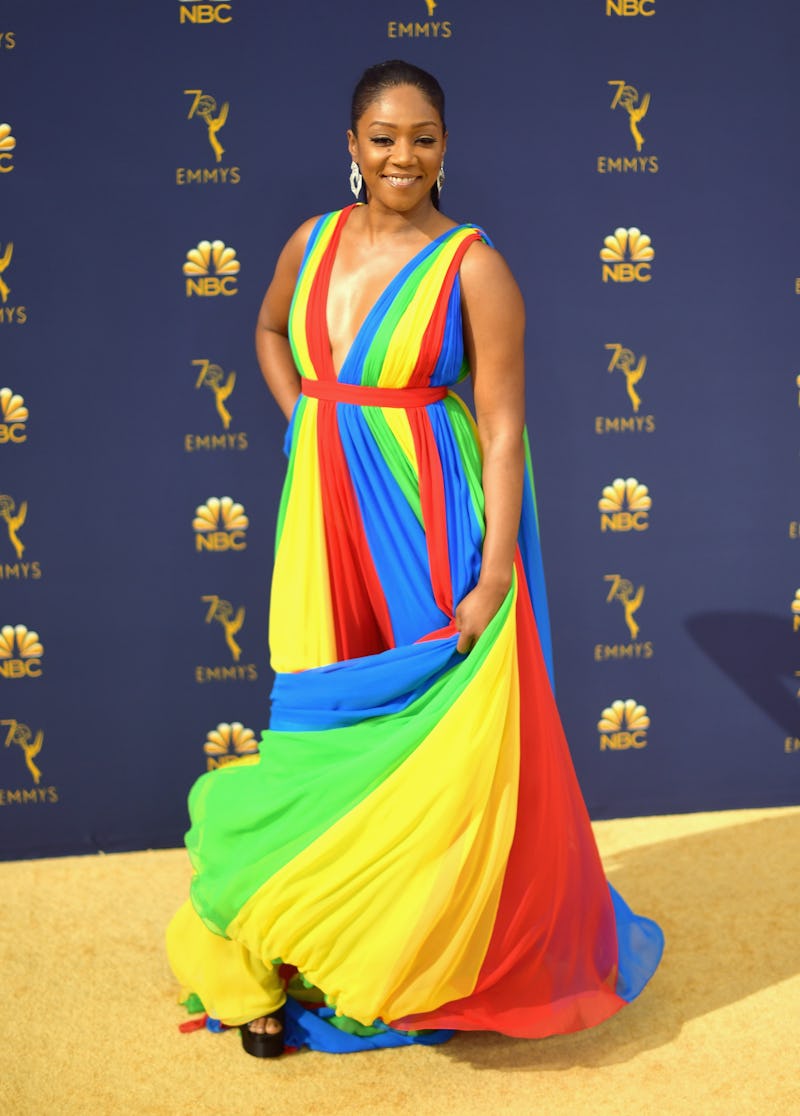 Matt Winkelmeyer/Getty Images Entertainment/Getty Images
Tiffany Haddish is taking the high road. After comedian Katt Williams made a dig at Haddish's success in the comedy world, the actor had the perfect response. Tiffany Haddish's response to a career diss will only make fans love her more, because she has no time for petty drama.
Williams' comments came during a radio interview last week. During an appearance on V-103's Frank and Wanda Show, Williams talked about the stand up specials he has available on Netflix. And he seems to have a bone to pick with Haddish, whose first Netflix comedy special will premiere next year. Williams said on the radio show,
"You can't tell me your favorite Tiffany Haddish joke. Why? Because she ain't done a tour yet. She ain't done a special. She has not proven the ability to tell jokes, back to back, for an hour, to nobody. And they already ready to down Mo'Nique and up somebody who has showed them Girls Trip. Did you think she wrote Girls Trip, goofball? Or do you think that was already a script and they handed it to her?"
Williams' comments about Haddish start around the 6:30 mark in this video. He shared his comments about Haddish after discussing Mo'Nique's call to boycott Netflix, which reportedly offered her $500,000 for a standup special, while other comedians had been offered millions by the streaming service. According to Williams, Netflix's offers are based on ticket sales. He said that Netflix offered him $2 million, for example, because he'd sold two million tickets on tour.
The comedian went on to discuss Haddish's role in Girls Trip, suggesting that her casting didn't make or break the film. "You could have had that role, and everything that happened would have happened," he said to one of the radio show's hosts.
Even though Williams apparently isn't a fan of her work, Haddish only had positive things to say about him. In a tweet Friday, she wrote, "I just want to shower you with REAL Love cause you need it, and I Love you," tagging Williams in her message.
Haddish also noted in her tweet that both she and Williams have already won Emmy Awards this year. Haddish won an Emmy for her guest appearance on Saturday Night Live, while Williams won an Emmy for his guest role on Atlanta.
Based on Williams' comments on the Frank and Wanda Show, it sounds his annoyance goes beyond Haddish's performances. "Anybody that can read can read," Williams told the radio hosts, adding that because he's a writer, he appreciates comedy writing. And while penning screenplays and writing jokes are two essential comedic skills, comedic timing can make or break scripted movies and TV shows, too. Even the best-written joke can fall flat with bad delivery, and it's a skill that shouldn't be overlooked. There's a reason that audiences fell in love with Haddish's Girls Trip performance.
Haddish isn't trying to knock other comedians down with her upcoming roles and her Netflix special. There's room in comedy for multiple people to shine. In fact, Mo'Nique congratulated Haddish on the special, and that was after she'd called for the boycott. Haddish responded to Williams' comments with grace, and it's clear that she's not bothered by the criticism.