You Need To Watch Tiffany Haddish Talk About Going To Taylor Swift's Dinner Party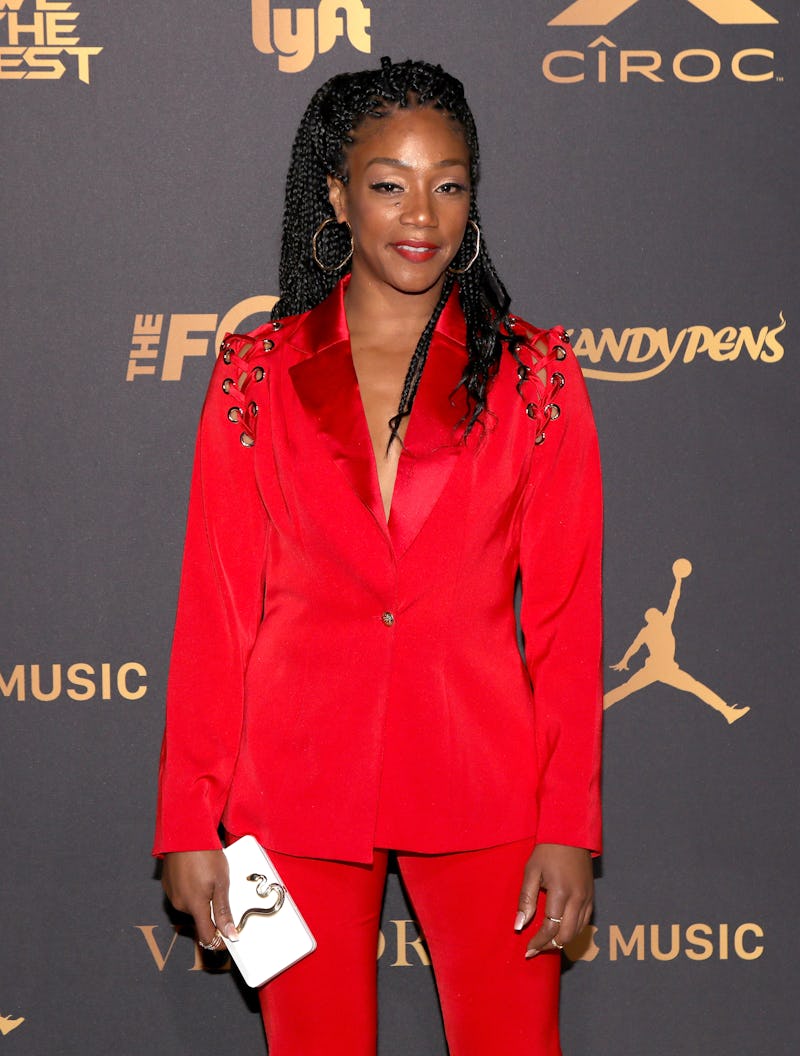 Jerritt Clark/Getty Images Entertainment/Getty Images
Tiffany Haddish seems to take every fantasy you ever had about being famous, and makes it better. According to an interview on Ellen, Haddish got invited to a Taylor Swift dinner party and she also chose the menu for the pop superstar to cook. As it turns out, Swift is a really good cook, too. Haddish became a hot commodity following her successful breakout role in this summer's Girls Trip, but she seems to be using her new fame to become the queen of celebrity dinner parties — she stopped by Ellen to talk about both Swift's potluck dinner and an evening spent with Barbra Streisand.
According to Haddish's interview with Ellen DeGeneres, she was invited over to Swift's home after they both appeared together on Saturday Night Live — Haddish hosted and Swift was the musical guest on Nov 11. Haddish said that after the show, Swift said she wanted to hang out with the comedian. Haddish was excited about the idea, but she also put out her expectations up front; Haddish explained to Ellen, "I told [Swift], 'I've been gardening. If I come over you have to make me some barbecue chicken, potato salad and a brisket." Haddish said that Taylor agreed and she did not disappoint. "Taylor can cook!" Haddish told DeGeneres. "The chicken was bomb! And she made cornbread: bomb!"
In return, Haddish said she brought collard greens, which she calls "joyful greens." What makes the greens so joyful? Haddish, who grows the vegetables in her backyard, has a rather unique preparation method. "When I pick my greens I smile," the comic explained to DeGeneres. "When I wash the greens I smile, when I cut them up I smile and then when I cook them I smile." Supposedly all that joy rubbed off on the recipe — Haddish said that Swift complimented the dish at the potluck.
Haddish doesn't just bring good food to the table, however, she's also seemed to be a sparkling conversationalist. Haddish told DeGeneres that when she met the legendary Barbra Streisand at another dinner party, the two instantly hit it off. The two connected over their shared history of struggling with poverty while growing up. "I told her I was from South Central Los Angeles and she told me she's from Brooklyn and then we found out we're both from the hood," Haddish told DeGeneres. She even told the older Grammy-winner about an empowering rapper to check out. "I informed her about Cardi B and how she transformed her whole life and how she's a role model to young children," Haddish said to DeGeneres.
Can we get a Cardi B guest rap on Babs' next album?
Honestly, Haddish's stories about celebrities she's befriended are always a delight. Earlier in the summer Haddish went on Jimmy Kimmel Live! to fondly reminisce about the time she took her Girls Trip co-star Jada Pinkett Smith and Will Smith on a Groupon swamp tour in Louisiana. Yes, it involves both delightful details about her economy car rental and how little the Smith family knows about Groupons.
Haddish appeared on Ellen to promote her memoir, The Last Black Unicorn. In the new book, the comedian details her journey from growing up with a mother who suffered from mental illness and a childhood in various foster homes to her struggles with homelessness and breaking into the entertainment industry. To see Haddish overcome that much adversity and come out the other side with ecstatic tales of new success is pretty inspiring.
Near the end of her interview with DeGeneres, Haddish mentions that she dreams of meeting Oprah. Particularly, she wants to garden with "Auntie O." In a perfect world this will happen, and Haddish will go on another talk show to tell us all about it.