Tiffany Haddish Wore More Than One VMAs Dress & They Were BOTH Amazing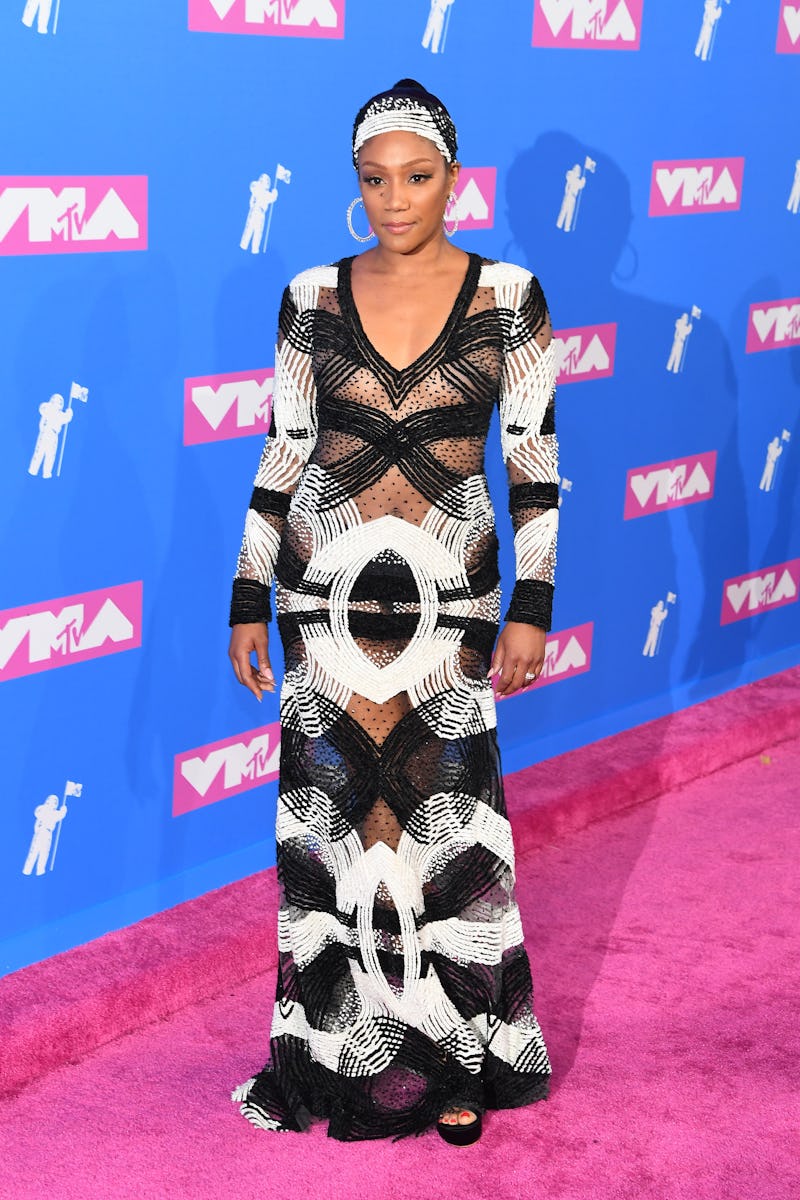 Nicholas Hunt/Getty Images Entertainment/Getty Images
Tiffany Haddish does not hide nor does she apologize for the fact that she has recycled her stunning, column-shaped, and white Alexander McQueen gown at various red carpet appearances. However, Tiffany Haddish wore two different dresses to 2018 VMAs. Both were ace AF. Since she has been all about fashion economy and repurposing, it was rad to see her get glammed up — twice!
For the red carpet, she chose a black and white, floor-skimming, and figure-hugging dress with a bold, black and white print and a matching headpiece. It was a stunning presentation.
During the telecast, she switched things up and wore a gloriously asymmetrical dress. Her long-sleeved frock mixed prints and boasted stripes. It was also one-armed and showed off shoulder cleavage. That's to say nothing of the double slit that dominated the skirt. Both of her looks were sexy AF.
The VMAs dresses were hardly similar to her "favorite" McQueen ensemble. She has worn that particular dress to multiple events and she crushes it — EVERY. SINGLE. TIME. We admit that we were wondering ahead of the broadcast if she would rock the frock again because why not? If it ain't broke...
... but she chose something entirely different. Actually, make that two entirely different somethings.
Here's a look at her first outfit, which was her printed and unique take on the naked dress trend.
What a head-turner.
Here is her second look. She opted for strappy black stilettos, which were highly visible since she showed off so much leg via them hawt slits.
Remember, the comedian swapped out her heels for Uggs at the 2018 Oscars. Because as any wearer of heels is well aware, those things kill your feet. We were sort of expecting her to slay another pair of furry footwear at the VMAs, since the fashions are more relaxed and certainly sexier than more formal awards shows.
You cannot help but love Haddish and her style. She always looks great, whether she is repurposing an outfit or not. Everything about her fashion choices is refreshing and real. Because while most of her peers were secretly wishing that they could exchange their stilettos for slippers, Haddish actually did it.
There was so much to marvel at with her 2018 VMAs ensembles and other red carpet lewks.
Legs. For Days. Or #Legs4Days. Haddish's sheer 'n' silver micro mini from the 2017 VMAs may have covered up her arms but it showed off her legs. She was gorgeous in this metallic mini.
Meghan Markle doesn't have a trademark on the messy bun. Haddish owned her gloriously undone 'do.
Are you loving Haddisn's black and gold pantsuit? The halter neck, the lacy design, and the flared leg worked in concert to create a chic and sexy presentation.
This baggy and crisp white pantsuit was another excellent choice of outfit.
McQueen dress? Check. Comfy Uggs? Check. Heels in hand? Check. Haddish was all of us when making an appearance at the Oscars.
Haddish's 2018 Oscar red carpet gown nodded to her Eritrean heritage.
She looked absolutely beautiful in this dress.
The fact that Haddish does as she wishes and isn't afraid to wear an outfit more than once is real AF. It's somewhat of a disservice to leave a gorgeous item of clothing languishing in the closet — untouched and unworn again. Haddish reminds us that you can and should wear what you love and look and feel good in.
She does so every time.