Tiffany Trump's Father's Day Tweet Will Make You Think Of Simpler Times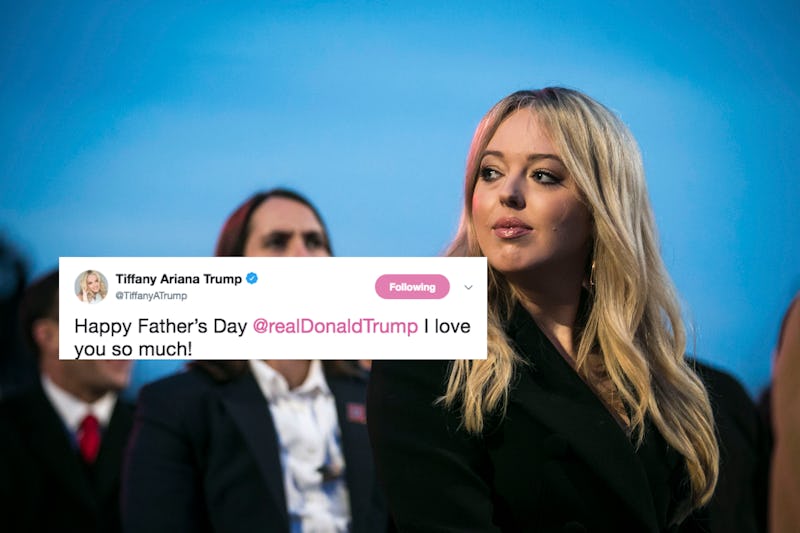 Pool/Getty Images News/Getty Images
To properly celebrate Sunday's holiday on social media, Tiffany Trump tweeted a Father's Day photo that'll remind you of a time before Donald Trump's presidency — back when he was just running businesses and hosting reality television shows.
"Happy Father's Day @realDonaldTrump I love you so much!" Tiffany Trump tweeted with a photo of her younger, very curly-haired self being held by her father. The president has a wide smile on his face. The photo has gold hearts on the top left corner as decoration with a Polaroid-like white border around the image. Tiffany Trump appears to be the age of a toddler, but the photo is undated.
"Happy Father's Day! I love you and I am so grateful to have you as my dad," the digital card said. No word of a physical card exchange between Trump and her father.
Of the five Trump children, Tiffany is the most in-the-background besides Barron. While Ivanka works in the White House, Donald Jr. and Eric run the Trump Organization. Barron, obviously as a 12-year-old, is still in school. Tiffany Trump currently goes to Georgetown Law School in Washington, D.C., which puts her geographically closer to her father, following her time as an undergraduate at his alma mater, University of Pennsylvania.
In 2016, Tiffany told People magazine that she mostly saw her father during spring break while she was growing up. She lived with her mother, Marla Maples, who was Trump's second wife. "I had the blessing of raising her pretty much on my own," Maples told The New York Times. Trump said her visits with her dad were usually annual. "I still see him on spring breaks or for Easter, I'm always at Mar-a-Lago with the family," she told People magazine. (Keeping with the tradition she described to People, she spent this Easter with the entire family at Mar-a-Lago resort in Florida.)
During the campaign, Tiffany Trump did not attend many rallies or stops as most of the family went around the country in support of their father's presidential aspirations. However, she did speak at the Republican National Convention in Cleveland in July 2016. "I always looked forward to introducing him to my friends, especially the ones with preconceived notions, because they meet a man with natural charm and no facade," she told the arena. "In person, my father is so friendly, so considerate, so funny, and so real. My friends walked away with a glimpse of all that he is, and all that he means to me, of the strong, protective, kind, endearing man I am so proud to call my father." Since then, though, she hasn't often spoken publicly about her dad.
Though Tiffany was one of the only Trump children who posted a message to her dad via Twitter, that doesn't mean the rest of the family didn't celebrate. In the evening, Donald Trump Jr. posted a link to his Instagram post about their father, and earlier, Ivanka Trump had posted an Instagram photo to wish both her dad and husband, Jared Kushner, a happy Father's Day. "Happy #FathersDay to these two amazing dads," her post, which included a red heart emoji, read.
The president's own Instagram featured a photo of a flag, wishing everyone a happy holiday from the White House. According to the pool report, Trump left the White House around 10:30 a.m. ET "in a white polo and baseball cap." The pool then went with the president to the Trump National Golf Club in Sterling, Virginia. There was nothing official on Trump's schedule on Sunday, but the Secret Service did mention that Trump played 18 holes of golf and had a late lunch at the clubhouse. In other words, aside from his kids' messages, Father's Day might have looked much the same as his usual Sunday.