These 10 Colleges Get The Most Right Swipes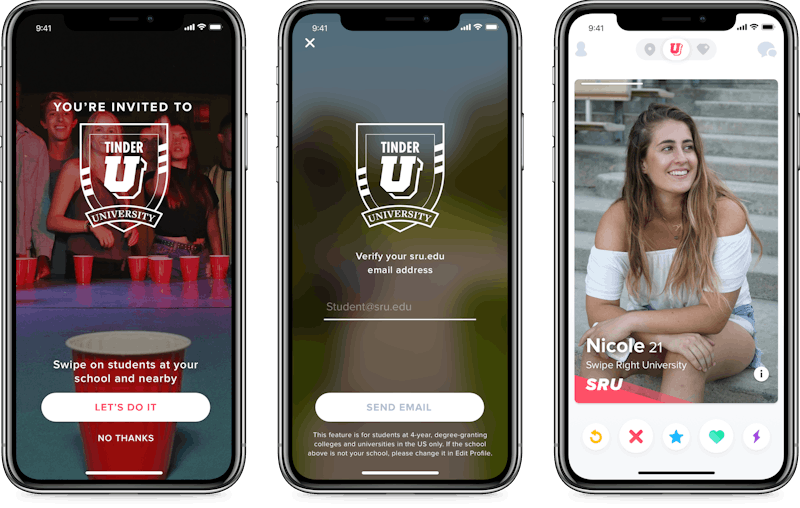 Courtesy of Tinder
Many see college as the perfect opportunity for experimentation, for romance, or to make lifelong friends. Now Tinder is making it even easier for college students to connect with other people on campus. Although Tinder is already hugely popular among college students, a new feature, Tinder U, lets you browse and swipe with fellow students at your school or a nearby school.
"Tinder was born on a college campus and Tinder U is bringing us back to our roots," Lauren Probyn, director of global marketing & events at Tinder, tells Bustle. "Even on the smallest college campuses, it is impossible to connect with everyone — so we wanted to bring a feature to students to allow them to meet other students in their area."
It seems like a great way to deal with the slightly intimidating issue of not knowing anyone — or to make it easier to find that cute woman who sits behind you in your Econ lecture who you can never work up the nerve to approach. Plus, a lot of college students say that they use Tinder to find new friends, so it's open to everyone — whether they're looking for love (or a hookup) or not.
The idea is to connect students who may not otherwise run into each other. "College students are very involved and passionate about their sports teams, activities they're involved in and classes that interest them, but that only exposes them to a select group of people," Probyn says. "With Tinder U, students will be able to see other students in their area first while they're swiping, thus opening their social circle and becoming more ingrained in student life."
How To Get Tinder U
If you're a college student, after you log into Tinder you will now be given the option to use add your .edu email addresses. After verifying your college email address, you'll be able to swipe and connect with other people on your campus or a nearby campus. It's only open to those with an .edu address, so those of us who are a little too well, old, are out of luck.
So which universities will be doing the most swiping? Tinder looked through its records to find the most popular schools from 2017 to 2018. Here are the top 10 schools that were getting the most right swipes over the past year.