Tinder Wants To Make Emojis For Interracial Couples — And They Need Your Help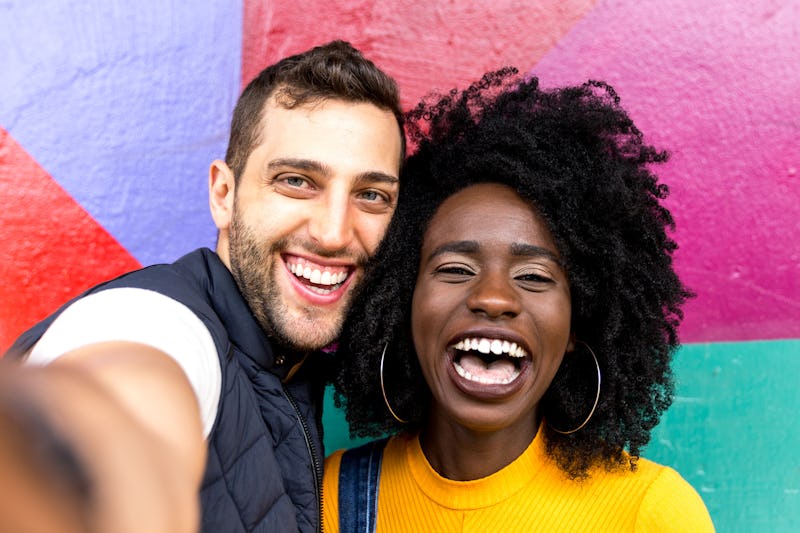 filipefrazao/Fotolia
A lot of us use emojis to communicate frequently, and some of us probably use them more often than we'd like to admit. Even though there are emojis for everything from pizza to poop (my two favorites), there aren't ones for a handful of important people and things. While there have been some notable additions to emojis over the years, allowing more races, religions, and different sexual orientations to represent themselves, there's still no representation for interracial couples. In fact, a Tinder survey of over 4,000 people from across the globe, conducted by Morar HPI, found that 52 percent of people felt that interracial couples were not well-represented — or only represented somewhat — in emojis, GIFs, and memes. Even though same-sex couple emojis have been around since 2015, we still don't have interracial couple emojis somehow.
So now, Tinder, the popular dating app, is fighting for emoji equality in a campaign called #RepresentLove — and they want your help. "We're proud of the fact that we've always made the first move when it comes to innovation and equality in dating," Rosette Pambakian, Head of Brand for Tinder, tells Bustle. "After some research that showed that the rise of online dating — largely influenced by Tinder — has led to an increase in interracial marriage, we were inspired to learn more so we could do more and become a driving force to help advance progress. Our Global Survey on Interracial Relationships found that our users are passionate about equality and representation, as well."
It's's really easy to participate — and you could even get emojified by doing so. Here's how to get involved, according to Tinder:
Sign the Interracial Couples Emoji petition on Change.org
Repost this video with #RepresentLove on social and get others to join the cause
Couples who post a pic of themselves in the iconic emoji stance on Twitter and tag @Tinder with #RepresentLove will have a chance to win an emojified version of themselves.
It's an important cause and it's so easy to participate. More interracial representation can only be a good thing, and as Tinder's survey found, many people feel online dating paves the way for interracial relationships. Here's what people had to say.