T.I.'s Melania Lookalike Has A Message For Anyone Who Wants To Hate On Her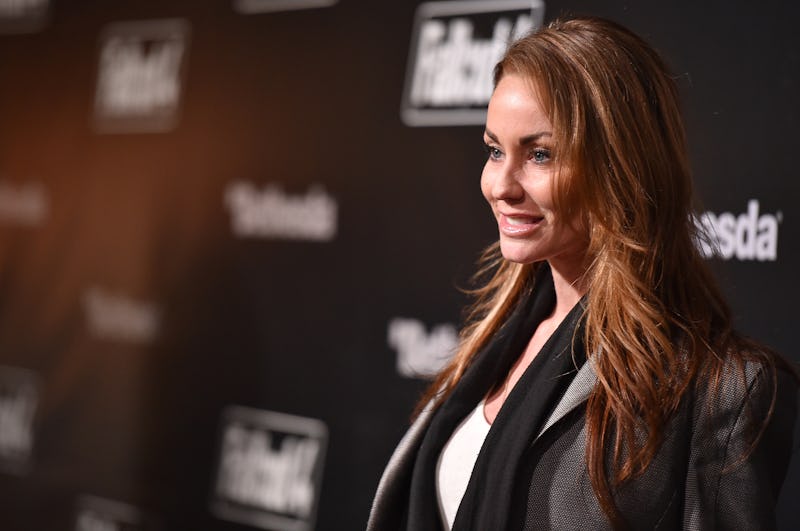 Mike Windle/Getty Images Entertainment/Getty Images
Being mistaken as FLOTUS isn't a walk in the park in 2018. T.I.'s Melania Trump lookalike reportedly received death threats in the wake of the music video release last weekend, according to an interview model Melanie Marden did with Inside Edition. Marden said she agreed to play the role of Melania in T.I.'s promo video, which was released on Friday, because it seemed like a good opportunity. She claimed that she never intended for it to be a political statement — but that's exactly what it became for some people.
Though Marden is Canadian, that hasn't stopped people from sending her death threats and violent messages in the wake of her role. To Inside Edition, she said, "Somebody was going to hit me with their car. Somebody was going to take a baseball bat to me. Somebody wished me to get raped and then killed."
She added that she didn't really understand why Melania Trump, specifically, was offended by the video; the first lady's spokeperson responded to the video on Tuesday, calling it "disgusting" and "disrespectful." But Marden doesn't see it that way. She said, "The first lady's husband does a lot of bullying himself. So they've got some thick skin. If I was insulting her and degrading her, then it would be one thing, but I don't think I was."
Marden's message for people who wish her ill was simple: "There is no need for death threats. Life is short. Relax."
Marden's message may not have been intentionally political, but T.I.'s seemed to be. In his tweet, he even went so far as to call out the president's friendship with fellow rapper Kanye West. T.I.'s confirmation that he "ain't Kanye" comes after a long, confusing exchange between the two rappers over Trump's presidency, which began with a collaboration single and ended with a furious Instagram post from T.I.
Earlier this August, T.I. collaborated with West on "Ye vs. The People," a rapped dialogue in which the two battled it out seemingly respectfully over the politics of the Trump administration. Kanye's lyrics included: "Make America Great Again had a negative reception / I took it, wore it, rocked it, gave it a new direction / Added empathy, care, love and affection / And y'all simply questioning my methods."
In response, T.I. rapped back, "What you willing to lose for the point to be proved? This shit is stubborn, selfish, bullheaded, even for you / You wore a dusty ass hat to represent the same views as white supremacy / Man, we expect better from you."
Still, the rappers seemed to be on good terms, given that they took the time to produce the single together. But after West met with Trump at the White House in early October, T.I. released an explosive Instagram post, which read in part,
At one time it was a pleasure to work alongside you... now, I'm ashamed to have ever been associated with you.To all the people who follow Ye musically, socially, or even personally....who are confused, heartbroken, infuriated.... Let me make this clear... THIS SH*T AINT COOL!!! ...We just saw Mr.West's Soul on auction. If you listen closely you can hear the tears of our ancestors hit the floor. All I can say is... I've reached my limits. This is my stop,I'm officially DONE!!!!
The day after he posted that Instagram post, T.I. released his video with faux-Melania. Though it might not have been an intentional move, it certainly made T.I.'s feelings on West and the Trump administration perfectly clear.
West has not publicly replied to T.I. or commented on the video yet.