T.J. Miller Was Arrested After Allegedly Calling In A Fake Bomb Threat On A Train — REPORT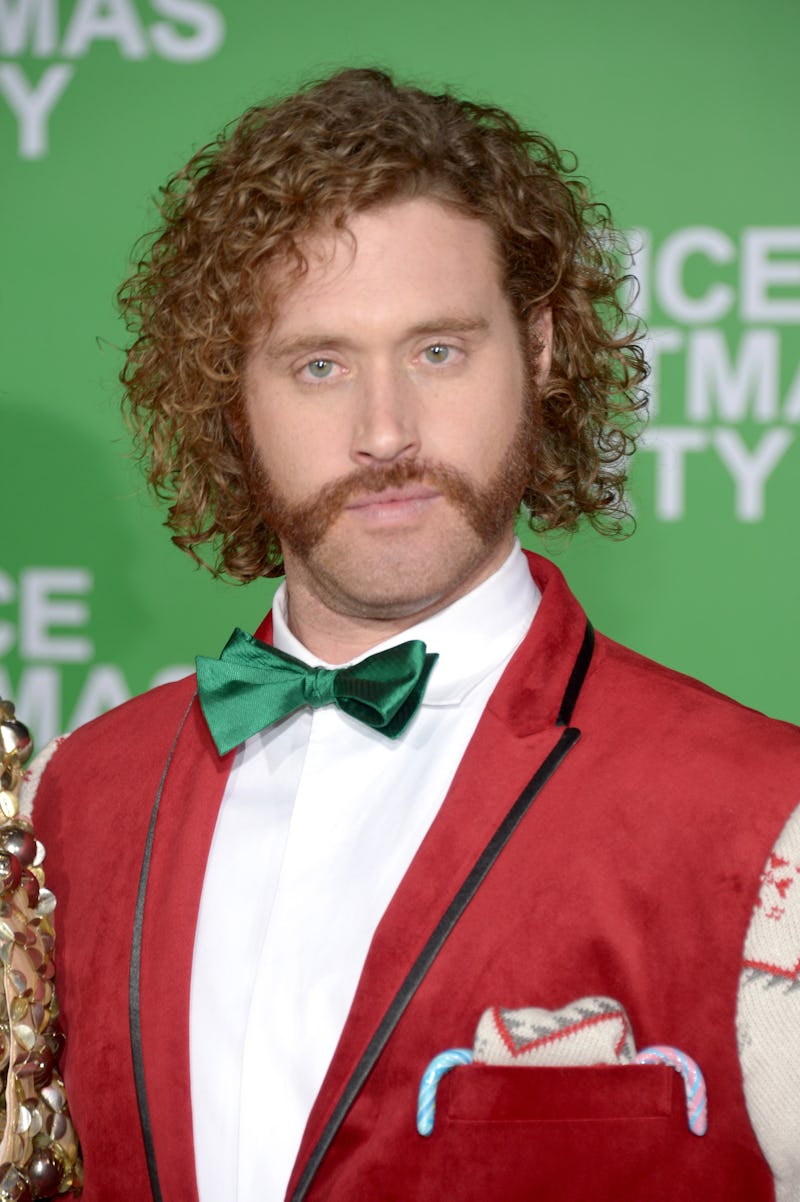 Matt Winkelmeyer/Getty Images Entertainment/Getty Images
Former Silicon Valley star T.J. Miller is making headlines yet again. On Tuesday, April 10, The Hollywood Reporter reported that T.J. Miller was arrested for allegedly calling in a bomb threat while he was riding an Amtrak train on March 18. A press release Bustle received from the U.S. Department of Justice on Tuesday confirmed that Miller (full name: Todd Joseph) has been "charged by federal criminal complaint with intentionally conveying to law enforcement false information about an explosive device on a train traveling to Connecticut." (Bustle reached out to Miller's rep for comment, but did not receive an immediate response.)
According to TMZ, Miller was arrested in LaGuardia Airport in Queens, New York on Monday evening, where he was reportedly taken into custody by police officers and FBI agents. He was later released Tuesday morning on a $100,00 bond.
As for what exactly happened, last month Miller allegedly called 9-1-1 while aboard an Amtrak train traveling from Washington, D.C. to New York Penn Station. The actor allegedly claimed a female passenger, described as having "brown hair and a scarf," had "a bomb in her bag," according to the release from the U.S. Attorney for the District of Connecticut's office. When Amtrak actually stopped the train to investigate and search, they were in Connecticut. Per the report, "No evidence of any explosive device or materials was detected."
When an investigator later contacted Miller, his story reportedly changed slightly, according to the DOJ press release. He allegedly described a woman with red hair and a red scarf, as well as a "black bag carry on suitcase with a handle." He allegedly claimed the woman repeatedly checked her bag without actually removing anything and appeared to want to leave the train, while leaving her bag behind. (When investigators did identify and interview the woman, they confirmed she was not carrying explosives or "checking her bag without taking anything out," per the DOJ report. The reported complaint also claims that the woman was seated mostly out of Miller's view, unless he chose to stand up to see her.)
When officers asked Miller if he had consumed alcohol, he reportedly replied that he had "one glass of wine." According to the report, when asked if he suffered from mental illness, he allegedly claimed,
"No, absolutely not. This is the first time I've ever made a call like this before. I am worried for everyone on that train. Someone has to check that lady out."
Meanwhile, an Amtrak attendant reportedly told officers that Miller appeared intoxicated and alleged he was involved in "hostile exchanges with a woman who was sitting in a different row from him in the First Class car," the press release points out.
While the situation is currently being investigated by the Federal Bureau of Investigation's Joint Terrorism Task Force, Connecticut State Police, Metropolitan Transportation Authority Police Department, Amtrak Police Department, and Westport Police Department, the DOJ press release included the following emphasis:
"U.S. Attorney [John H.] Durham stressed that a complaint is only a charge and is not evidence of guilt. Charges are only allegations, and a defendant is presumed innocent unless and until proven guilty beyond a reasonable doubt."
The press release also points out that the charge "carries a maximum term of imprisonment of five years." According to TMZ, who obtained FBI documents, the incident reportedly resulted in "926 man hours-worth of delays, not to mention disrupting several law enforcement agencies and bomb squads in Connecticut and New York."
Miller has yet to publicly comment on the whole situation, and it's currently unclear whether he actually will.