Janel Parrish Has Found An On-Screen Family That Looks Like Her Own With 'To All The Boys'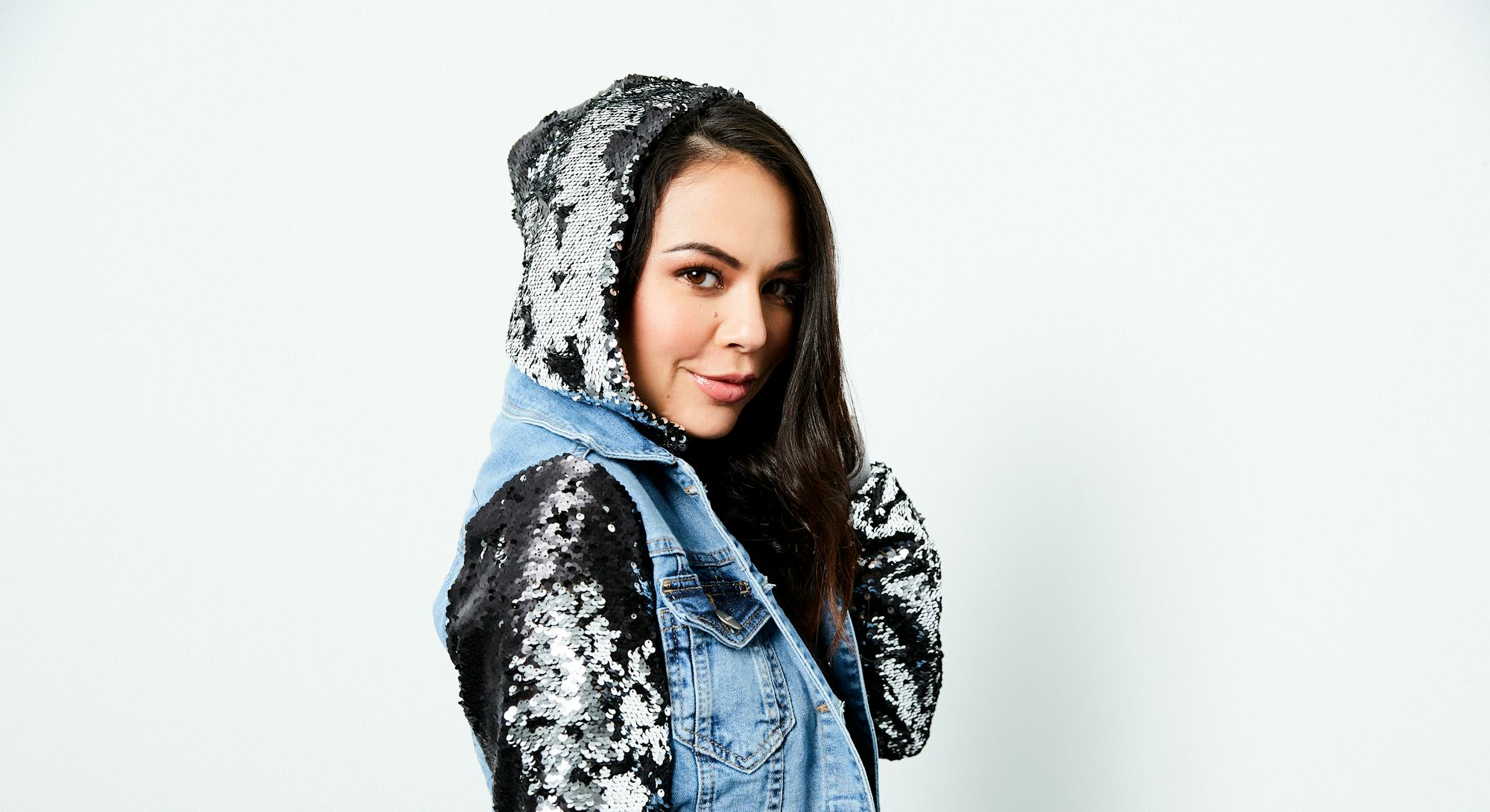 Lauren Perlstein/Bustle
Janel Parrish has just gotten off the plane from Toronto, where she wrapped up performing her dream role: Sandy in a production of Grease. "Growing up, because I didn't look like Olivia Newton-John, which is the Sandy you expect, I always wanted to be Sandy," she tells Bustle, now sitting in our New York City offices. "Always wanted to be Sandy, but never, ever thought I'd get the opportunity, never thought I'd be seen as Sandy." Parrish, best known for Pretty Little Liars and about to star in the Netflix movie To All The Boys I've Loved Before, is a half Asian actor from Hawaii. And her self-described "ethnically ambiguous" features aren't exactly what people might think of when they think of Sandra Dee, a role so iconically defined as blonde and white.
"When they asked me to play Sandy I was like, 'Seriously? You want me to be your Sandy?' And our director was like, 'Yeah. You know what, it's 2018. It's time to break stereotypes,'" she recalls. "That I, as a half Asian actress, can play Sandy is kind of incredible."
That's not the only incredible thing Parrish is doing this year. She's about to break barriers with her role in To All The Boys I've Loved Before, a movie about a family of half Asian girls — the Covey sisters — who live with their white American father after their Korean mother has died. It's the kind of modern, mixed family Hollywood doesn't tend to represent, and their on-screen existence means the world to Parrish.
"I remember growing up and wanting to be an actress and watching these movies and asking my mom if I had to look like all those other girls in order to be an actress," the 29-year-old actor says. "'Cause there were no movies with strong Asian American leads that I could watch and say, 'Oh, I identify with this person. You know, I could relate to her. I wanna be her.'"
Lauren Perlstein/Bustle
Lauren Perlstein/Bustle
To All The Boys, streaming on Netflix starting Aug. 17, is hoping to change that reality for young Asian Americans growing up today. The high school coming of age rom-com stars Lana Condor as Lara Jean Covey, a half Asian teenager who is caught in a fake relationship after letters she secretly wrote to her crushes are released. Parrish plays her older sister, Margot, and the family is completed by little sister Kitty (Anna Cathcart) and father Dr. Dan Covey (John Corbett). It's a family that reflects Parrish's own; her father is white, her mother of Chinese descent, and she has one older sister. And as such, To All The Boys is the kind of project that, like Grease, Parrish always hoped to be a part of, but didn't necessarily think would ever come her way.
After all, when she first started going to Los Angeles for auditions as a kid, she had trouble getting roles because of her ethnicity. "I had a really hard time because they didn't quite know how to place me into a family," she recalls. Although she found early success — at six, she starred as Little Cosette in a national tour of Les Misérables and at 11, she booked her first TV guest arc on Baywatch Hawaii ("David Hasselhoff was my first kiss," she reveals, referring to a scene where Hasselhoff's Mitch Buchannon gave her character mouth-to-mouth) — Parrish's early acting years weren't all sunshine and fun.
It wasn't until she booked the role of Mona Vanderwaal in Pretty Little Liars that her career truly took off. The show, which premiered in 2010, made Parrish a star, but it notably didn't delve into Mona's personal life, or her ethnicity, for years. It wasn't until the Season 5 episode, "Taking This One to the Grave," that audiences finally met Mona's mother, Leona, who confirmed Mona's multi-ethnic heritage. It was a great, subtle challenge to the assumption that Mona was white, based on her last name and Parrish's appearance. "Her last name is Vanderwaal. But I think that's great. My last name is Parrish and, you know, not a lot of people come up to me and say, 'Hey. What are you? Let me categorize you,'" the actor says.
Today, thanks to her role in PLL and movies like To All The Boys I've Loved Before, Parrish doesn't have to fit herself into the old Hollywood idea of what a family looks like (read: white). "Now it's like, 'This is the family that we're looking for. We're looking for a multi-ethnic family,'" she explains. "And that's amazing."
It's something author Jenny Han, who wrote the best-selling book on which To All The Boys I've Loved Before is based, thought about a lot when deciding to make her lead character biracial. "To me, a modern American girl doesn't look like any one thing," Han tells Bustle via e-mail. "And when I looked at the people I know, so rarely is anyone just one thing and I wanted to acknowledge that and honor it in this story."
Though the Covey sisters' ethnicity is undoubtedly important, it's also not a big part of the movie's plot, which is exciting to Parrish. "What I also love about this film and the book is that it's not — they don't necessarily need to be Asian American to tell the story. They just happen to be an Asian American family. She happens to be an Asian American girl, but it's not about that," she says. "I think that's wonderful... and I see more of that in the industry as we go on."
Lauren Perlstein/Bustle
Lauren Perlstein/Bustle
In addition to its representative cast, To All The Boys I've Loved Before also stands out for its largely-female ensemble. All of Parrish's scenes involve at least one other female actor, most often her on-screen little sisters. "It's really sweet and I think it's a very accurate representation of siblings. Especially sisters when you're very, very close," she says. And that sisterly bond translated off screen, at least according to her co-stars. "One of the best parts about working on this movie was the feeling of family and the special bond we had between the three sisters," Cathcart tells Bustle via e-mail. "Janel and Lana became like real life sisters and I could always count on them for a laugh or great advice."
Parrish echoes Cathcart's enthusiasm; asked what her favorite part of working on To All the Boys was, and she doesn't miss a beat. "Definitely working with Lana and Anna... the three of us really did develop a sisterly bond. It was amazing." Parrish's own older sister, she adds, is much more like Margot in real life than she is, which made the experience even better. "I've always been the baby sister and so it was kind of fun to be the big sister for once and have my two girls that I just wanted to take care of," she explains. "We really just fell in love. So, every time we were doing scenes together, lots of giggle fits. Just having the best time."
Parrish may have made a brand new family on the To All The Boys, but that doesn't mean she's leaving her old show business roots behind. The actor will soon return to playing Mona Vanderwaal in the spinoff series Pretty Little Liars: The Perfectionists, which is expected to premiere sometime in 2019. (Parrish reveals that, though they have completed the pilot for The Perfectionists, she has yet to start filming on the series' new episodes.) Some young actors would shy away from playing the same person for so long, but not Parrish. "Playing her, I've got to really show so many sides of me as an actress and I feel like there's even more sides to come out with this new spinoff because the vibe is different," she says. "It's a different story. It's a different town; she's a different Mona now, too. There's a whole other side of her as well for me to explore."
As for what fans can expect to learn about this "other side," Perfectionists creator I. Marlene King has hinted that she wants to see Mona's love life on The Perfectionists, something Parrish is all for. "Out of all the PLLs, Mona has had the least amount of love and I think she deserves it," she says, adding that Mona is "one of the strongest female characters in television." Says Parrish, "I'm even down for a good love triangle. Give everybody the drama, let's make her feel loved and wanted."
One thing fans shouldn't expect more of, though, is details about Mona's ethnicity. Like with Pretty Little Liars, The Perfectionists likely won't delve into Mona's background too much, and Parrish doesn't think that it's necessary to make things any more explicit. "[It] just so happened to be an ethnic actress playing Mona Vanderwaal, and it worked out and it was great," she says.
That's an understatement. Things certainly worked out for Parrish — after finally starring in a movie that required a family like her own, she is returning to a role that she made her own.
Hair and Makeup: Mary Guthrie using Kérastase Paris Couture Styling and Becca Cosmetics