Tom Hanks Is The Latest Celeb To Find Himself In The Middle Of A Bizarre Misunderstanding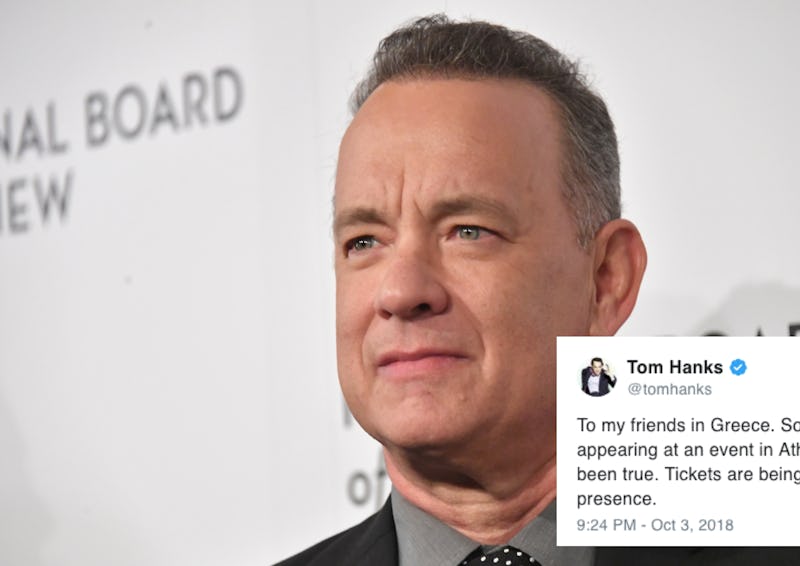 Mike Coppola/Getty Images Entertainment/Getty Images; Tom Hanks/Twitter
Another day, another confounding case of celebrity misrepresentation. First, there was that bizarre Drew Barrymore airline magazine interview, the legitimacy of which is still unclear. Now, Tom Hanks has clarified that he won't be in Greece for an upcoming event, despite advertisements that have been promising otherwise, People reported on Thursday.
This isn't about broken contracts or a last-minute cancellation, by the way. This whole thing just sounds like straight-up fraud, based on the way it's been described by the actor and his wife, Rita Wilson.
On Oct. 3, Hanks posted a series of messages on Twitter, explaining:
"To my friends in Greece. Someone is claiming that I am appearing at an event in Athens which is not and has never been true. Tickets are being sold with the promise of my presence.
I have never talked to anyone about possibly attending this event and those people who are organizing it are not being truthful about their contact with me. Please do not be fooled."
He then went on to post a photo depicting an invitation to the event, which Hanks marked over with the word "UNTRUE" in red. "This makes it sound like I will be attending this event, which has never been true," he added at the bottom.  
The event was supposedly meant to honor Hanks "for his lifetime achievements in Arts & Culture, his philhellenism and his film production Mamma Mia, which promotes Greece as an idea tourist destination," according to the invitation.
The invitation also named the Hellenic Institute of Cultural Diplomacy (HICD) as the organizers of the event, which was to be held at the Stavros Niarchos Foundation Cultural Centre. People reported that the Centre called the whole thing a "hoax" on Twitter, but Bustle could not locate the tweet in question.
The HICD, on the other hand, posted a message about the confusion on their website, and it kind of sounds like they got duped. The update reads:
"Regarding the press releases concerning the arrival of Mr. Hanks in Athens as a guest of EIOP [the organization's Greek-language abbreviation] for charity, we declare:
Entrance to the event was announced to be free and not for money as it was posted incorrectly.
At the initiative of the HIPC, an investigation is being carried out with the Greek authorities to determine whether the agency, and in particular the representative of Ms. Ananda Iliopoulou, has been deceived by a supposed representative of Mr Hanks, as well as whether the documents has at its disposal is authentic or not."
Bustle reached out to the organization for further comment, but did not receive an immediate response.
According to the HICD's website, Ananda Iliopoulou is the organization's Fashion Ambassador, so perhaps she was in charge of putting the shindig together and may have been misled? Not really clear on that, but fashion is definitely within the "Arts & Culture" realm, so sort of makes sense.
Anyway, the bottom line is that Tom Hanks definitely won't be going to Greece. Once they figure out who misrepresented the beloved star, though, you can bet that it will probably not be a beautiful day in that person's neighborhood. (Get it? Like Mister Rogers? Because Tom Hanks is playing him in an upcoming biopic? *Sighs, bows head in shame, walks out door*)