Tom MacArthur's Constituents Made A Striking Point About Pre-Existing Conditions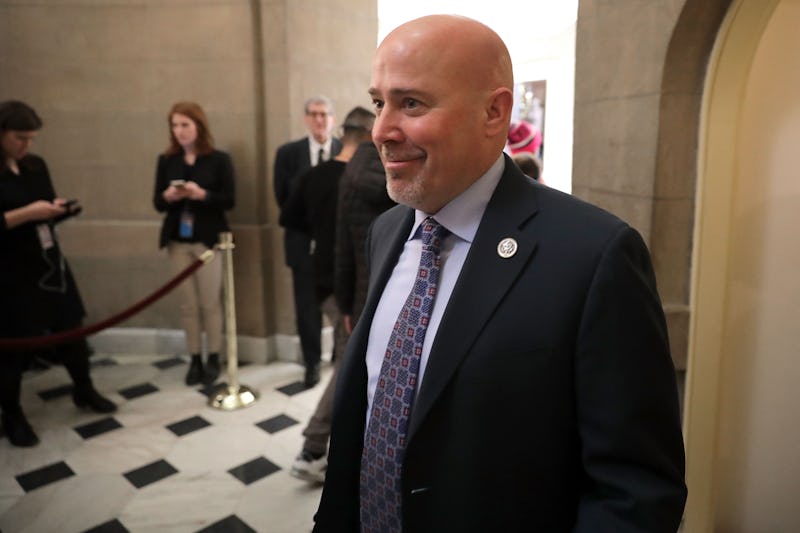 Chip Somodevilla/Getty Images News/Getty Images
In the midst of a passion-filled Wednesday night town hall meeting hosted by New Jersey Rep. Tom MacArthur, attendees stood up for people with pre-existing conditions — literally.
The memorable moment came when discussions turned to the amendment MacArthur contributed to the American Health Care Act (AHCA). The MacArthur-Meadows Amendment has been heavily criticized in recent weeks for provisions that allow states to bypass the Affordable Care Act (ACA) rules that require insurers to provide 10 main benefits to patients while preventing them from charging more based on a person's medical history. When words seemed to fail, audience members leveled-up to deliver a visually striking representation of why Americans care so much about this issue.
After one man took his turn at the microphone to condemn the amendment, telling MacArthur "it's yours, you own it." He went on to ask what it means for the millions of people, like himself, who lived with pre-existing medical conditions who might have difficulty getting "back into the system, once they're out" without those protections. MacArthur started to thank him for his question when another voice in the crowd called out, "If you have a pre-existing condition, stand up." And, sure enough, most of the audience did.
The crowd, full of constituents of all ages, were expected to bring the heat to MacArthur, a former insurance executive, during his first town hall since the revised AHCA bill passed the House. It was anticipated that the subject of pre-existing conditions and the MacArthur Amendment would easily take center stage.
Per the U.S. Department of Health and Human Services (HHS) website, a pre-existing condition refers to "a health problem [a patient] had before the date that new health coverage starts." Generally these are afflictions that are beyond a person's control and can include conditions ranging from diabetes or cancer diagnosis to asthma and acne. So, yes, they're very common.
According to a brief by the HHS released in January 2017, "a large fraction of non-elderly Americans" live with pre-existing conditions. The brief concluded that more than half of the non-elderly population (that's 51 percent, or 133 million people) may have preexisting conditions. They also add that the odds of having one of these conditions only increase as a person gets older — with 84 percent (or 31 million people) of Americans aged 55 to 64 having at least one pre-existing condition.
As the HHS compiled the data based on criteria for "high-risk pools" used prior to ACA, it also means that many of those same people might've been denied coverage or only offered extremely expensive coverage prior to the ACA. Before the ACA mandated protections for people with pre-existing conditions in 2010, the brief notes that nearly 13.8 percent of Americans with pre-existing conditions went uninsured all year. That number dropped to 10.7 percent between 2010 and 2014 after the ACA was passed. And in 2014, 23 percent of Americans experienced "spells of uninsurance" where they went without coverage for at least one month at a time — affirming concerns of the first man who worried about the odds of getting coverage "back in the system" after being out.
While a single room of constituents in New Jersey may not seem that impressive on the surface, they still make a compelling argument that's impossible to discount: People with pre-existing conditions are everywhere and they won't be ignored.