Tom Price Is Officially The New HHS Secretary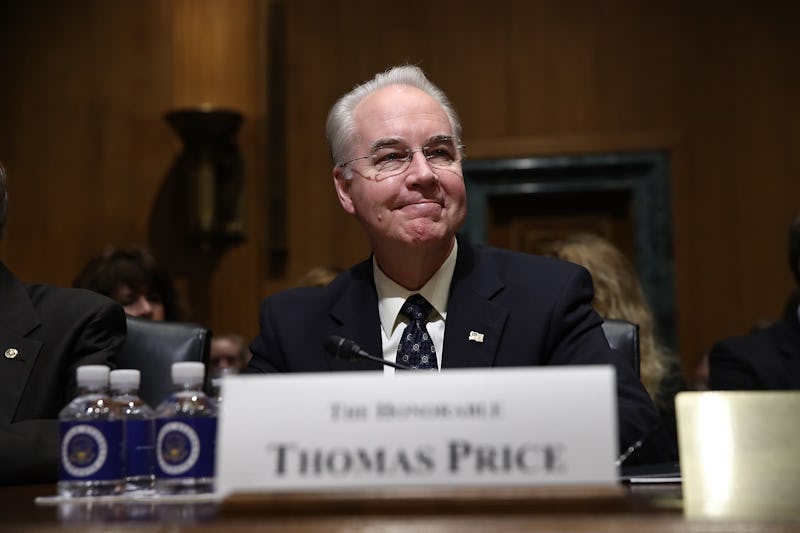 Win McNamee/Getty Images News/Getty Images
By a narrow vote, Georgia Rep. Tom Price was confirmed as secretary of health and human services. The Senate voted early Friday morning (or late Thursday night, depending on how you see it) to confirm Price on a 52-47 vote along party lines.
Democrats opposed Price, a Republican retired surgeon, for his commitment to repealing the Affordable Care Act, his anti-abortion rights stance, and his backing of reducing funding for Medicare and Medicaid, NBC News reported. In a 2009 Politico op-ed, Price wrote that "nothing has had a greater negative effect on the delivery of health care than the federal government's intrusion into medicine through Medicare."
Price also came under scrutiny for his alleged trading of stocks he had oversight of while serving as chairman of the Budget Committee, though he has denied these allegations. "Everything that I did was ethical, aboveboard, legal and transparent," Price said at a confirmation hearing, according to the New York Times. Senate Minority Leader Chuck Schumer, as well as some public interest groups, have asked for an investigation by the Office of Congressional Ethics into Price's financial transactions.
Still, many Republicans are praising Trump's decision to nominate Price as head of the Department of Health and Human Services. "Who better than a doctor to head an organization that covers the wide variety of major health care programs?" Sen. Michael B. Enzi of Wyoming told the New York Times.
But proponents of Obamacare and reproductive rights are not on the same page. Democratic Sen. Jeanne Shaheen of New Hampshire called Price "a rabid supporter of defunding Planned Parenthood," and told the New York Times Price "seems to have no higher priority than to terminate health coverage for millions of people." More than 12 million people signed up for Obamacare coverage this year, and a majority of these people live in states that voted for Trump in November, according to the Associated Press.
While he is a vocal opponent of the ACA, Price said during his confirmation hearing that what he commits "to the American people is to keep patients at the center of health care. And what that means to me is making certain every single American has access to affordable health coverage," NPR reported.
Before entering politics, Price was the director of the orthopedic clinic at the Grady Memorial Hospital in Atlanta. Now he will be the Cabinet secretary who oversees the agency with the largest budget, in this case $1 trillion.