Schwartz & Katie From 'Pump Rules' Really Seem To Be Fine, Y'all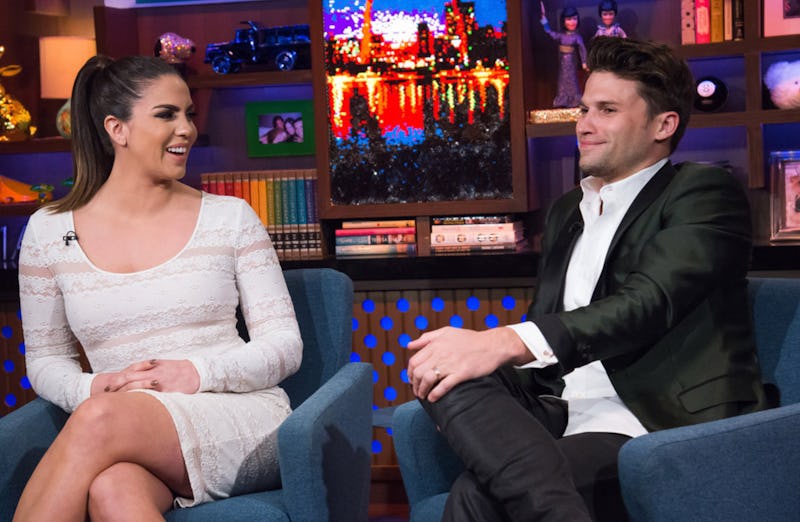 Charles Sykes/Bravo
Is there a better way to deal with the sweltering, upsettingly sweaty, Vanderpump Rules-less summer days than to drink in any and all Vanderpump Rules gossip that hits the internet? Earlier this month, Pump Rules star and patron saint of the chunky sweater Jax Taylor tweeted a tongue-in-cheek tale about two of his coworkers. One of the subjects of the tale quickly chimed in and played along. And though their back and forth appeared to be all in good fun, it left some fans wondering if something was indeed amiss. Some suspected that Tom Schwartz and Katie Maloney's marriage was on thin ice. Maloney shut down the breakup talk, Maloney's mom shut down the breakup talk, and Maloney shut down the breakup talk again. And now, Schwartz has responded to the rumors. And SUR-prise! He also shut down the breakup talk.
On Saturday, Mr. Bubba shared a tweet about his and Maloney's alleged relationship woes, adding, "Nooooo we are still going strong." Mrs. Bubba replied, "I have semi responded. Been mostly entertained by these stories. But FOR THE RECORD we are great and happy as hell!" You hear that? Let the Vander-record show that all is well with the Bubbas.
Schwartz also posted this photo before Stassi Schroeder's… death-themed birthday party? Solid theme, Schroeds.
Sure, the Bubbas might have issues on Season 6, but what Pump Rules couple doesn't have issues on the show? Not to be a broken record, but Schwartz and Maloney appear to be fine. They say everything's good, so be it.
There it is, folks.
And to think, this whole thing escalated because Taylor said Schwartz left the country to pursue a poker career (aka the most bizarre Pump Rules subplot that never existed).