'Pump Rules' Stars Respond Perfectly To This Rumor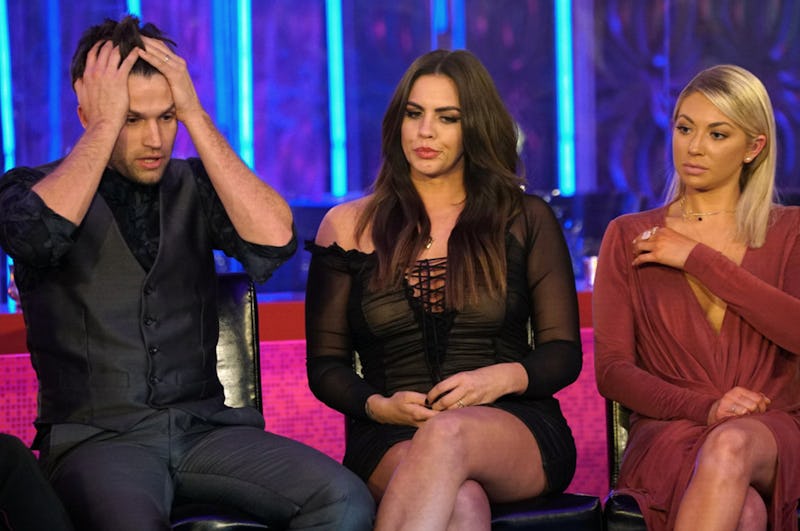 Nicole Weingart/Bravo
Strap in, for Vanderpump Rules Season 6 filming has commenced, i.e., we are in the thick of the Vanderpump Rules offseason. And like Pump Rules offseasons of yesteryear, there's plenty of present-day Sexy Unique Gossip to unpack/carry us until the season premiere airs. Here's just one of the many Vander-things that's popped up on the internet about the forthcoming batch of episodes: For what feels like the zillionth time, newlyweds Tom Schwartz and Katie Maloney are the subject of breakup rumors. (I guess they maybe didn't wear their rings one time?) Well, leave it to Pump Rules' Jax Taylor to address the Schwartz and Maloney scuttlebutt a very Jax-y way.
When someone tweet-asked him about his costars' current relationship status, Taylor replied, "Yeah [Schwartz] dipped out of the country he said f this and left. Apparently going on a poker tour was more important."
"Ahhh yes the pursuit of a poker star," Maloney chimed in. "He is huge in Asia, so hot right now."
Now, I'm not rooting for them to split (I would never! I love the Pumpers like they're my own friends!), but the idea of Schwartz traveling the planet and playing poker is pretty delightful. I would watch the heck out of that show, no question. Schwartzy sitting at seven-card stud tables around the world in his sweatpants, slides, and a Teenage Mutant Ninja Turtles poker visor would be perfect television, full stop.
Oh, is that so? Because Maloney's singing a different tune.
As fun as it is to imagine Schwartz as a poker player/monk/circus performer, I think it's safe to say that Maloney and Taylor's tweets are all in jest. But hey, just in case there's any shadow of a doubt, here's Maloney confirming she and Schwartz are still going strong.
Sounds like there isn't trouble in Bubba-dise after all.
Also? Maloney and Taylor should collaborate more often.