Tom Sizemore Has Just Been Accused Of Allegedly Sexually Assaulting A Young Girl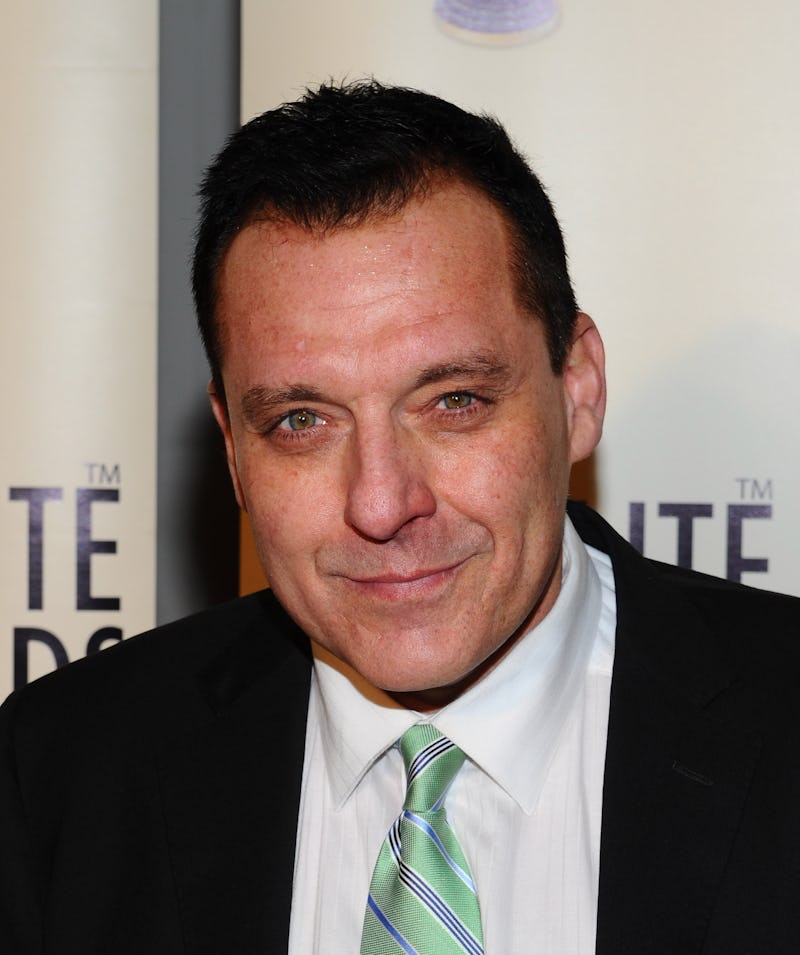 Michael Buckner/Getty Images Entertainment/Getty Images
According to The Hollywood Reporter, actor Tom Sizemore was accused of alleged sexual assault against an 11-year-old girl in 2003. The report stated that Sizemore was told to leave the film set of the movie Born Killers after an 11-year-old actress told her mother that Sizemore allegedly touched her genitals. At the time, her parents did not press charges, and Sizemore returned to the set for reshoots. The incident was not disclosed publicly until Monday, Nov. 13. The now 26-year-old former actress, who chose not to be named by The Hollywood Reporter, is said to be exploring her legal options against Sizemore and her parents. Bustle has reached out to Sizemore's reps for comment, but had not heard back at the time of publication.
THR reported that they spoke to a dozen people who worked on the set at the time of the alleged incident, and they confirmed that Sizemore was sent home after the matter was brought to the attention of the film's producers. The incident purportedly took place during a still portrait session. In the film, Sizemore's character is a man who leaves his wife and daughter. In a scene, the 11-year-old had to sit on Sizemore's lap while wearing a flannel nightgown to pose for a photo as his character's estranged daughter. Production manager Cassidy Lunnen was allegedly on set the day the photo was taken. She told THR,
"At one point her eyes got just huge, like she could've vomited. I was watching her. She soon reintegrated and kept going, although she had trouble taking direction. Later, when I was told about what happened, I knew exactly what it was."
The actress told her mother about the alleged incident the day after the photo shoot. The film's casting director, Catrine McGregor, told THR that she received a phone call from the actress' mother in which the mother told McGregor that her daughter was alleging that Sizemore touched her inappropriately. McGregor recounted the alleged call to THR,
"The mother noticed that her daughter was unusually quiet and told her she was going to take her to this swimming place that was the little girl's favorite thing. When the girl put on her bathing suit, she told her mother that it reminded her of the day before, in an upsetting way — that the bathing suit's contact against her felt like what happened when the man had put his finger inside her."
McGregor claims that she filed a complaint with the Screen Actors Guild's legal department and advocated for Sizemore to be removed from the film. Born Killers producers Jai Stefan, Michael Manshel and Gus Spoliansky all told THR that they reviewed the photos from the day of the alleged incident, but they did not find conclusive evidence. They also claim that they encouraged the actress' parents to reach out to the police, but the girl's parents allegedly didn't want their daughter to be removed from the film. Stefan recalls telling the parents, "We said we can remove her, remove him, remove both."
Allegedly, the parents did speak to the police, but they chose not to press charges. Mansel said to THR, "We also talked to Tom at the time, and told him everything that had been told to us, and he said: 'I've done a lot of awful things, and I'd never do anything with kids.' We considered whether we had some responsibility to him to not pass judgment on him."
Sizemore has a history of drug abuse and violence against women. In August 2003, Sizemore was convicted of abusing and harassing his ex-girlfriend, Heidi Fleiss, according to The Los Angeles Times. The same report detailed that these charges were followed by two arrests in 2009 for suspected domestic violence and allegedly transporting or selling a controlled substance. In February of this year, Sizemore pleaded no contest to two domestic violence charges, reported by the LA Times. He was put on probation for 36 months, sentenced to 30 days of community labor, and ordered to complete a yearlong domestic violence program.
Despite his history of alleged domestic violence, Sizemore has continued to have a successful career in Hollywood. In the late '90s and early '00s, he starred in Hollywood hits Saving Private Ryan, Blackhawk Down, and True Romance. His career has continued to thrive in recent years thanks to roles in the Twin Peaks reboot and USA's Shooter. According to his IMDb page, Sizemore currently has 35 projects in various stages of production.