Torrid's Vintage Premium Denim Collection Is All About This '80s Trend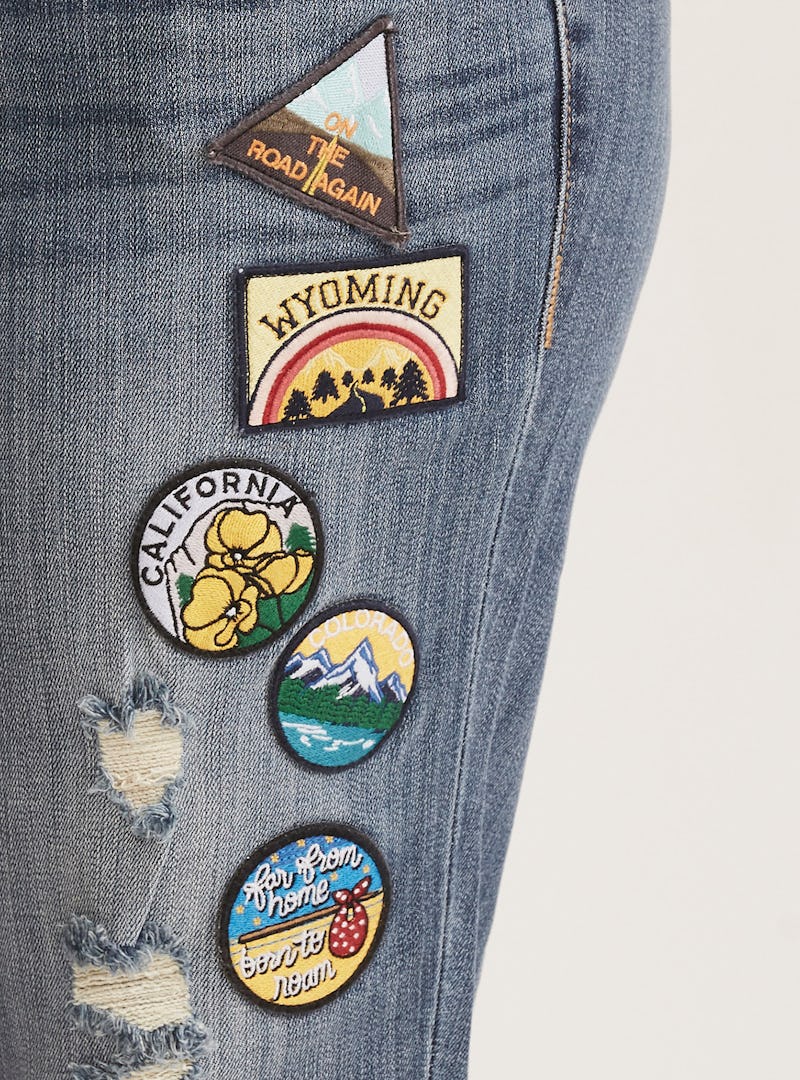 Courtesy of Torrid
Some '80s fashion trends, like Aqua Net hair and fluorescent pink off-the-shoulder sweatshirts, solely live on in memories and photos. Others, like Z Cavaricci pants, come out of retirement and bank on nostalgia. Now, plus sized brand Torrid is resurrecting the '80s trend of patches on jeans with its new Vintage Denim Collection.
The brand is launching two pairs of premium jeans, one of which nods to the much-missed era when embellishing your jeans (or your jacket) with sew-on patches was a thing. These jeans are also incredibly affordable. Each pair retails for around $100.
According to Torrid, the new jeans are available in the Boyfriend silhouette. One pair features patches from various locations, like Venice Beach in California and the Great Smoky Mountains in North Carolina. This is a new sort of Sisterhood of the Traveling Pants and the jeans give off quite the rock 'n' roll vibe.
The other pair boasts white, floral embroidery, which nods to the enchanted gardens of the '20s and has a softer, more feminine aesthetic.
Bonus: The unique story of each pair is sewn into the inside right pocket. I am a firm believer that your clothes tell more than one tale and go beyond being simply a representation of your personal style.
Vintage Premium Boyfriend Jeans with Road Trip Patches, $119, Torrid
The patches pack an additional "oomph," transforming these "worn" pants from a basic pair of jeans to a serious fashion statement. This pair is $119.
The patches are emblems and perhaps a road map of where you have been or where you want to go.
Here's a closer look at the distressed wash and the patches. Throw on a hoodie and wear these jeans while traipsing around this fall, or add your own patches to really rock 'em out.
Vintage Premium Boyfriend Jeans with Floral Embroidery, $99, Torrid
The floral embroidery is pretty and adds a touch of elegance. It elevates the denim to "dressy."
These jeans, which are $99, are perfect for casual Fridays at the office. Each pair runs from size 10 to 30 and offers a fresh and fashion-y take on a basic.