This Plus Size Mickey & Minnie Mouse-Themed Clothing Line Is Every Disney Fan's Dream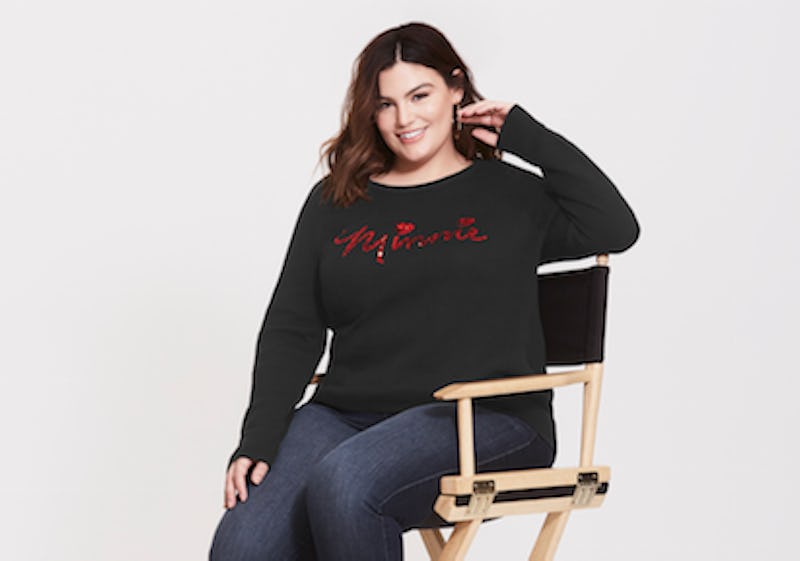 Courtesy Torrid
Minnie Mouse is finally getting a star on the Hollywood Walk Of Fame — 40 years after Mickey Mouse got his. Yes, you read that right. Disney's First Lady of Fashion, as the brand calls her, is finally getting her time to shine, and Torrid is celebrating with its' Rock The Dots Collection. Because there's no better time to embrace the character's achievements.
Although Mickey and Minnie Mouse were created at the same time, it's taken quite some time for the fictional female character to get her time in the spotlight. Torrid is celebrating the character of the moment with an entire clothing collection dedicated to her iconic polka dots. It also happens to fall just in time for National Polka Dots Day on Jan. 22.
The collection is filled with 14 different items, ranging from bow-tied sports bras, chiffon skirts, and everything in between. There's everything you need to embrace the character while sticking to your own style. Some items are extremely quirky designs that you can instantly tell are inspired by Minnie Mouse, while others are more on the wearable side. I'm talking barely noticeable embroidered patches to a skater skirt bikini. How's that for range?
Rock The Dots is available right now on the Torrid website. The prices range from $30 to $100, but you can get 25 percent off right now with the code "25FORYOU."
Disney Minnie Mouse Black Knit Sequin Sweater, $59, Torrid
Torrid is known as a champion of inclusivity and female empowerment, so it only makes sense that they would embrace this milestone in Minnie Mouse's fictional life. The moment is much more than just a chance to create a fun collection. It's a symbol of the political climate in the world.
This isn't the only time that Minnie Mouse was the spotlight of a collection, either. The brand, like many others out there, have plenty of character-related pieces already on the website. That means that on top of the 14-piece clothing collection, you can also snag some incredible accessories to go along with it.
Under the Rock The Dots Collection, you can also buy a glittery Minnie Mouse headband, a polka dotted skater dress, and headphones to go alone with your looks. Heck, you can even stock up on ear-shaped, with the bow of course, bath bombs to go along with it.
Disney Minnie Mouse Push-Up Demi Bikini Top, $69, Torrid
Torrid is a brand that offers sizes 10 to 30, and the Rock The Dots collection is no different. Although National Polka Dot Day is on Jan. 22, the clothing is already available, so you can get a head start. While not every look has dots on it, there's no question that this is an iconic look of Minnie's.
Oddly enough, this is the same day that Minnie Mouse will be given her star on the Hollywood Walk Of Fame. According to Billboard, Katy Perry will be the one to present the star to the character on Jan. 22 at 2:30 pm EST in front of Disney's El Capitan Theatre.
"Minnie Mouse is a woman of the ages and her iconic status makes her a great addition to our Walk of Fame!" said Ana Martinez, producer of the Walk of Fame ceremonies. "Generations of fans of all ages have been looking forward to her seeing her bright new star."
Disney Minnie Mouse Black White Bow Sports Bra, $43, Torrid
The collection is limited edition, but will be sticking around the website for a while. As of Jan. 18, every single item and size is still available to purchase. Something tells me that it won't be for long though. Especially with all of this girl power going around.