There's Some Drama Around A 'Town & Country' Event, Monica Lewinsky, & Bill Clinton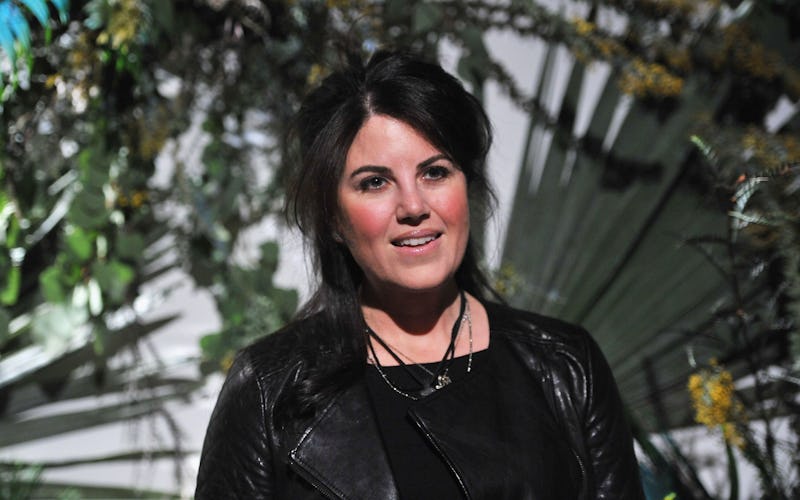 Fernando Leon/Getty Images Entertainment/Getty Images
On Wednesday morning, former president Bill Clinton appeared at Town and Country magazine's annual philanthropic summit, introducing Parkland school shooting survivor and activist Emma Gonzalez. On Twitter the very same afternoon, Monica Lewinsky claimed Clinton's attendance got her disinvited from a summit; HuffPost subsequently reported that it was the Town and Country event that Lewinsky was referring to. Bustle has reached out to Town and Country magazine for comment.
UPDATE: 'Town and Country' tweeted Thursday morning: "We apologize to Ms. Lewinsky and regret the way the situation was handled."
EARLIER:
"[D]ear world," Lewinsky tweeted, "please don't invite me to an event (esp one about social change) and --then after i've accepted-- uninvite me because bill clinton then decided to attend/was invited. it's 2018. emily post would def not approve."
Daniel Lempert, one of Lewinsky's representatives, tells Bustle she has no comment beyond what she stated on Twitter on Wednesday. Angel Urena, Clinton's press secretary, issued a response to the story on Twitter a few hours after Lewinsky's tweet, stating that the former president had no knowledge of her being invited or disinvited from the summit.
"President Clinton was invited to address the Town & Country Philanthropy Summit. He gladly accepted. Neither he nor his staff knew anything about the invitation or it being rescinded," Urena tweeted.
In addition to having her invite rescinded, Lewinsky also suggested that the she was offered an article in the magazine in an effort to remedy the situation, which she described as "insulting" in a follow-up tweet. "...and definitely, please don't try to ameliorate the situation by insulting me with an offer of an article in your mag," she wrote.
Lewinsky and Clinton were engaged in a sexual affair back when she was a White House intern in her early 20s and he was president of the United States. The affair was ultimately uncovered by the office of special counsel Ken Starr, and became a headline-dominating scandal for years.
Clinton's denial of the affair to a grand jury helped form the basis of impeachment proceedings against him. Clinton was ultimately impeached by the House of Representatives in 1998. The U.S. Senate, however, did not vote to remove him from office ― the votes, on perjury and obstruction of justice, broke down largely along party lines. It takes a two-thirds majority of at least 67 votes for the Senate to remove a president from office.
In the years since the scandal, Lewinsky, 44, has become an author, public speaker, and a high-profile anti-bullying advocate, having experienced an immense amount of public bullying herself at the height of the scandal.
In particular, Lewinsky was the target of a practically mind-boggling amount of jokes, often sexist and cruel, by late-night comedians and talk show hosts. David Letterman, who retired from hosting Late Show with David Letterman in 2015, acknowledged in an interview with Barbara Walters that he regretted how much time he spent cracking jokes at Lewinsky's expense throughout the late 1990s.
"I started to feel bad, because myself, and other people with shows like this, made relentless jokes about the poor woman. And she was a kid," Letterman said. It wasn't just Letterman, either; his late night arch-rival, Jay Leno, also routinely devoted a lot of time to jokes aimed at Lewinsky, who at the time was just 22 years old.
Lewinsky's tweet drew support from a number of high-profile media and entertainment figures on Twitter, including CNN's Jake Tapper, and Hollywood director Judd Apatow. Multiple outlets have reached out to Town and Country magazine to confirm the details of Lewinsky's story, including Bustle, HuffPost, and also USA Today. As of the time of this writing, the magazine has not yet responded publicly to the story.