Tracee Ellis Ross Might Be Taking Serious Action On Her Rumored 'Black-Ish' Salary Gap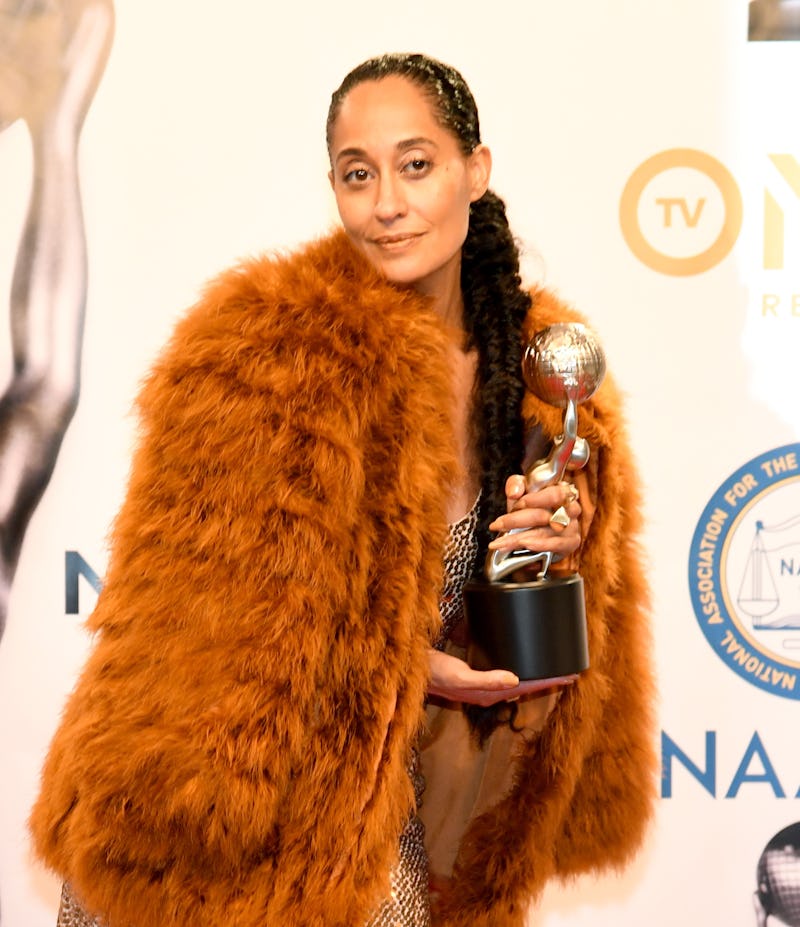 Paras Griffin/Getty Images Entertainment/Getty Images
Amidst the ongoing fight for equal pay in Hollywood, it appears that Tracee Ellis Ross has become the latest women revealed to be making significantly less than her male co-star, according to The Hollywood Reporter. Currently in contract negotiations for Season 5, Tracee Ellis Ross is reportedly considering making less appearances on Black-ish in order to seek out other opportunities that will help her make up for the pay disparity, should her salary not match that of fellow lead actor, Anthony Anderson.
THR indicates that the revelation of wage discrepancy between Ellis Ross and Anderson was reportedly discussed "at length" during a recent Time's Up meeting, which also centered on the inequity in pay between Michelle Williams and Mark Wahlberg for their reshoots for All The Money In The World late last year. Much like the Williams and Wahlberg controversy, Ellis Ross and Anderson's pay gap situation, is quite a curious one given the fact that both actors have maintained similar roles on the sitcom since its inception in 2014. And despite the network's alleged point of view which according to THR indicates that "Anderson and Ellis Ross' roles aren't equal given that he has been attached to Black-ish from the start and is an executive producer" one could argue that they carry identical duties when it comes to their on-screen time.
It's worth pointing out that while both entertainers have received critical acclaim for their performances and garnered numerous nominations for their performances on Black-ish including; Primetime Emmy nods for Outstanding Lead Actor and Outstanding Lead Actress and Golden Globe Awards Best Actor and Best Actress in a Television Series Musical or Comedy, it would be Ellis Ross who would snag the trophy, ultimately solidifying the relevance of her contributions to the beloved show.
It's also safe to say that Tracee Ellis Ross has become a fan favorite, largely in part to her outstanding portrayal of Dr. Rainbow Johnson. An inspiration to women everywhere, Bow seems to effortlessly juggle being a mother, wife, doctor and fashion icon in every single episode while tackling many relevant social issues that remain important to viewers – and without her – the show just wouldn't be the same. Less camera time for Bow would certainly change the entire landscape of the show, which most likely will not go over big with fans who tune in to see her weekly.
Both on and off the show, Tracee Ellis Ross has long been a champion for women's empowerment and equal rights among all. When taking the stage to accept the Golden Globe for Best Actress in a Television Series Musical or Comedy - a feat which would make her the first black woman to receive the award since 1982 – Ellis Ross shared some heartfelt words of empowerment:
"This is for all the women, women of color and colorful people whose stories, ideas, thoughts are not always considered worthy and valid and important. But I want you to know that I see you. We see you."
As an advocate for intersectional feminism, the 45-year-old actor once tweeted, "July 31 is #BlackWomensEqualPay Day: it represents the # of days into 2017 a black woman must work 2 earn same pay a white man made in 2016."
With the fight now hitting very close to home for the actor, it seems that many within the Time's Up movement have become somewhat torn over her reported solution of opting out of episodes to find work elsewhere. While it's important to stand up for change, adversaries of Ellis Ross' alleged resolution are worried that her decision may interrupt the conversation of progression.
Though not the least bit shocking, news of Tracee Ellis Ross' fight for equal pay has become yet another sobering moment which evidences the continued oppression of women. And while it will certainly be disappointing to not have her full time on Black-ish, should she be forced to reduce her time on the show, it's something that fans must stand behind in order to create change.