Trader Joe's Is Launching An Advent Calendar For Dogs Full Of Mini Treats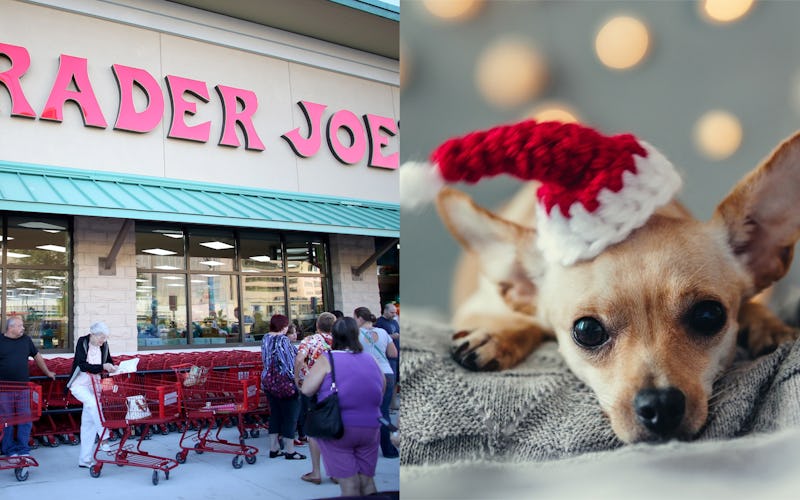 Joe Raedle/Getty Images News/Getty Images; Fotolia
Although you may think that seasons are determined by forces like nature, the construct of time, or the orbit of our planet around its sun, the truth is that the seasons are in control of one man and one man alone: Trader Joe. It is summer when Joe launches canned wines; it is fall when Joe brings his obscenely large pumpkin spice lineup; and as of this year, it is winter when Trader Joe's launches advent calendars for dogs, which is reportedly a thing that is happening in 2018.
As reported by Delish, season two, episode three of the Trader Joe's podcast Inside Trader Joe's had employees talking about the best holiday offerings from the chain that are headed to shelves this year — and, according to Jon Basalone, president of stores, among them will be an advent calendar for dogs, which will feature a little treat for your four-legged friend in the days leading up to Christmas. It's unclear whether this will be a 12-day advent calendar or a 25-day one, but what is pretty clear is that people are about to go doggone bonkers for it. I do not even live with any dogs and I want to get my paws on one.
But this is really just the tip of the iceberg of things to get excited about from our dear friend Joe this holiday season; per Delish, the employees on the podcast shared that the chain will launch anywhere between 150 and 200 products for the holiday season. Ones that got name-dropped include a Bûche de Noël Ice Cream, Grain d'Orge cheese made with apple brandy, 10-, 13-, and 16-year-old scotches from Ardmore Distillery, and a return of the Turkey and Stuffing Potato Chips and Riced Cauliflower Stuffing.
A moment of silence, though, for the Sticky Toffee Pudding, which is reportedly not returning to shelves this year; at least we have the Chocolate Salted Caramel Cake In A Mug to replace it in our mouths and hearts this year.
If you're not already familiar with some of Trader Joe's more classic holiday offerings, then definitely get yourself over to the chain in November and December. Not only does Joe launch all kinds of seasonal confections like gourmet chocolates (Irish Whiskey Caramels, anyone?), but the baked goods section is usually just a menagerie of pies, and limited edition cakes, cookies, and breads for the holiday season. And since TJ's is pushing further and further into specialty foods like vegan and gluten-free options, it's basically the perfect one-stop shop for affordable entertaining, or grabbing something for your Friendsgiving potluck that will make it look like you put in a TON more effort than you did. (To be fair, standing in line at a Trader Joe's in Manhattan is somewhat of a Herculean task in and of itself.)
No official word yet on when that advent calendar is going to drop, but Trader Joe's stays notoriously mum on these matters, so odds are you'll see it in stores before you see anything else online. In the meantime, if you're looking for something to tide your pup over, you can always go for the pumpkin spice dog treats at TJ's this year — now you and your dog can match autumnal brands once and for all.