Trader Joe's Is Selling Pumpkin Trees And They Will Speak To Your Spooky Soul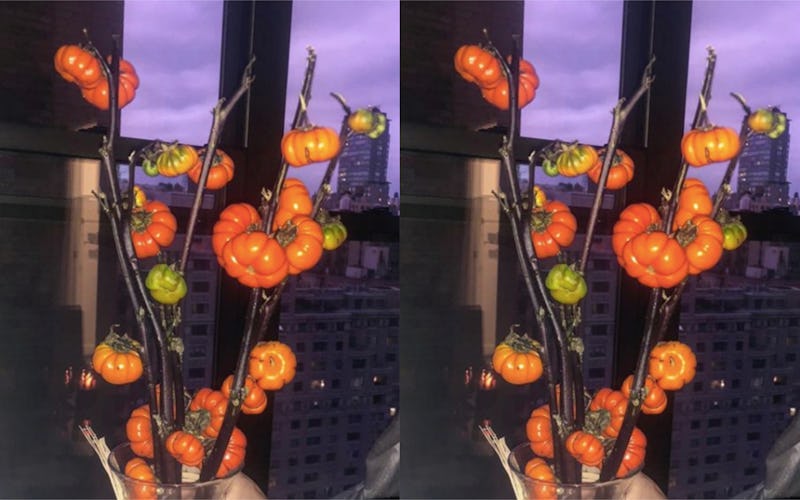 Lauren Dana/Instagram
The autumn season is now officially underway, and I could not be more excited (so long, sweltering-hot commutes — you will not be missed). Plus, what's not to like about fall? There are delicious treats, fun outdoor activities, comfy clothes, and the absolute cutest accessories and essentials. Thankfully Trader Joe's has their fall-themed products on shelves, and they're hooking us up with anything and everything we need to live our fall to the fullest, including blessing our lives with literal mini pumpkin trees at Trader Joe's.
Yes, the pumpkin-themed snacks at TJ's are indeed delicious, but have you ever seen something more beautiful and unique than pumpkins growing on little trees that you can show off in your very own home? Once you purchase them in the store, the directions for maintaining them are simple: trim the branches to your desired length and change the water every week. Easy enough, right? My little fall heart is geeking out, and couldn't be more obsessed with this aesthetic. Just picture a cozy night inside in your fave plaid flannel, PSL in hand, pumpkin-scented candle lit, and eating a bowl of pumpkin soup next to your very own pumpkin tree?
BRB, my soul is about to explode, and I can now die a happy gal knowing I can grow my own pumpkin trees, because succulents are so last year.
Now, you may be wondering what foods/drinks best go with your new pumpkin tree? With so many pumpkin-themed foods at TJ's to choose, I've narrowed down the ~best of the best~. So sit back, light your candle, and get relaxing (and feasting). Check out the a few other pumpkin-themed goods you can score at Trader Joe's, below: