Travis Scott Shut Down Cheating Rumors In A Very, Very Clear Way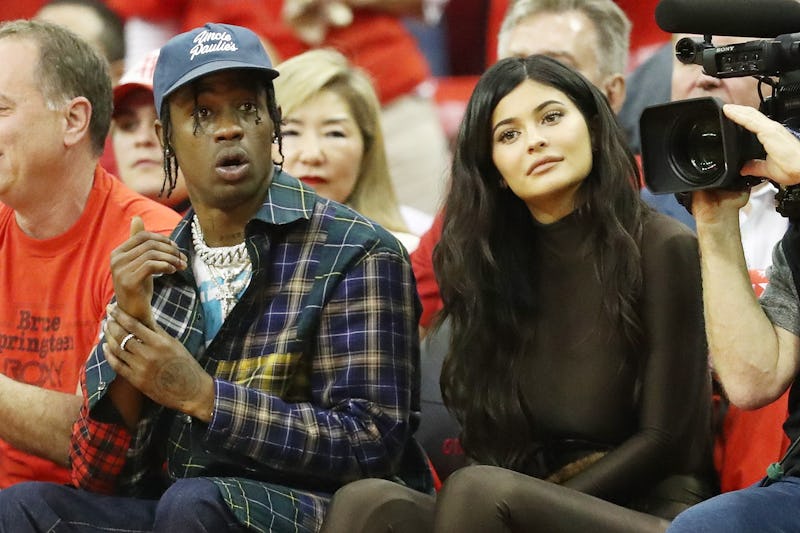 Ronald Martinez/Getty Images Entertainment/Getty Images
Pun intended, there are a lot of rumors to keep up with when it comes to Kylie Jenner and Travis Scott's relationship. One second, fans think they're engaged or secretly married. The next second, there's speculation that the rapper was unfaithful. On Monday night, Travis Scott denied cheating on Kylie Jenner with several Instagram clapbacks.
According to the Instagram account Comments by Celebs, someone posted a photo of a man rocking the same hairstyle as Travis, seemingly getting cozy with a woman, who is obviously not Kylie. The person who shared the photo wrote, "Yo this real!?" Travis responded with a firm denial.
The "Sicko Mode" rapper wrote,
"Sh*t cap assss f*kkkk TMZ ain't post this sh*t. Trolls working hard today. I don't be on balcony wit no thots. That sh*t lame. Try again u trollssss. Me and my wife sturdy. Back to [celebrating]!!!"
As if that response wasn't clear enough, Travis came through with an additional comment. He wrote, "Only got love for my wife. No time to be wasting. Try again."
Travis set the record straight a third time with a post on his own Instagram Story. He declared,
"Trolls always wanna create some fake sh*t to destroy real love. GOING OVER BOARD TO MAKE SH*T LOOK LIKE [IT] IS NOT IS EVIL. I hate acknowledging sh*t. But quit try to take joy from sh*t that's good. I pray to god block out all evil. BACK TO CELEBRATING!!!"
Aside from (presumably) celebrating his family with Kylie and daughter Stormi Webster, Travis also reached a major musical milestone worth commemorating. His song with Drake "Sicko Mode" just reached number one on the Billboard Hot 100 Chart. This was even his first Hot 100 number one in his career. The day should have been about his professional achievement, instead of dealing with with baseless rumors.
Dispelling the current gossip, Travis and Kylie really do have each other's backs these days. They may be a more private couple, but they are very much together. Kylie and Stormi are accompanying Travis on his Astroworld tour. Plus, Kylie documented her and Stormi's time backstage in a YouTube video that she shared on Nov. 29.
Just watch Travis and Kylie's Instagram Stories, they are with each other on a super consistent basis. Speaking of Instagram Stories, ironically enough, on the same day Travis denied cheating allegations on Instagram, Kylie sparked engagement/marriage rumors — again.
On Dec. 3, Kylie posted a photo of the two of them on her Instagram Story with an diamond ring emoji. Was that a subtle response to the cheating speculation? It might be. However, the two use this emoji pretty often in their posts and sources have denied engagement and marriage rumors in the past.
So clearly, this wasn't be the first time the duo initiated engagement/marriage speculation. They refer to each other as "husband," "hubby," "wife," and "wifey" all the time. For instance, in October, the makeup mogul posted a photo of Travis performing on SNL with the word "hubby" written across it.
There are a lot of rumors swirling, but the fact is that Kylie and Travis are a very solid couple. Hopefully, they have even more staying power than a Kylie Lipkit (which, as makeup fanatics can attest, is quite a long-lasting product).