Tristan Thompson Reportedly Told Khloe Kardashian He Was Relieved About The Cheating Rumors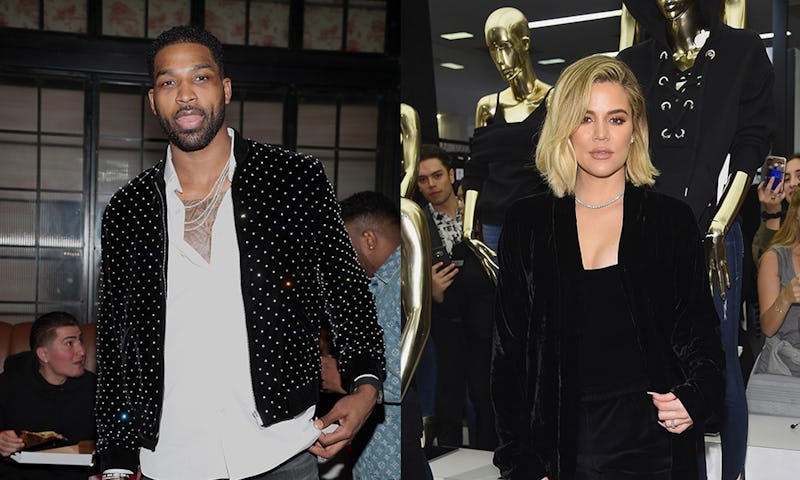 Cassidy Sparrow/Getty Images Entertainment/Getty Images; Jamie McCarthy/Getty Images Entertainment/Getty Images
On Wednesday, May 9, Us Weekly reported that an unnamed source said that NBA basketball player Tristan Thompson reportedly had mixed emotions about the rumors he had cheated on Khloé Kardashian. Us Weekly's source even said that Tristan Thompson reportedly told Khloé Kardashian that the cheating rumors coming out made him feel relieved. (Bustle reached out to Kardashian's reps and Thompson's agent for comment on the cheating rumors and the current news, but did not receive an immediate response.)
Thompson and Khloé have not publicly commented on the rumors nor have they clarified their relationship status, which is no one's business but their own. Of course, since Us Weekly's source is unnamed, take this all as you will. The unnamed source went on to say the following:
"Khloé has completely forgiven Tristan for cheating on her, and it really wasn't hard for her to do because he literally broke down crying in her hospital room after she had given birth to True. Tristan was absolutely devastated that he had hurt and betrayed Khloé. Adding to the grief, was of course the timing of when it all came out, the days before she gave birth."
On Tuesday, April 10, TMZ posted a video of Tristan Thompson seemingly cheating on Khloé Kardashian with two women at a hookah lounge outside of Washington, D.C. The media outlet reported that the video was surveillance footage recorded on Oct. 7, 2017. (Bustle reached out to Kardashian's reps and Thompson's agent for comment on the video, but did not receive an immediate response.)
The 59-second video footage obtained by TMZ is black and white as well as grainy, so it is difficult to tell if the man in the video is indeed Thompson. The video shows a man who is sitting with two unknown women. Additionally on April 10, reports circulated that Thompson appeared to kiss another woman who was not Kardashian in New York City. The Daily Mail shared grainy video footage that the publication claimed to be of Thompson at a club in New York City, however, this footage is difficult to decipher and the faces in it are not clearly seen. (Bustle reached out to Kardashian's reps and Thompson's agent for comment on the video, but did not receive an immediate response.)
A few days later on April 12, Khloé gave birth to the couple's baby daughter, True Thompson. She revealed the baby's name in an Instagram post on April 16. Her photo showed a room filled with pink balloons and hues. Khloe wrote in the Instagram caption:
Our little girl, True Thompson, has completely stolen our hearts and we are overwhelmed with LOVE. Such a blessing to welcome this angel into the family! Mommy and Daddy loooooove you True!
Since True's birth, Thompson has been playing in the NBA playoffs with his basketball team, the Cleveland Cavaliers. The team advanced to the Eastern Conference Finals, recently beating the Toronto Raptors in the semifinal series. Thompson and Khloé have been spotted out and about in Cleveland, getting lunch and going to the movies, according to TMZ.
Earlier on May 9, Khloé posted her plans for her first Mother's Day on her app:
I've always loved Mother's Day and celebrating Kris Jenner, MJ and my sisters — but this year will be even more special because now I'm a mommy, too! As of now, there aren't any special plans (that I know of, LOL). I'm really enjoying spending quality time with True and loving just hibernating with her.
She didn't mention whether or not Thompson would be joining in on the Mother's Day plans. No matter what's going on between them, it sounds like their current focus is on their baby daughter.