Tristan Thompson Made His First Appearance Since The Cheating Rumors & It Did NOT Go Well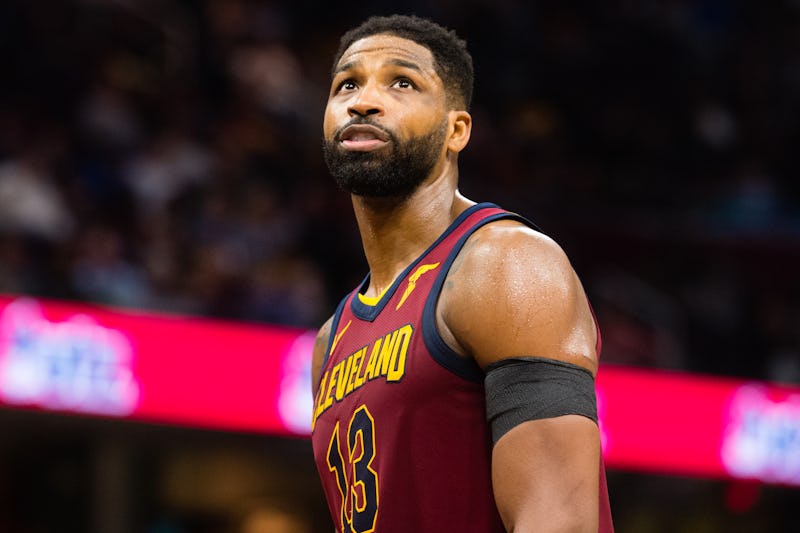 Jason Miller/Getty Images Sport/Getty Images
Just a day after rumors surfaced that Khloé Kardashian's boyfriend allegedly cheated on her, her fans have been livid — and they certainly aren't afraid to show it. The Cleveland Cavaliers' power forward did not have the warmest of welcomes when he stepped onto the court for Wednesday night's game against the New York Knicks. In his first public appearance since the cheating rumors, Tristan Thompson was reportedly booed at the Cavs-Knicks game. Bustle has reached out to both Thompson's and Khloé's reps in regards to the rumors.
Thompson was not on the starting line-up for the Cavs' home game, but when he was taken off the bench to replace LeBron James, audience members reportedly began booing him, according to E! News and the Daily Mail. TMZ contradicted the reports slightly, saying Thompson avoided major backlash for the cheating rumors until he was shown on screen. Some of his "fair share of boos" came when Thompson got called for a couple personal fouls, TMZ reported.
A Twitter user also tweeted a snapshot of someone from the stands holding a "We (heart) Khloe" sign. Neither Thompson nor Kardashian have commented on the cheating rumors, but Elle pointed out that members of the Kardashian-Jenner clan — Kim, Kourtney, Kylie, and Kendall — had unfollowed Thompson on Instagram. Their sibling Khloé is due to give birth any day now.
Thompson landed in hot water on Tuesday, April 10, when the Daily Mail shared unclear footage of a man the publication claims is Thompson. The man appears to be getting intimate with a woman at a club in New York City the weekend prior, insinuating that Thompson was cheating on Khloé. It is not confirmed if the man is indeed Thompson, as the footage is grainy and faces difficult to identify. Page Six also shared photographs of the NBA player at his five-star hotel in NYC with what appears to be the same woman. The publication claims Thompson hooked up with an Instagram model.
Later on April 10, TMZ also shared a video that seemed to suggest Thompson cheated on Khloé with two women at a hookah lounge in Washington D.C. The grainy, 59-second video clip shows a man sitting with two unknown women. The man leans over to kiss one woman and later, the other woman pulls the man's head toward her chest before seeming to put her hand on the man's crotch. The quality of the video footage obtained by TMZ makes it hard to identify the man with certainty. TMZ reported that the video is surveillance footage recorded on Oct. 7, 2017. Khloé would have been about three months pregnant at the time.
There is so far no official confirmation on whether Thompson has been unfaithful to Khloé, but the recent gossip may be following Thompson to the basketball court. The Cavaliers wound up losing to the Knicks on Wednesday night, but Thompson has not indicated whether the infidelity rumors were affecting his play.
Off the court, the cheating scandal is possibly creating conflict in Thompson's relationship with Khloé. The couple began dating in 2016 and in December 2017, Khloé announced via Instagram that she was pregnant with their child.
Page Six reported that a source close to the Kardashian family said Khloé was "devastated" when she saw the Page Six pictures claiming to be Thompson with another woman:
She went absolutely ballistic at him. She is not only hurt, she is humiliated and worried for their child. How could he do this, and so publicly, when their baby daughter could arrive within a week?
Khloé and Thompson have not spoken out on any of the rumors yet, so we'll have to wait and see how the drama unfolds.