Troian Bellisario & Patrick J. Adams' New Baby Photos Show Off Their Adventurous Side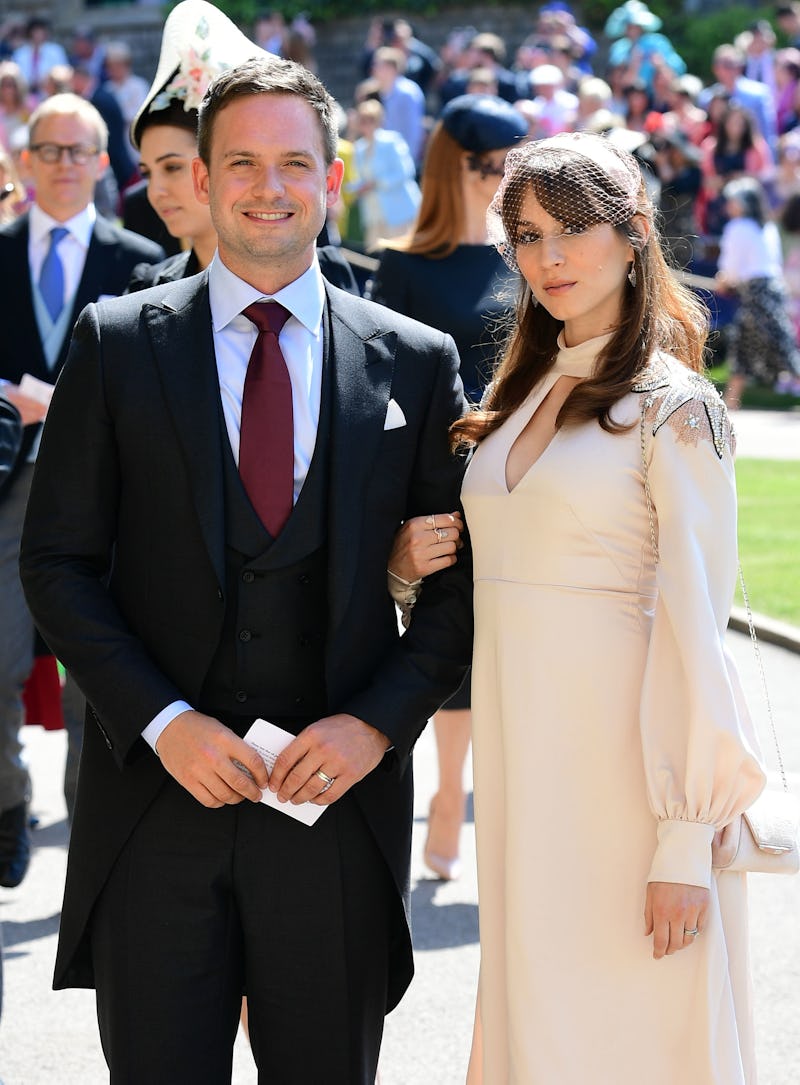 WPA Pool/Getty Images Entertainment/Getty Images
Troian Bellisario and Patrick J. Adams are the proud parents of a newborn baby, but that doesn't mean there's any less thrill in their lives. Patrick J. Adams and Troian Bellisario's latest photos of their baby show that the little one, who's less than two months old, is already a mini adventurer.
This week, the Pretty Little Liars and Suits actors shared photos from their trip to Yosemite National Park in California. The two of them hiked the Sentinel Dome with their baby daughter in tow. Bellisario shared a photo of Adams wearing the baby in what appears to be a BabyBjörn, captioning the picture, "El Capitan (and his first mate)."
Adams and Bellisario announced the birth of their daughter in October, but they haven't shared many details about the baby with their fans. On Oct. 8, both actors shared a photo of them holding hands with their daughter, but they didn't reveal what they'd named the baby. (The new photos don't shed any light on what they might have decided to name their child, either.) Whatever her name, though, the newborn is already leading a more exciting life than plenty of people who are way older than she is.
Adams, meanwhile, posted a photo of the family of three, along with a quote from conservationist John Muir. As the National Park Service explains, Muir's activism helped create Yosemite National Park, so Adams' caption was a pretty fitting choice for the occasion. "'Sheep, like people, are ungovernable when hungry.' - J GD F'ing MUIR!," Adams wrote in his Instagram post.
As with the photo the actors shared when their daughter was born, the new pictures don't show the baby's face. They've been pretty private about their daughter thus far, so it's safe to guess that they'll be keeping most photos of the baby to themselves, at least for now.
When Bellisario and Adams welcomed their baby, Bellisario mentioned the importance of privacy to her family in her Instagram caption. She wrote in October,
"I cannot express how grateful I am. To the people who have protected us and kept our growing family safe and respected our privacy. To our tribe for expanding with grace and exponential amounts of love."
The Pretty Little Liars star went on to thank Adams for supporting her throughout her pregnancy, too. Privacy and having a support network are clearly super important to their family.
And even though they're keeping details about their daughter to themselves, Adams and Bellisario are still leading pretty exciting lives. The actors attended Prince Harry and Meghan Markle's royal wedding in May, as Adams was Markle's costar (and onscreen husband!) on Suits. Their life seems to have been absolutely full of adventure since their December 2016 wedding, and it doesn't look like the fact that they're new parents is going to change that.
Bellisario and Adams seem to be adjusting to their life as parents quite well. Adams has the baby carrier down pat in the new photos, and the two of them are already being fiercely vigilant about their family's privacy. But being parents doesn't mean putting their adventurous lifestyle on hold — and if the new photos are any indication, their daughter is in for a lifetime of fun.