These Photos Of The Royal Wedding Will Make You Feel Like You're At Windsor Castle, Too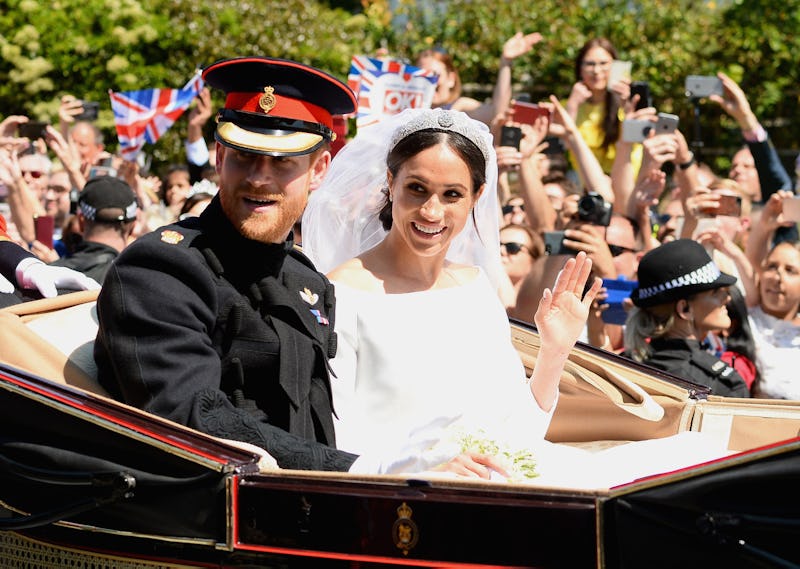 Eamonn M. McCormack/Getty Images Entertainment/Getty Images
After just six months of engagement, the big day is finally here — Prince Harry and Meghan Markle are getting married. Of course, tongues were wagging the very minute that they got engaged, waiting for photos of the 2018 royal wedding to be published all over the world. Soon it will all be over — Meghan Markle will be part of the British royal family, and may Harry and Meghan both live happily ever after, especially for as long as it takes for the public to pore over all of the pictures.
But first, a quick download on the day's events: Meghan and Harry's wedding is taking place at St. George's Chapel at Windsor Castle, which is about an hour's drive outside of London. It's a bit smaller than Westminster Abbey, where ‪the Duke and Duchess of Cambridge, Prince William and Kate Middleton‬, got married in 2011, but you could still fit about 500 New York City studio apartments in it, so it's still just as grand. Conducted by the Archbishop of Canterbury, the ceremony will start about noon. Prince Charles, Duke of Cornwall, is walking Meghan down the aisle to meet her prince. Afterward, the newlyweds will hop in a carriage to wave to their people, and everyone will cry. (I mean, I'm already crying, so let's assume that many, many people will cry as a testament to love and the power of an amazing dress.)
The one thing the public is not privy to is the reception, which is being held at St. George's Hall, followed by a big, private celebration (William and Kate did this, too) at night for their best friends and family. Cameras aren't allowed into that, and for good reason — so much of this wedding is public that the couple, who are pretty private, should get a little breathing room to do the Macarena with their pals. And speaking of public, let's take a look at some of the best shots from the proceedings.
This post will be updated with photos throughout the ceremony.
George & Amal In Their Wedding Best
They almost stole the show from the royal couple.
The Beckhams Also Came To Play
They're royal wedding pros at this point.
Meghan's Suits Cast Supported Her
Gina Torres looked amazing.
That Included Her On-Screen Husband
Patrick J. Adams was joined by his real-life wife, Pretty Little Liars star Troian Bellisario.
The Crowds Were Extensive
Harry and Meghan invited everyone to watch them get married.
The G.O.A.T. Is A Friend Of Meghan's
Serena Williams and her husband, Alexis Ohanian, also looked fab.
The Groom-To-Be & His Best Man
A bearded Harry and a dapper-looking William arrive at Windsor Castle.
The Queen's Arrival
She is the most important guest, save for Harry and Meghan.
That Veil
These page boys had plenty of responsibility.
The Bridesmaids
They wanted to meet their adoring public, too.
Charlotte Practically Stole The Show
Just look at that flower crown.
Walking Down The Aisle
What an amazing shot.
This Sweet Moment
Harry removed Meghan's veil, and they had a little moment.
Listening To The Choir
Karen Gibson and The Kingdom Choir performed "Stand By Me," and the couple of the moment really seemed to enjoy it.
The Rest Of The Royals
The family looked on.
A Shared Smile
Seriously, these two cannot get enough of each other.
Saying Their Vows
Not a dry eye in the house.
The Kiss
This is basically the most important part of the whole thing.
In The Carriage
It's time to greet their public.
The Kiss (Again)
It feels right to see it twice.
Now, looking through these very special photos doesn't it feel like you were there? Best wishes to Prince Harry and Meghan, now known as the Duke and Duchess of Sussex — may they live a long and happy life, side by side.